French Tattooed Hunk Men At Play Gay Porn Star, Isaac Eliad
Years Active: 2015 – 2016
TWITTER @IsaacEliad
KRISTEN BJORN INFO:
Nationality: France
Height: 6′
Weight: 190 lbs
Dick: 7″ (17.78 cms) uncut
Position: Versatile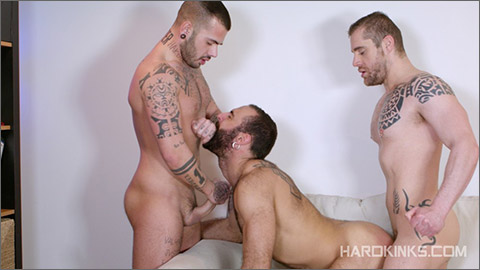 BEARDED PLAYTHING
Two alpha studs wanting to play and a slave who must obey all their wishes and be fucked trough all his holes. There are no limits. Can he hold everything that is coming?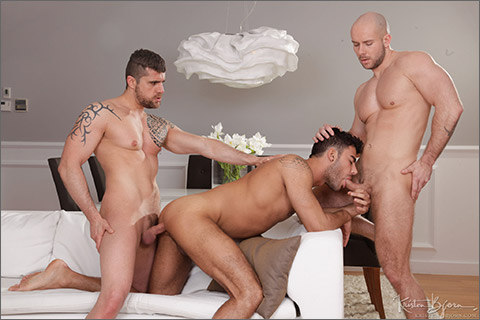 SKINS – 3SOME: ISAAC ELIAD & MAREK BOREK FUCK JARED
1, 2, 3Some, everyone loves to be the center of attention sometimes. Isaac, Jared and Marek slowly strip away their clothes and begin sucking each other's cocks in as many positions as possible. Jared is the first to get his ass fingered, spat on, probed and tongue fucked. Since his ass is already lubed up Isaac shoves his fat, raw cock in Jared's hot hole as he sucks on Marek's pounding cock. Jared is then flipped onto his back and Marek plunges his raw cock deep inside of that wet ass. Isaac enters into a hot 69 with Jared and enjoys the view of Marek's cock disappearing in and out of Jared's hungry hole. Jared is so turned on by all the attention that he blows his hot, creamy load all over Isaac's greedy lips and tongue. Isaac shares some of the load and lets it drool onto Marek's cock as lubricant. Isaac is the next to move to center stage and begins riding Marek's cock for all he can get out of it. Marek takes full advantage of the fact that Jared's cock is still hard and sucks on it as Isaac rides his cock. Isaac demands Marek to fuck him and no sooner are the words out of his mouth that he is shooting his thick load of cum. Marek continues his fucking before he erupts a huge, thick load of cum onto Isaac's smooth balls and ass and then deposits the last of his load inside of Isaac's ass. 1, 2, 3Some is always about sharing center stage.

PERFECT STRANGERS
There's a new man in town – Isaac Eliad, and Dani Robles is the first to get his hands on him. From the very moment the handsome stranger walks in the bar Dani is instantly taken by his dark & mysterious look. He wonders if he could be into guys and unable to control his instincts he shoots him a glance from across the bar, and to his surprise the stranger returns his glance, with the a slight but very telling smile. And that's all the signal that Dani needs to make his move, slowly approaching him until he's standing next to him at the bar… close enough to brush his hand ever so slight past his leg. A move so subtle, but enough to get the stranger's attention and also get him hard with the thrill of this spontaneous meeting. Dani gets close and more daring, until the stranger carefully unzips his trousers, and takes out his dick right there at the bar. And once Dani gets a feel of his fat meat, he cannot control himself and just has to get his lips around it. From that moment on the guys lose control and Eliad takes Dani to a more private spot where they can let loose and unleash the intense sexual tension. This is MENATPLAY in full erotic, suit-fetsih mode!
HARDKINKS
MEN AT PLAY
KRISTEN BJORN
CLICK HERE TO GO TO HIS KRISTEN BJORN DETAILS