European Gay Porn Daddy, Iago Torres
Years Active: 2015 – 2016
TWITTER @iagotorres44
TUMBLR iagotorres44
BUTCH DIXON INFO:
OH Les Mecs, Iago Torres makes his porn debut at ButchDixon. 41 years old, hung, muscular and ready to sort out any willing young lads who come his way.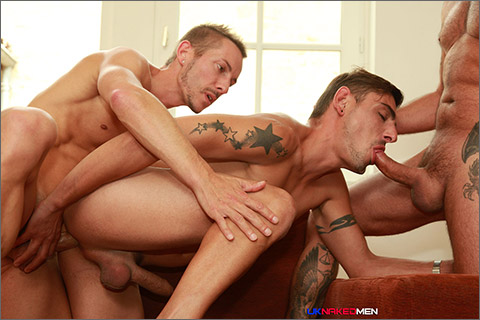 NILS ANGELSON & IAGO TORRES FUCK NICK SPEARS
3s a party, and when the burly top guys have finished smashing in Nick Spears hole with their juicy uncut cocks and they start using a hammer to fuck him with (you know you've lost control of the scene YIKES!) Nick is the slut of the building site, all the guys use him to suck their big dicks and milk them with his tight hole. Iago Torres is the burly boss with an equally horny sidekick – Nils Angelson – they lure gullible young Nick to a quiet area on the site and whip out their dicks for him to suck on, he's putting up a struggle (but not for long) . Then when they're good and hard they take him to the scaffolding room and bend him over the rig to take it in turns as they fuck him from both ends, (great to watch him spluttering on a cock AND straining to take another up his fuck-hole. They pass him around like a fuck toy, then as a punishment for resisting they use the hammer on his arse!!. It all ends up with Nick on his knees a stiff, uncircumcised dick at either side of his face and lots and lots of gooey, thick, steaming sperm. YUM!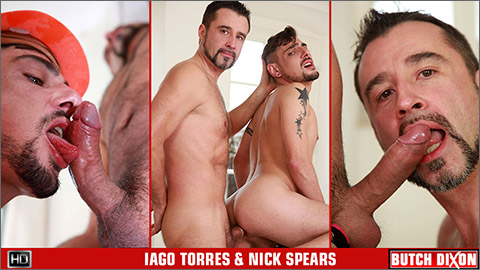 IAGO TORRES & NICK SPEARS
You know we luv a first timer, especially when he's a big, broad, BIG dicked daddy who's been waiting to show off the goods, Iago Torres delivers (in spurts and squirts). Nick Spears and his real life lover (Iago), get down to some nasty man-on-lad action, these sexy, sweaty French men fuck up a storm all over the dining room table. Nick's a hard hat builder, who comes up close and overly personal with Iago's over sized, uncut cock and it gets JUICY. Iago pounds that sweet little ass into sopping submission until he's got Nick's legs in the air – up to his nuts in the boys hole and Nick's ass clenches and he squirts all down himself. Daddy rewards his slutty sub boy with a weeks worth of the creamy good stuff all over his face.
CLICK HERE TO GO TO HIS BUTCH DIXON DETAILS