French Gay Porn Guy, Nick Spears
Years Active: 2014 – 2016
TWITTER @nickSpearsX
UK NAKED MEN INFO:
A sexy Pocket rocket, this confirmed bottom boy can take that stiff, hot, uncut length as hard as you can give it, just luv watching his bloated dick swing with each hip-to-hip impact!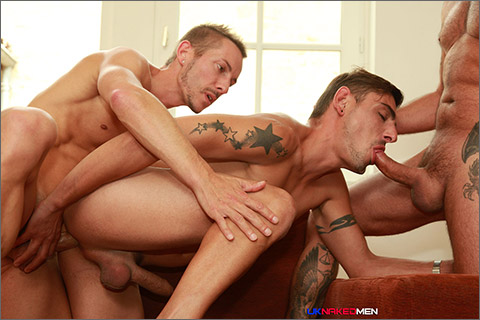 NILS ANGELSON & IAGO TORRES FUCK NICK SPEARS
3s a party, and when the burly top guys have finished smashing in Nick Spears hole with their juicy uncut cocks and they start using a hammer to fuck him with (you know you've lost control of the scene YIKES!) Nick is the slut of the building site, all the guys use him to suck their big dicks and milk them with his tight hole. Iago Torres is the burly boss with an equally horny sidekick – Nils Angelson – they lure gullible young Nick to a quiet area on the site and whip out their dicks for him to suck on, he's putting up a struggle (but not for long) . Then when they're good and hard they take him to the scaffolding room and bend him over the rig to take it in turns as they fuck him from both ends, (great to watch him spluttering on a cock AND straining to take another up his fuck-hole. They pass him around like a fuck toy, then as a punishment for resisting they use the hammer on his arse!!. It all ends up with Nick on his knees a stiff, uncircumcised dick at either side of his face and lots and lots of gooey, thick, steaming sperm. YUM!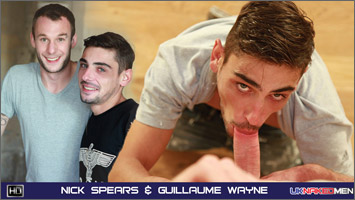 GUILLAUME WAYNE FUCKS NICK SPEARS
THE BUILDERS CRACK, a celebration of builders bottoms, their cheeky flash of crack and if thats not enough a great big rip and a flash of hole. Not surprisingly Nick Spears can't keep his fat, bloated, uncut cock in his pants or out of Guillaume's hot mouth. These two rampant, French studs fuck all over the apartment they're painting with Nick taking that stiff, uncircumcised cock every which way, until he's standing on his head whilst Guillaume's dips his wick, deep-in and all the way out until Nick's rock hard cock is squirting jet after jet of hot goo all down his own abs. Incidentally a builders crack in French is "La Raie" SEE even filth sounds classy in French!
CLICK HERE TO GO TO HIS UK NAKED MEN DETAILS