Handsome Columbian Gay Porn Star & Fitness Model, Hugo Alexander / Alexander Garrett
Known Aliases: Antonio Moreno, Eduardo Rodriguez, Antonio Moreno, David V., Dillon Rodriguez, Ricky Martinez
Years Active: 2004 – 2016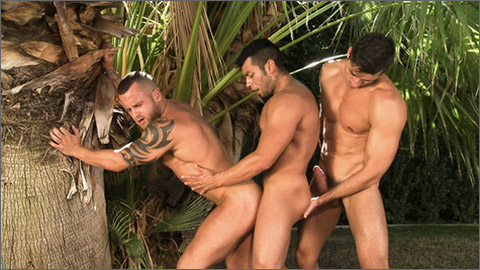 CONSENT: Jay Roberts fucks Eduardo Rodriguez who fucks Ben Brown
As their smooth bodies bask by the pool, one thing is immediately apparent: Tall and toned Jay Roberts is in total control, casting a spell over dark and handsome Eduardo Rodriguez and tattooed and scruffy Ben Brown. The shorter studs flank the hung Jay, their hands and tongues all over his body. Jay snaps his steel shaft before cradling their heads as the passionate display continues. Ben submits first, falling to his knees as the two kiss above him. Eduardo grabs hold of Jay's dick and whips it on Ben's mouth—which soon engulfs the big cock as Eduardo's boner rubs against Jay's muscular quad. Ben then deep-throats Eduardo's thick beauty as Jay's cock grinds against the back of the sucker's head. Eduardo soon feasts on the meat, their three stiff slabs beautifully filling the frame. With his eyes half closed as his big uncut slab is slurped, Ben's face is caught in an expression of pure pleasure. He longingly looks at Jay, who forces Eduardo's head down deeper on Ben's dick. Eduardo works both boners, wrapping his luscious lips around them as spit and kisses continue to pepper the action. Ben gets on his back, his abs tightening as the three squirt. The bearded cutie then gets his ass eaten, with Jay soon sliding his meat inside as his defined muscles clench. Eduardo gets a crack inside the begging Ben's hole ("Give it to me!") as Jay slaps his boner on the top's ass. Jay plows Eduardo doggie style, the bottom's mouth filled with Ben's boner. They shift to their sides as Jay fucks like a jackrabbit, Eduardo's meaty cock staying stiff. As his abs tighten, Ben lets out another load on Jay's ass before his buds come again, more kissing ending the intensely tactile threesome.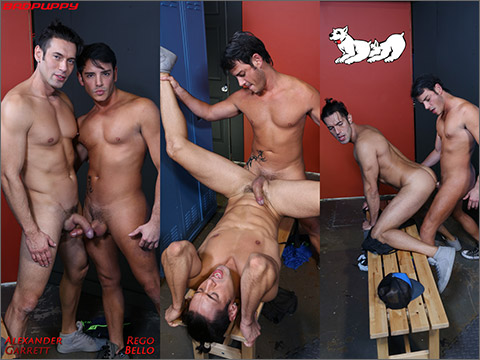 ALEXANDER GARRETT & REGO BELLO
Industry veteran Alexander Garrett met new comer Rego Bello four years ago and they fell in love at first site. Rego was always fascinated with the adult industry; but, it was not until now that he decided to do a video. So, who better to do a video with than your boyfriend of four years? We find our two studs just finishing a workout and as they walk into the locker room to prep for a shower Alexander pins Rego against the lockers, pulls down his shorts and goes down on his thick cock. We know from the interview that Alexander and Rego already love to have sex in public so, the thought of getting caught in the locker room turns both boys on. Rego drops to his knees and pulls Alexander's cock from his shorts. Rego swallows Alexander's huge dick and begins working it skillfully with his tongue. Alexander turns around, props his leg up on the bench while Rego kneels down behind him and buries his face deep into Alexander's ass. As Rego works his tongue into Alexander's ass, one hand is jerking Alexander's rigid cock and the other is jerking his own thick cock. Rego stands up to get a condom from his locker and once it is on; he plunges his cock deep into Alexander. With deep and consistent thrusts Rego slams his cock as deep as it will go; his balls slapping against Alexander's ass. Alexander lies back on the bench, Rego comes around, pushes Alexander's legs back and shoves his cock back into Alexander's waiting hole. The intense fucking begins again as Rego shoves harder and faster. Alexander works his cock as Rego continues to pound and it's not long before Rego pushes him over the edge. The jizz shoots from Alexander's cock. It goes all over his stomach and his hand. Rego jumps down and begins licking the cum off of Alexander's cock while he jerks his own meat. The taste and smell of semen pushes Rego's juices and he shoots an incredibly thick, juicy load all over Alexander's chest and stomach.
VIDEO ON-DEMAND: Alexander Garrett @ AEBN SMUTJUNKIES THEATER
DVDs & ON-DEMAND: Alexander Garrett @ TLA VIDEO