Cute Versatile Czech Gayporn Star, Honza Onus / Shane Hirch
Known Aliases: Ramon Macchio, Marty Loket, Shane Hirch, Lucio Barese, Ricky Shut, Czech Hunter 135
Years Active: 2014 – 2015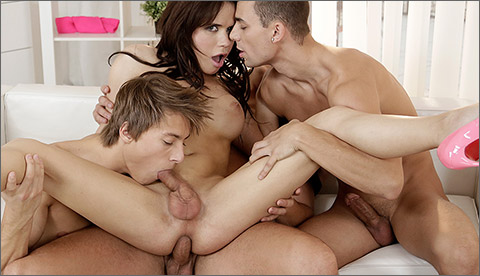 TS TWINK PARTY: POLICE GIVE A DEEP-FUCKED INTERROGATION FOR ONE HOT SHE-MALE!
Everyone knows that the police can sometimes adopt somewhat unorthodox tactics in pursuit of crime, but officers Nick Vargas and Shane Hirch take such procedures to a whole new level when they bust into Joshua Levy's apartment and find the fellow getting frisky with the glamorous Sasha Shatalova. Of course, what they don't realise at this early stage of their enquiries is that the young lady in Levy's company isn't quite what "she" appears to be; but, having taken the opportunity to force her to suck Hirch's cock, whilst Vargas and Levy watch from the sidelines, Shatalova's secret is unceremoniously revealed when Hirch reaches for her crotch. The bitch has a dick – a revelation that soon gets the officers into quite a considerable lather!
   Indeed, before you know it both the police agents have removed their pants and are forcing their shafts down the young lad(y)'s throat; whilst Levy gobbles away on her swollen ramrod. It's all just a tad surreal, if truth be known; but still enormously erotic, not least of all when the three guys decide to take it in turns to fuck the she-boy's ass-hole. First Vargas pounds her from behind; then Hirch pummels her from underneath, cowboy-style.
   Finally, the two officers give Shatalova a helping hand by lifting here up onto Levy's knob and then bouncing her up and down on his lap! Little fuckin' wonder that it's no time at all before both Vargas and Hirch are ready to cream all her face; leaving Levy to finish the fuck that he'd tried to start before the interruption, resulting in another heavy load of fresh hot spunk!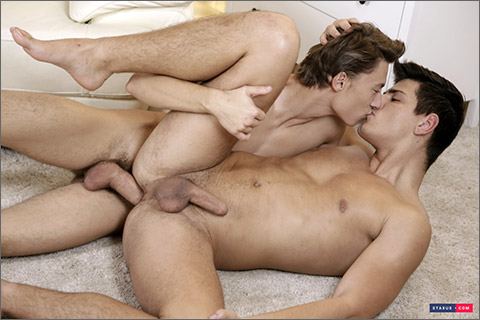 THE BIG PICTURE: HOT & HORNY SWIMMERS TAKE A HARD FUCK TO A SPLURGE OF SPUNK!
They've just enjoyed a lovely swim, but it's clear from the off that neither Shane Hirch or Joshua Levy are much in the mood to relax. In fact, as quickly becomes apparent, they're both looking for a very different form of exercise – and that, of course, can only mean one thing for you very lucky viewers! All the same, there's no denying the sensuous introduction to this horny little escapade, as the two lads smooch to a backdrop of instrumental music.
   Don't be fooled for one moment, however. Once that score has faded away, these two horny young fuckers are quickly reaching for each other's crotches and pulling out the thick, meaty offerings inside. Hirch, in particular, doesn't seem able to get enough of his new buddy's joystick; before the pairing take up to 69-ing on the sofa so that they can mutually pleasure each other. Ultimately, however, it's clear that one of these filthy-minded whores is going to find his ass accommodating the other boy's ramrod; and it's almost with a sense of relief that Levy finally takes command of the situation, rims Hirch's horny little hole and then shoves every inch of dick that nature blessed him with deep inside!
   No wonder that the filthy bottom groans his satisfaction in response; with Levy soon getting into his stride and pounding the pucker with near-mad fury. Little wonder that Hirch is quickly reaching the point where he just has to unload – mid-fuck, all over his belly! To underscore his sluttish credentials, however, he then proceeds to get down on his knees to allow Levy to unburden a fine wad of hot twink jizz over his mouth!
STAXUS
CZECH HUNTER
WILLIAM HIGGINS
WILLIAM HIGGINS STR8HELL
MILE HIGH MEDIA / MALE REALITY
BADPUPPY
BOY FUN COLLECTION
CLICK HERE TO GO TO HIS STAXUS DETAILS