British Gay Porn Star, Gabriel Cross
Known Aliases: Gabriel, Gabriel Cross, Gabriel Ross, Ben W, Mark
Years Active: 2006 – 2019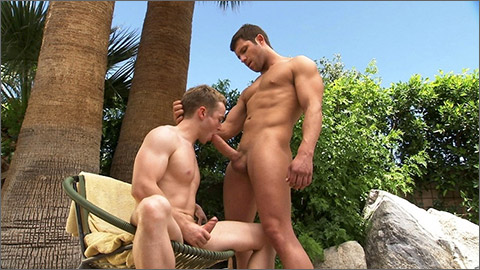 SCORCHED: Travis James fucks Gabriel Ross
After a dip in the pool, silky skinned Gabriel Ross sits down in the sun and drifts off to rest. When his eyes open, tall and tan muscle stud Travis James appears through the steam in the distance. The two smile as the smooth Travis approaches the seated cutie, their arms soon rubbing each other. Travis bends down for a kiss, their two monster cocks already at attention. Gabriel slowly strokes his bud, then opens wide and wraps his gorgeous lips around Travis' shaft as the bright blue sky frames their stunning bodies. Turned on my Gabriel's expert sucking, Travis grabs hold of his head and guides it down in a sultry face fuck. As Gabriel deep-throats him, his own uncut beast repeatedly throbs in stiff-as-steel excitement—his lapping tongue soon begging for another kiss. Travis tongues his bud's hole as the two dump their loads. Gabriel then sits down on the top's dick in one of the hottest sequences ever: As the rock-hard bottom rides up and down, the top wraps his muscular arms around him—rubbing Gabriel's chest and stroking his slab. Gabriel turns his head around and the two kiss, completing an unforgettable image worthy of an art gallery as it perfectly captures their intense connection. Travis plows the bottom in two more positions—including a doggie-style sequence where he grabs Gabriel's hair as he begs to get fucked—before the two shoot again as another kiss ends the fittingly scorching scene.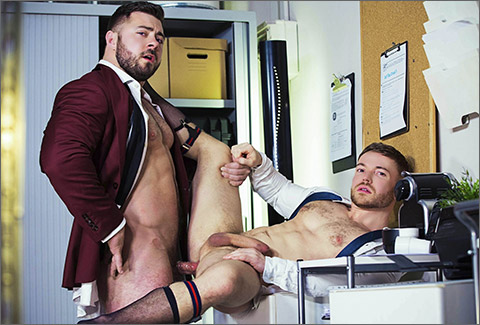 LOW TONER
In PART 2 of this series, real estate firm manager Leander is fresh off his call with Alexander who had just filled him in on how his open house was going. Happy with the update, he pulls the scorching hot Andy Star aside for their weekly meeting to see how his prospects have been coming along. Unfortunately, the news isn't exactly what he wanted to hear but when you look like Andy Star, successful open houses are not necessarily required. Andy knows exactly what to do to make up for his poor performance. He unleashes Leanders bulging hard-on from his pants and drops to his knees to suck cock like his job depends on it. He closes the deal by bending over the board room table and showing Leander what his open house looks like. Leander teases and pounds Andy's pulsing hole until he explodes all over his blue pinstripe suit. A satisfying ending to this hot 2 part series.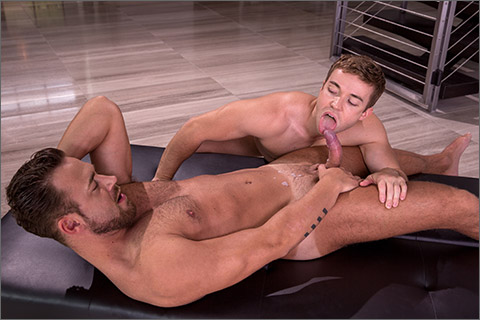 HUNGRY FOR MOORE: Logan Moore & Gabriel Cross (all oral)
When Gabriel Cross comes knocking on Logan Moore's door, Logan has no doubts about why Gabriel is there. Logan doesn't waste time with small talk and gets Gabriel out of his shirt and on his knees as quickly as possible. Gabriel is more than willing to wrap his lips around Logan's thick, uncut dick and takes it all the way down his throat. Logan loves watching the young stud take his dick and wants Gabriel to have full access to everything he can lick. Logan peels off his pants and lies back on a bench. Logan opens wide and sucks Gabriel's big, uncut dick, going slowly to savor and enjoy every inch between his legs. Gabriel wants more of Logan's cock and crawls on top of the hungry stud to offer up his insatiable bubble butt. Gabriel continues sucking as Logan licks Gabriel's tight little hole. Gabriel's mouth feels amazing wrapped around Logan's dick and he can't hold off any longer. With a final moan, he declares that he's about to cum and lets loose to cover his stomach with jizz. Gabriel eats it up and with the taste of Logan on his lips and tongue, finishes off all over Logan's muscled-up, furry chest.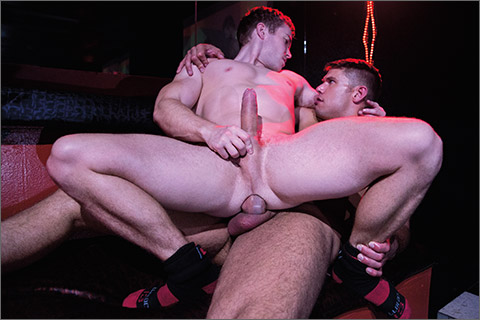 A NIGHT AT THE ENTOURAGE: Tyler Roberts fucks Gabriel Cross
Gabriel Cross is jacking his thick, uncut pole watching porn at the sex club when Tyler Roberts walks by to lend a helping hand. Without words, Tyler pops a finger into Gabriel's tight hole and opens his pants to show Gabriel what he's about to receive. Tyler is already fully hard and Gabriel can't wait to wrap his lips around the massive dick. After giving Tyler a sopping wet hummer, Tyler flips Gabriel around so the two hung studs can 69. After both guys get their throats fucked, Tyler takes the action to a new level by bending Gabriel over to open his ass with his mouth. When Gabriel is lubed up and ready, Tyler bends the hunk over and sinks his fat cock inside as Gabriel moans out with delight. Tyler goes slow at first to let Gabriel get accustomed to his dick, then all bets are off. Tyler's rhythm speeds up and soon he's pounding Gabriel with all 8.5" of rock hard cock. Gabriel wants to watch Tyler fuck him as he cums and rolls onto his back to continue taking the pile drive from the big dick. With Tyler plunging in and out of him, Gabriel blows a massive load that gets Tyler ready to burst. Tyler pulls out and drops his load all over Gabriel's ass that he promptly licks up with his tongue.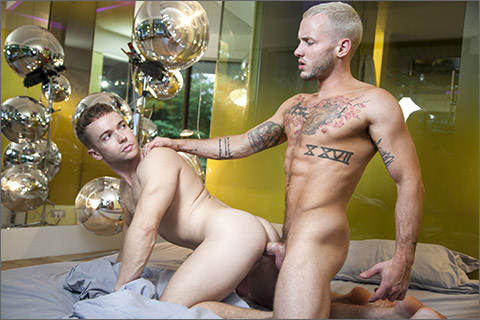 PARIS PERFECT – GRUDGE FUCK: Colton Grey & Gabriel Cross flip-fuck
Colton Grey falls into a troubled sleep. As his lovely dreams of Paris turn into a violent nightmare, Johnny V. is still lost and about to give up hope. As the sun sets on the Eiffel Tower Johnny meets a beautiful American tourist and borrows her phone. The call wakes Colton with a jolt but he's relieved to hear from his best friend. Colton gives Johnny the address to the Penthouse when he suddenly realizes someone is standing over him, watching. It's sexy Brit Gabriel Cross and he's seeking the ultimate revenge: he wants to fuck Colton in his ex-lover's bed. One look at Gabriel's fat bubble-butt and juicy cock is all it takes for Colton to happily comply. He eats Cross' perfect ass then fucks him long and hard before turning over and letting Gabriel pound his hungry hole. Colton kicks back and blows his load all over Gabriel's pretty face. Is this really happening or is it all a dream?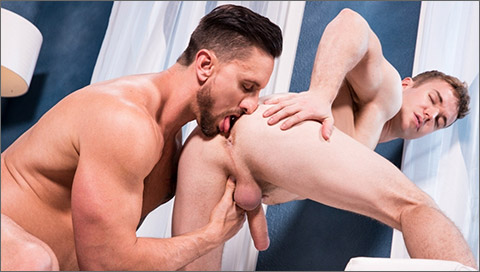 OVERPOWERED: Dakota Rivers fucks Gabriel Cross
Cute ginger, Gabriel Cross, is a house boy whose only job is to make his sugar daddy happy. Gabriel is enjoying an orange soda on the couch watching some porn when his hot muscle daddy, Dakota Rivers, storms in the room. Dakota is mad as hell because Gabriel has racked up his emergency credit cards buying frivolous toys for himself and his friends with Dakota's money. Dakota demands more than a few answers, when he throws the bills to the side and slams his crotch in guilty Gabriel's face. Gabriel knows he has a lot of work to do to get on his daddy's good side again and doesn't waste a minute taking the muscle stud's big hard cock down his throat. Dakota face fucks and gags the money-grubbing boy with his big daddy dick before he bends him over and eats his hot ass. When Gabriel is nice and wet and opened up, Dakota slides his meat inside the ginger's hairy hole and pumps his ass hard. Gabriel needs it deeper and turns around to ride the massively thick cock as Dakota overpowers his tight asshole balls deep and stretches his hole wide open. It's almost more than Gabriel can take and his cock explodes as his ass is getting pounded. Gabriel begs for Dakota's load and licks his daddy's big full sack as Dakota erupts all over Gabriel's hungry face. The toned boy licks up his keeper's cum with the satisfaction of knowing he has a place to stay for at least another night.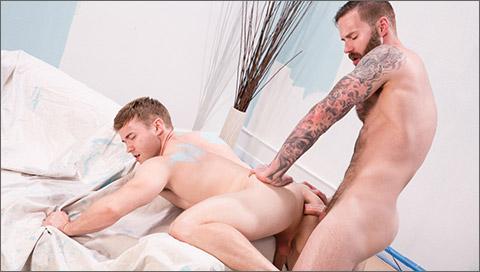 DIRTY WORK: Chris Bines fucks Gabriel Cross
Painting is a boring-as-hell job, so to make things more interesting, Chris Bines tags his boyfriend Gabriel Cross with the roller. Gabriel retaliates, and things escalate quickly. After a quick tussle, Chris grabs the back of Gabriel's head and gives him a deep kiss. A bulge shows in Gabriel's white shorts, and Chris heads straight for it, shoving Gabriel's cock down his throat. Gabriel plays with Chris' nipples and rubs his hands through Chris' hairy chest. Leaning against a couch, Chris feeds his cock to Gabriel's thirsty mouth. Gabriel sucks Chris' cock using plenty of spit, and the intense oral pleasure makes Chris shoot a huge load all over Gabriel's face. But Chris isn't done with Gabriel yet; bending him over the couch, Chris spreads Gabriel's ass and pushes his tongue into the tight pink center. With spit for lube, Chris uses his finger to feel inside Gabriel's sweet hole, and he can't resist putting his dick inside. With a hot body like Gabriel's in front of him, it's no surprise that Chris is already ready for round two. Gabriel flips over and puts a leg over Chris' shoulder, enjoying the sensation of Chris' big, hard cock pushing deep inside him. Sitting down on the couch, Chris invites Gabriel to sit on his cock, and Gabriel's uncut meat slices through the air as he rides Chris. Jerking his cock with Chris still inside him, Gabriel shoots a massive load, then massages Chris' hairy body while he jerks out a second huge cum shot.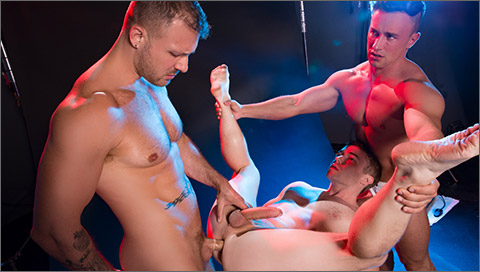 DEPTHS OF FOCUS: Austin Wolf fucks Alexander Volkov & Gabriel Cross
It's quiet on the Hot House set as Austin Wolf preps his photography gear. Production assistant Gabriel Cross introduces today's subject: Alexander Volkov. 'Today's going to be a closed set. You guys can go,' announces Austin to the other crew. After loosening Alexander's tie, Austin steps behind the camera and starts shooting. After a few poses, Austin instructs Gabriel to remove Alexander's shirt. As Gabriel opens Alexander's shirt to reveal his smooth, muscular torso, their eyes meet and they share a smile. Alexander's next look is an edgy black bodysuit, and after that Alexander steps into a tight, white jockstrap. They wrap the shoot, and Alexander turns around to show off the huge bulge in his jockstrap. 'Did you enjoy that?' asks Austin. Alexander affirms, and Austin and Gabriel both move in to make out with the ripped hunk standing before them. Unbuttoning his fly, Austin shoves down his jeans and puts his cock in Alexander's mouth. Gabriel bends down to suck Alexander's hard meat, then stands up and makes out with Austin while Alexander alternates between sucking their cocks. Gabriel proves he has a perfect mouth for cocksucking too, trading places with Alexander and using his mouth to stimulate the sensitive tips of Alexander and Austin's cocks. Bending over a stool, Alexander sucks Gabriel's cock as Austin rims Alexander's ass. With Alexander lubed up, Austin slides his thick meat into Alexander's backdoor. Gabriel plays with Alexander's nipples as they make out, sharing long, passionate kisses. Alexander shows off his versatility when he becomes the meat in a fuck sandwich between Austin and Gabriel. Switching things up, Gabriel spreads his legs as Austin and Alexander take turns fucking him. Gabriel strokes his rock-hard dick and busts a nut, shooting his cum onto his stomach with Alexander still inside him. Kneeling down, Gabriel opens his mouth to catch Alexander and Austin's hot loads, letting their semen splash across his tongue and roll down his face. Read Less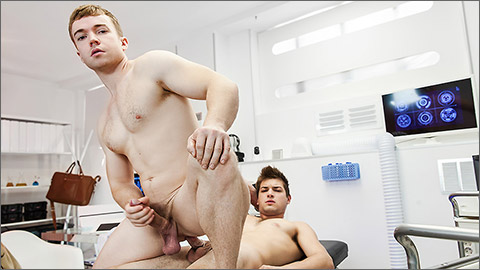 THE FLASH A GAY XXX PARODY: Gabriel Cross, Johnny Rapid
Witness The Flash's origins as he realizes his potential to become the fastest superhero there is. His capabilities are put to the test by Dr. Snow, who gets a grasp on more than just his abilities. The Doctor delights in sucking that cock, priming The Flash for some super fucking.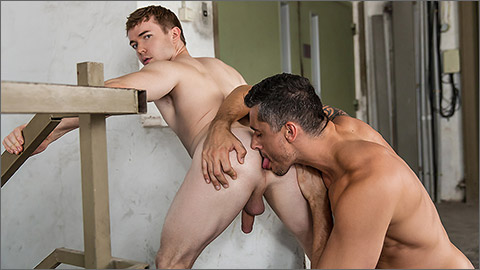 SENSE 8 A GAY XXX PARODY: Gabriel Cross, Jay Roberts
Jay Roberts is busy stroking his dick in Berlin when he receives a surprise visit from Gabriel Cross, who was just moments ago getting off in Dublin. The guys use their Sense 8 powers for pleasure to their fullest potential, starting with a sensual body rub that leads to Jay fucking Gabriel's tight pink hole in a Dublin stairwell.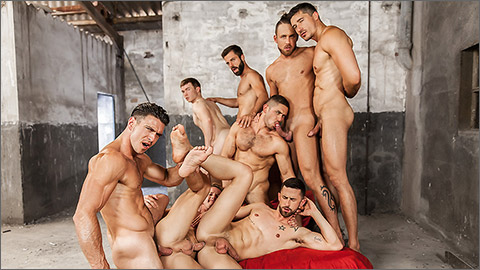 SENSE 8 A GAY XXX PARODY: Darius Ferdynand, Dato Foland, Gabriel Cross, Hector De Silva, Jay Roberts, Logan Moore, Paddy O'Brian, Sunny Colucci
It's the cum bursting conclusion of Sense 8, where all men come to their senses for an intimate globe-spanning release of sweat and semen all over their chiseled bodies.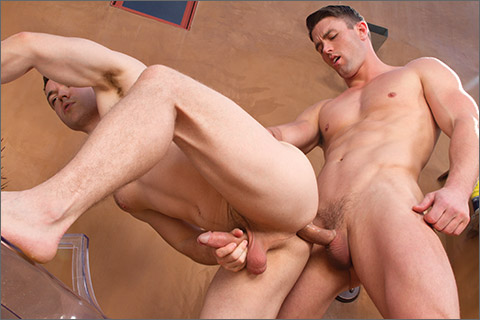 DESERT GETAWAY: Ryan Rose fucks Gabriel Cross
After a bit of flirting, spunky Gabriel Cross and hunky Ryan Rose decide to take a nice long hike through the breathtaking scenery of Joshua Tree. Gabriel takes some pictures, and Ryan, who loves showing off for the camera, immediately gets hard. They beat it back to the vacation house where they strip down and make out in the outdoor shower. Gabriel's muscled frame only reaches to Ryan's shoulders, but their cocks are equally hefty. They soap up and stroke each other's throbbing meat as they press their lips together. Gabriel gets down on his knees to work his oral prowess on Ryan's rod, lapping at the head with his tongue and swallowing deep down to Ryan's balls. Returning the favor, Ryan drenches Gabriel's cock with spit and deep throats the shaft. Bending over, Gabriel spreads his ass cheeks so Ryan can get in deep with his tongue. With some spit for lube, Ryan presses his cock into Gabriel's hole until he penetrates the hot ass. As Ryan ramps up his thrusting, Gabriel's thick meat swings in the air. Ryan sits back in a chair, his dick aimed at the open sky, and in an impressive display of power bottoming, Gabriel sits down on Ryan's meat while stroking his own enormous cock. With Ryan about to cum, Gabriel gets down on the floor and takes Ryan's load in his mouth. Leaning back, Gabriel releases creamy blasts that drench his massive thighs.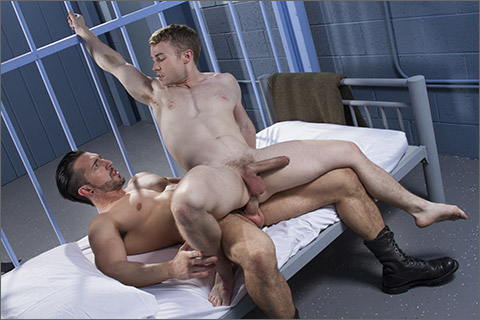 STIFF SENTENCE: Jimmy Durano fucks Gabriel Cross
Muscled and big dicked officer Jimmy Durano stands next to inmate Gabriel Cross' cell and wakes him up by putting his nightstick into Gabriel's mouth. The inmate shows Jimmy his skills before taking the officers thick uncut cock down his throat. Jimmy remains outside the cell when Gabriel bends over exposing his hairless hole. Officer Durano loves a tight hole and buries his tongue deep between Gabriel's tasty ass. Taking things to the next level, Jimmy shoves his nightstick into Gabriel's hole prepping it for the upcoming pounding. Officer Durano lets himself into the inmate's cell and bends Gabriel over to fucks his ass hard. At first pounding Inmate Cross doggy, then switching positions leaving Gabriel riding Jimmy's fat member. Gabriel lets out countless moans as his hole gets pounded and his load goes flying onto the floor. Ordered to his knees, Inmate Cross gets a load fed to him by Officer Durano.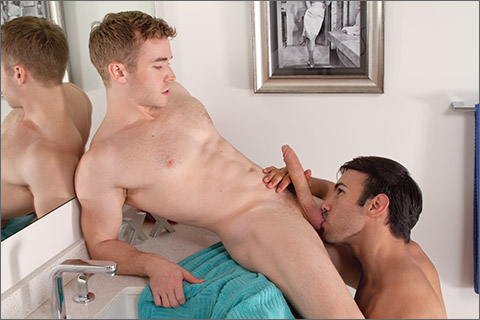 HEATED – PART ONE: Gabriel Cross fucks Dorian Ferro
On his way to shower, Gabriel Cross is intercepted by Dorian Ferro, who asks if he wants to get dirty. Gabriel responds by dropping his towel and latching onto Dorian's nipples. Gabriel hops on the sink for Dorian to suck him, leaning back to display chiseled abs, rock-hard nipples, a faint scattering of body hair and red pubes. Dorian sucks like a rock star, putting his head, neck, lips and hands all into action. He shakes his muscular shoulders and swivels his hips. Gabriel thanks him with his tongue, first in Dorian's mouth, then in Dorian's gorgeous, smooth bubble-ass. Dorian spreads his cheeks with pride, awaiting the cock that will replace Gabriel's tongue. He gets it standing, squeezing his cock and balls, clenching his hole around Gabriel's dick. They grab a chair and Dorian sits on Gabriel's fat rod. Dorian spins, facing one way, then another, until they can't contain their cum. Dorian shoots all over himself and Gabriel takes aim at Dorian's face, blowing his wad on Dorian's tongue.

RIPPED: Gabriel Cross fucks Addison Graham
Dark-haired dreamboat Addison Graham and gymnast-bodied muscle-boy Gabriel Cross perch knee-to-knee and nipple-to-nipple on a bench in the locker room, making out. Gabriel's smooth, pale body is quivering with excitement. Hands and mouths explore each other's sexually eager young bodies. When the lure of Addison's cock becomes too tempting to resist, Gabriel grabs it and puts it in his mouth. They swivel into a sixty-nine position. Gabriel kneels and offers his plump buns to Addison's probing tongue and penetrating cock. Addison lies on the floor in a shoulder stand, spreading his legs ordering Gabriel to 'stick it in me.' Their legs make an enormous 'X' as Gabriel plunges his cock repeatedly into Addison's hungry hole. Gabriel leans over for a kiss, then they move to the bench, jacking their hung cocks and encouraging each other to shoot heavy, creamy loads. Gabriel laps up Addison's cum and lets it drip back into his mouth, adding his own jizz seconds later.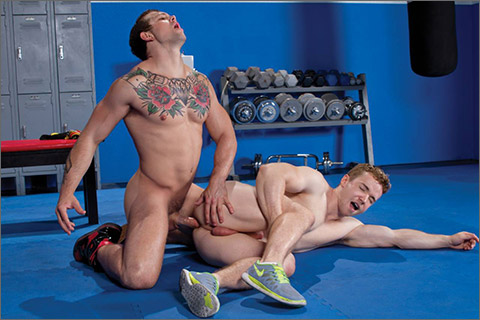 RIPPED: Sebastian Kross fucks Gabriel Cross
Sebastian Kross is showing off his hard earned physique to gym-buffed Gabriel Cross. Hands roam as they kiss, and cocks leap to erection in the confines of their jock straps. Gabriel zeroes in on Sebastian's pits with broad, sweeping strokes of his tongue. Then he kneels, peels off Sebastian's jock strap and inhales his cock to the base. Gabriel wraps his hunky limbs around a massive exercise ball, presenting his scrumptious bubble-butt. Wasting no time burying his face, Sebastian devours the hole and Gabriel assists by reaching back to spread his glutes. Abandoning the ball for the stability of the floor, Gabriel lies spread-eagled and Sebastian drives his cock into him in long, slippery strokes. Gabriel rolls onto his side, then stand and grabs a punching bag for support while Sebastian pummels him with abandon. Sebastian delivers his built-up load directly to Gabriel's throat and Gabriel massages his own cum into Sebastian's rippled torso.
CLICK HERE TO GO TO HIS MEN AT PLAY DETAILS