Handsome Muscle French Gay porn super-star, Francois Sagat
Known Aliases:
Years Active: 2005 – 2020
STATS / INFO:
Age: 26 (2005) born: 5 June 1979
Day Job: Bartender
Hometown: Paris
Where do you live now: Paris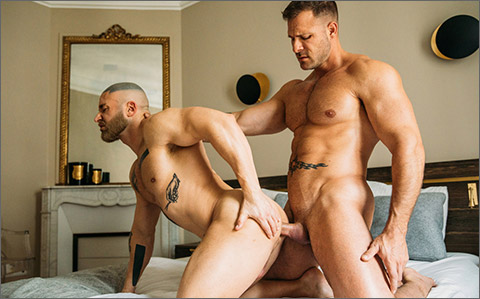 A IS FOR ALPHA: Austin Wolf Fucks Francois Sagat
After years of an online friendship and a little flirting, Austin Wolf & François Sagat finally get together in this condom-free scene filmed in Paris! The guys launch our new series "A Is For Alpha" in which we explore what it means to be an alpha. You're in for some big surprises as Austin & François first open up about themselves and about each other, and it all leads to an unforgettable pairing of pent-up attraction.
   The guys take their times making out and exploring their muscular bodies before Austin sensuously sucks François' thick uncut cock & fingers him as François desires. It isn't long before Austin lifts and carries him to the bed where François swallows and chokes on his cock. He keeps on it and Austin makes sure of it while reaching over and playing with his muscular bubble butt.
   Eventually Austin turns François around to eat out his ass and finger him before he gets him into position and slides into him. Austin fucks him hard from behind and slowly dominates him, easily getting François to sit on his cock and ride him and take his deep thrusts. Françoisturbs and faces Austin as he rides him so he can play with the nipples on his flexing chest.
   Austin soon picks him up again and lies François on his back with his ass in the air and pounds him relentlessly until he makes the French muscle god shoot a thick load over his chest. Austin soon pulls out and shoots over François' hole and fucks it into him. After he fingers it in deep, a spent Austin lies next to François and they're both satisfied in every way after a six year wait.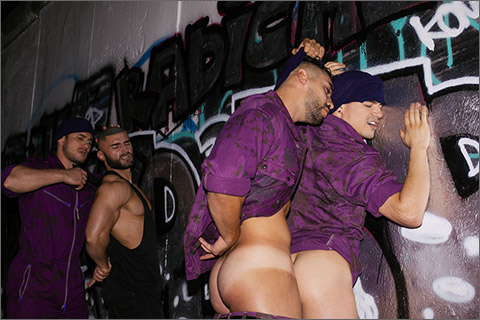 BRUCE LABRUCE'S FLEA PIT: BRUCE LABRUCE'S PURPLE ARMY FACTION
Arad WinWin, Dato Foland, Francois Sagat & Levi Karter
In a topsy-turvy alternate reality, the militant Purple Army Faction (PAF) patrols the streets, hunting sexual deviants who need to be caught and converted. Arad Winwin leads Dato Foland and new recruit Levi Karter on a night patrol and nab François Sagat, taking him to their HQ to "reorient" him from straight to gay! Stripped to the waist and tied to a chair François resists but is soon subject to Arad's forceful kisses and manhandling.
   As François gets hard Levi is brought over to prove himself and suck the prisoner but as Levi gets into it, Arad asserts his authority and takes over. On top of a bare mattress, Arad works over François' ass and fucks him with dispassionate energy. It's only when he satisfies himself and gives François a gushing facial that Arad kisses him and gives him pleasure by sucking his cock. Dato gets into the reorientation by stuffing François' mouth with cock and soon it's only the two of them, sensuously kissing and sucking each other off.
   After Dato blasts a load over François' rippling abs, his conversion reaches the final phase: fucking Levi. With the sounds of revolution outside Levi is brought to his knees to suck a confident François who soon takes charge over Levi. François rims his ass and pounds him intensely and with his pumped-up muscle glistening with sweat he ejaculates a torrent of cum that covers almost every inch of Levi's back. Levi shoots while sucking François who gets his third cum soaking. At the end the PAF is now closer to smashing the straight state…with a new comrade.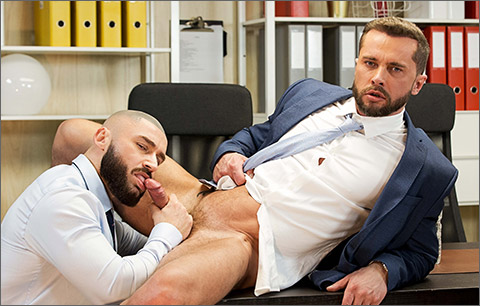 TO WORK OR TO FUCK
Menatplay welcomes gay porn superstar Francois Sagat into the fold and Tyler Berg is all too eager to break him in. Francois is working late on a presentation that he has to deliver to his boss by end of the week, but his insatiably horny colleague and new fuck buddy Tyler Berg has other plans to keep him busy, putting Francois in a very precarious situation. "To Work or to Fuck"? Francois almost immediately gives in and lets Tyler swallow and slobber over every inch of his cock before bending him over and devouring his meaty ass. After pounding Tyler, the way his hole was begging for, Tyler returns the favor and plunges balls deep into Francois giving us a flip flop anyone would stick around late at work to see. After cumming all over each other and the desk, they high tail it out of there leaving the boss with a presentation and a little something extra.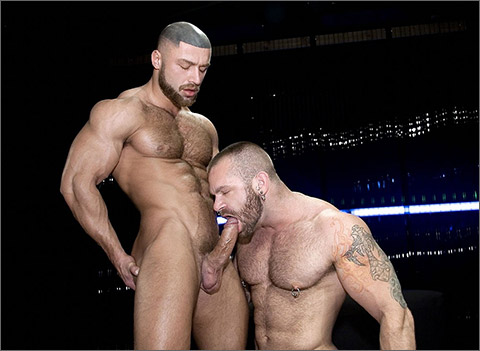 SPY QUEST 3 – BLACK FISTS' LAIR: François Sagat and Tober Brandt suck, fuck, rim and piss all over.
Thickly muscled, black-clad TitanMen stud François Sagat arrives at Tober's dungeon to deliver a stolen prize. Tober's pleased, and decides to reward his successful agent by offering the greatest prize of all – his giant cock; François drops to his knees and uses his teeth to undo Tober's leather pants, licking and drooling over the boss's leather codpiece. François sucks and slobbers on Tober's pierced dick, getting it slick with plenty of spit as Tober facefucks him, moaning and growling like a mad dog.
   Tober makes a meal out of François' thick, hairy pecs, furry pits and amazingly perfect six pack abs, ultimately peeling open François' trousers and swallowing the thick upturned cock. As François pumps away, Tober gags and lubes the thrusting fuck pole with his spit, swallowing François to the hilt while his own bone stands at attention. François jerks Tober's cockpole until Tober busts his nut all over François' chiseled, beefy pecs.
   François then kneels ass-out in a chair while Tober dives his face into his rock- hard ass before mounting it, driving his condom-covered dick deep between the muscled globes. The two rock the chair back and forth as François rides Tober's stiff pole while his own hard dick bangs against Tober's ripped abs. Sweat pouring off his tanned torso, François turns around and sits backward on Tober's dickshaft and sends thick ropes of jizz flying everywhere.
   As François kneels and strokes his thick veiny pole, Tober hoses him down with an interminable cannon spray of piss that bathes François's golden, ripped, muscular body.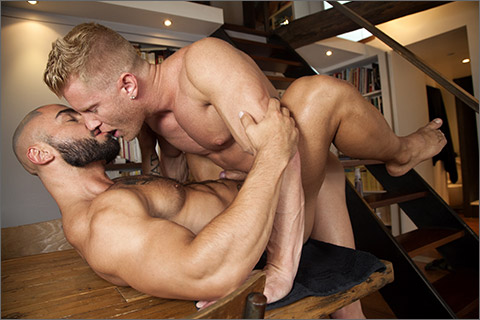 PARIS PERFECT: Johnny V. & Francois Sagat flip-fuck
Dumped and disillusioned with San Francisco, Colton Grey convinces his best friend Johnny V. to join him on an all-expense paid trip to Paris. Fourteen hours later the young Americans land only to discover that the card Colton swiped from his Ex can't be used to rent a hotel room. While Johnny cruises Grindr, Colton tries to figure out what to do next, and "voila" his problem is solved! A handsome Driver/Valet (Theo Ford) approaches Colton and addresses him as "Mr. Ferrand," explaining that his limo is waiting to take them to his Penthouse. Ready for anything, Colton plays along, promising to text Johnny the address so Johnny can go make his first French connection. Using his phone to navigate the twisted streets of Paris, Johnny finds his trick's apartment. The door opens and SCORE! The guy (Francois Sagat) is even hotter than his pic. In minutes they are naked, tongues exploring ripped abs and thick cocks. After a furious flip-flop-fuck Johnny returns to the foreign streets only to have a French thug race by and swipe his phone right out of his hands, leaving him lost and stranded. Merde!
VIDEO ON-DEMAND: Francois Sagat @ AEBN SMUTJUNKIES THEATER
DVDs & ON-DEMAND: Francois Sagat @ TLA VIDEO
[Total:

321

Average:

1.6

]