Handsome Muscular William Higgins Czech Gay Porn Star, Erik Drda
Known Aliases:
Years Active: 2015 – 2016
WILLIAM HIGGINS INFO:
Erik Drda is a really handsome straight guy aged 19. He is a student who enjoys sports, rugby and bodybuilding. He looks very impressive as he lifts his tee shirt to reveal some very well defined abs. It gets much better still when the tee shirt is removed and the full glory of Erik's beautiful chest is revealed. He poses to show off his chest and then turns, with his jeans pushed down, and shows off his gorgeous ass. He flexes his biceps and holds the poses before losing his jeans, and then his underwear, and shows off his soft cock and his balls. Fully naked Erik then works through more poses to really show off his great body. He then gets his cock hard, and it stands proudly to attention as he gives us more hot poses. Then it is time for a good look at that sexy ass. Erik kneels on the sofa to show the ass, with the cheeks parting nicely and giving a good view of his hole. We get another view of the ass as Erik lays on his back with his legs in the air. His hands pull the ass cheeks apart to let us really enjoy his hot hole. Then he finishes a lovely shoot with more hot poses.
Age (2015): 19
Home Town: Prague
Height: 172cm/5'7″
Weight: 75kg/165lb
Foot Size: EU42/US8.5/UK8
Penis Size: 17cm/6.69″
Profession/Student of: University student
Hobbies: Sport
Favorite Sports: Rugby
Active Sports: Bodybuilding
Movie/Music/Sport Stars: James Bond
Visited Coutries: England
Want to Visit Coutries: Australia
Dream of My Life: I don't know.
Zodiac Sign: Scorpio (October 23 – November 21)

WANK PARTY 2016 #2 RAW
In WANK PARTY 2016 #2 we have Petr Plodner, Bradley Cook, Erik Drda and Petr Cernyka. In part one we find Bradley and Erik on the bed chatting. Erik is rubbing Bradley's legs and telling him good they are. they decide that they are tired from the gym and need to be massaged. So they call over the two Petrs who are sitting on the sofa and ask them to oblige. Petr P gets between Erik's legs and begins to massage them as Petr C does the same with Bradley. Eirk's cock looks hard in his underwear and Petr P's hands are soon feeling it as he massages the thick thighs. Petr C does the same to Bradley's large bulge too. Eriks is quite chatty asking Petr P about his massage experience and inviting the guys along to fitness with them. Petr P pulls on Erik's waistband and releases his swollen cock as Petr C does the same with Bradley. Both cocks look so good as the guys take them in hand. Petr C leans over and licks Bradleys cock and is followed by Petr P who licks and sucks on Erik's hard dick. He is greedy for cock and is soon leaning over and sucking Bradley's cock too. Then he encourages Petr C to have a taste of Erik's cock before they each return to their original choices. Their mouth work on the big hard cocks as Bradley and Erik lay their enjoying the attention. The underwear is removed from Erik and Bradley and the sucking on their cocks continues with Bradley pushing Petr C's head further down on his. Then Petr P moves up and kisses Erik and Petr C follows suit with Bradley before returning to the sucking. Petr P kisses up and down Erik's shaft and onto his balls and then sucks on the big head again. Petr C is engrossed in his sucking taking Bradley's big fat cock deep into his mouth. Bradley and Erik really enjoy all the attention being given to their cocks, with the promise of much more to come in part 2.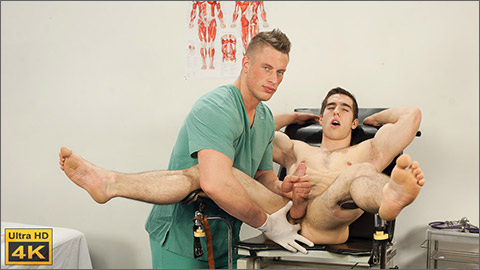 CZECH UP: ERIK DRDA VISITS DR TOMAS DECASTRO
Erik Drda visits Dr Tomas Decastro for a Czech Up. He hasn't been for a while so Tomas decides that he needs everything checked. Erik strips down to his shorts and sits on the table as Tomas starts his examination. Then he lays on his belly as Tomas feels over his back, massaging the muscles. He removes Erik's underwear and massages the case of his spine and his ass. The cheeks part to show Erik's hairy hole. Tomas needs to check the hole, so Erik moves to the exam chairs, legs up. Tomas slides a finger into the tight hole, to check it out. Then as he fingers the hole he also wanks and sucks Erik's rock hard cock. With the ass hole loosened he shoves a fat dildo into it as he keeps sucking on the cock. Then he kisses Erik too. Tomas then gets naked as well and they wank each other as they kiss. Tomas wants to feel Erik's big cock in his ass and tells him to fuck him. Erik is happy to oblige, fucking the ass deep and hard in vatious positions, opening up Tomas real good. Tomas loves the cock in his ass and grabs his dick to wank it to a big, creamy cumshot as he gets fucked. Erik is ready to cum too and pulls out to shoot his cum over Tomas to end his Czech Up.
WILLIAM HIGGINS
STR8HELL
BADPUPPY
CLICK HERE TO GO TO HIS WILLIAM HIGGINS BIO PAGE