Young Hung MormonBoyz American Gay Porn Star, Elder Oaks
Known Aliases: Price (Chaos Men)
Years Active: 2017
MORMONBOYZ INFO:
Elder Oaks is in an unusual situation for a young Mormon on his mission. His father is the highly respected and handsome President Oaks. As a boy his father was his hero. But as he got older, he found himself noticing his dad's athletic body as well. And he secretly loved his father's smell.
   He wants nothing more than to make his father proud, but his father's authority over the elders has made him shy around his peers. He's incredibly proud of his father, but he knows that they may treat him differently. In addition to winning over the affections of his father, he'll do whatever it takes to be accepted by the other young Mormon missionary boys as well.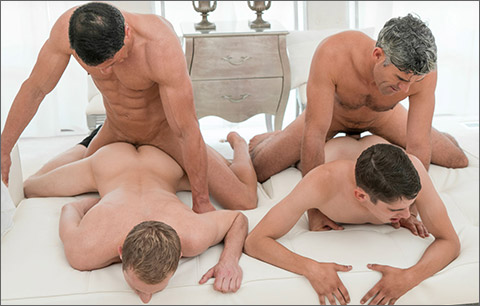 THE INITIATION OF ELDER HOLLAND:
CHAPTER 13: ORDINATION
Elder Holland and Elder Oaks waited together in a small room, undressed down to their sacred garments, seated closely next to each other. With nothing to do, the two boys gently rubbed their legs together, enjoying the opportunity to be even slightly intimate. They wished they could just return to their room and fuck each other senseless, but the Brethren had called on them again.
   Their last meetings had changed a lot for the inductees. Elder Holland, for instance, proved himself to his companion's protective father. He showed that he could exhibit the level of maturity and obedience that the brotherhood admired, not to mention taking a solid pounding from President Oaks himself.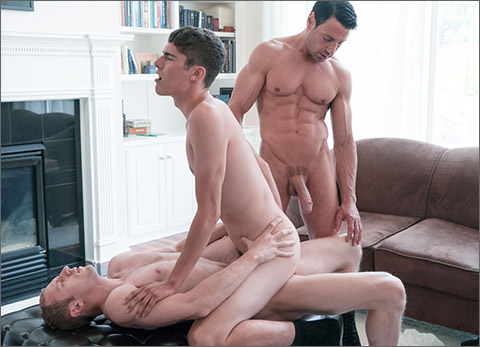 THE INITIATION OF ELDER HOLLAND:
CHAPTER 14: PRIESTHOOD RETREAT
Neither Elder Oaks nor Elder Holland could be happier. Having been inducted into the Order and attaining the higher level of priesthood authority, they had formed a strong bond.
   Knowing the unique circumstances for each boy–namely Oaks' connection with his father and Holland's less than perfect history with his companion–the Brethren determined that they would benefit from some time away from the grind of daily mission life.
   Fortunately, the Brethren owned a beautiful home in a secluded area where the handsome President Nelson could take the boys for a private priesthood retreat under his supervision.