Scruffy American Sex Fiend & Gay Porn Star, Deviant Otter
Known Aliases:
Years Active: 2014 – 2018
TWITTER @DeviantOtter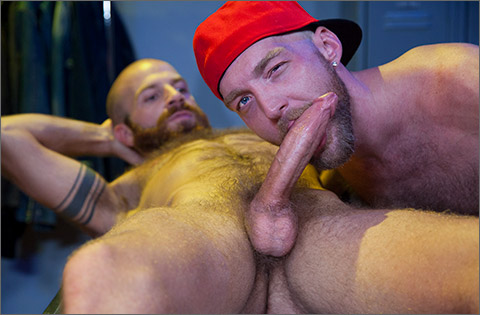 OTTER EROTIC: James Stevens fucks Deviant Otter
James Stevens and Deviant Otter are getting hot and horny in the coat check area at the sex club. As soon as their clothes hit the floor, Deviant has James' cock planted firmly down his throat. He works the hard and hairy cock with his mouth until James takes the lead and bends Deviant over the table. James can't wait to get his tongue buried inside Deviant's hairy ass and works it deep with his fingers and mouth. James knows that Deviant is more than ready for his swollen dick and lies back to let the horny otter hop on and impale himself with James' swollen member. Deviant bounces up and down on the thick pole until his ass is open as wide as it can be. James needs to be deeper inside Deviant and bends him over to plug his ass from behind. The deeper he goes, the more Deviant begs him not to stop. "Use my hole!" the young otter screams out as James positions Deviant for one last go. With Deviant on his back and his legs in the air, he begs for James' cum until he gets exactly what he needs and wants. With his bearded mouth wide open, Deviant get a face full of creamy cum. With the taste of James dripping from his lips, Deviant lets go and erupts a massive geyser of cum all over James and his big fuzzy beard.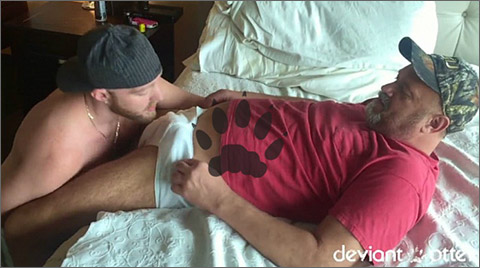 HUNG DADDY 8X7
Even when my brain's sleeping, my dick is always awake. I have a lot of hardcore sex dreams, and lately the occurring theme: daddies with huge cocks. Can't get them out of my head. So with the help of the hookup apps I was able to find the perfect candidate to help me get my fix. When I showed up at this guy's place he had his adorable, furry boy over, so I let the youngin' film the sexcapades (for my own greedy reasons — all I wanted to do was focus on Dad's meaty dick). And I'm pretty much a self-masochist, so I only let daddy fuck my face hole, my ass needs to learn to be patient and wait sometimes. Plus its a great mind fuck when sucking a giant dick and just thinking about it sliding up into your guts. Thankfully there's always a next time!
VIDEO ON-DEMAND: Deviant Otter @ AEBN SMUTJUNKIES THEATER
DVDs & ON-DEMAND: Deviant Otter @ TLA VIDEO