Handsome American Gay Porn Star, Dante Colle Brother Calhoun
Known Aliases: Brother Calhoun, Ryder (Corbin Fisher)
Years Active: 2015 – 2019
MEN.COM INFO:
Hair Color: Brown
Eye Color: Brown
Dick Size: 7
Height: 5'11" cut
Weight: 170
Sexual Positions: Versatile Bottom
MORMONBOYZ INFO:
For Brother Calhoun, his time as an elder was the best years of his life. He made amazing friends and felt completely at home among the other missionaries.
   Now that his mission is over, he's enjoying his new role as ward mission leader. It gives him incredible pride and joy to be able to enrich the experiences of the missionaries he looks after.
   He trusts that his current calling will be just as fun that he'll make some new friends. Little does he know the men of the Order have a lot more in store for him.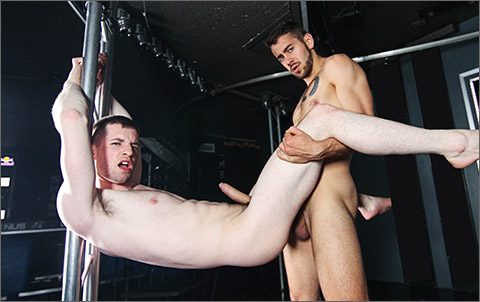 FUCKERBATE – PART 3
Part 3 of the Fuckerbate series finds Thyle center stage with a small audience and one demand… "Dance Monkey"!! Thyle tries his best to show off his moves but truthfully fucking is much more his forte. Up steps Dante Colle to help Thyle complete his next challenge.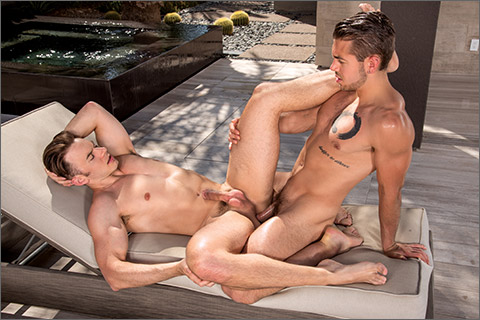 HIDDEN PALMS: Dante Cole fucks Addison Graham
Dante Cole is catching some rays on a hot summer day in the pool when Addison Graham dives in to cool off. Things get hotter when Addison swims over to Dante and gets the stud hard by taking his thick rod into his mouth. Addison works it up and down until Dante grows into his open throat. That's Dante's cue to bend Addison over to work his ass with his probing tongue and fingers. Dante loves the taste of Addison's smooth hole so much that he can hardly wait to get all the way inside the horny hunk. Dante is done with the foreplay and teases Addison's hole with the tip of his dick, making Addison open up even more. Dante needs the prize in front of him and slides into Addison, plowing away to feel every inch of his deep, tight hole. Dante flips the muscle hunk onto his back so he can look into his eyes and hits just the right spot for Addison to let go for a full release. It's an extra thick load that stays where it lands all over Addison's perfectly carved abs. The sight of Addison covered in his own load is all it takes for Dante to pull out and add to the mix. Dante covers Addison's dripping body with cum and then as an added bonus for the lucky young stud, Dante gives him a second surprise load in his gaping, begging mouth.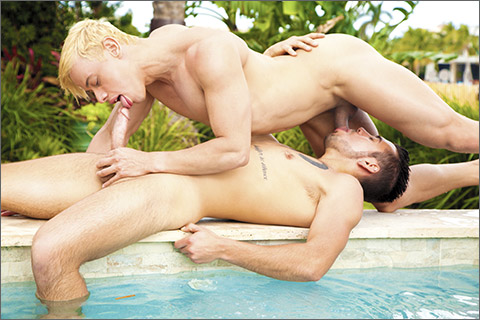 THE CHOSEN FEW: Alam Wernik & Dante Colle
Everyone in The Chosen Few knows there is only one rule: Logan Moore will give you anything you want, except the blond. Logan's generosity ends when it comes to his personal houseboy and lover Alam Wernik. Everyone pretty much obeys that one rule, except for Alam, who takes pleasure in walking around nude, showing off his chiseled body and rock-hard, bouncing dick. His first victim is dark, sexy and hung houseguest Dante Colle who Alam finds showering off after paddle boarding. Alam lures Dante over to the pool and immediately goes down to swallow his giant tool. Dante allows the forbidden blow job to continue and can't resist sucking Alam's perfect cock in return. They sixty-nine until both studs get mouthfuls of cum. Dante thinks he's gotten away with it until he sees Logan lurking in the distance…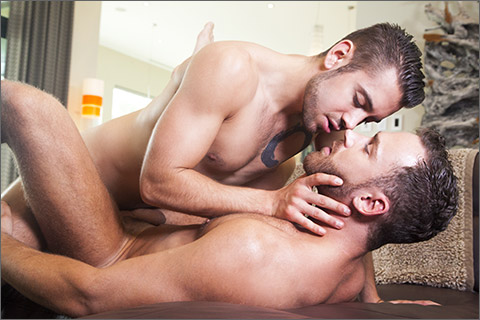 THE CHOSEN FEW: Dante Colle fucks Logan Moore
Logan Moore catches his handsome houseguest Dante Colle breaking the golden rule: hooking up with Alam Wernik. To teach him a lesson, Logan drags Dante into the house and orders him to eat his ass. Dante dives in tongue first, getting Logan's hole primed and ready for Dante's enormous cock. Logan rolls over Dante shoves it in and power-fucks a load out of his horny host. Logan pushes Dante back and sucks his cock, greedily licking up every last drop of cum. Judging from the look on Dante's face he has clearly learned his lesson.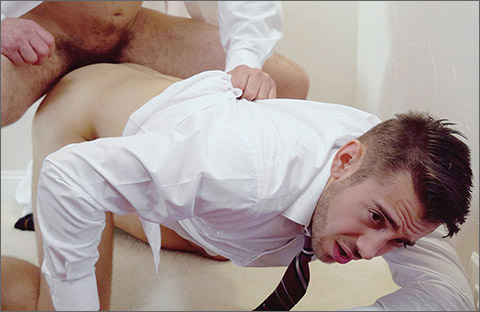 THE INITIATION OF BROTHER CALHOUN:
CHAPTER 1: TEMPLE VIOLATION
Brother Calhoun loves being the Ward Mission Leader. It gives him incredible pride and joy to be able to enrich the experiences of the missionaries.
   He had the time of his life when he was an elder and made good friends. He wanted his current calling to be similarly fun, and be an opportunity to bond and build new friendships.
   For the most part, this was true. But as ward mission leader, he interacted with Brother Strang in the area mission leadership. Brother Strang had a way about him that made Calhoun uncomfortable.
   For one thing, he stood out because of his long beard and a rugged look which did not exactly blend in with the otherwise clean cut, modern men of the church.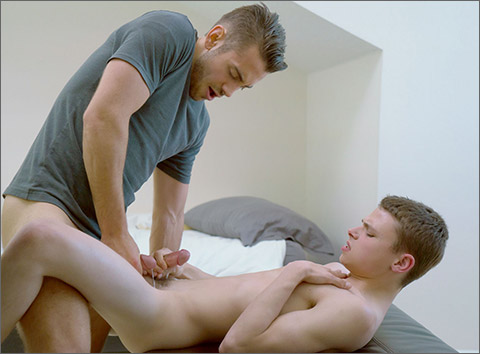 THE INITIATION OF BROTHER CALHOUN:
CHAPTER 2: THE WARD MISSION LEADER
Brother Calhoun couldn't stop thinking about what happened on the stairs. In the nights that followed, he even dreamt about the way Brother Strang pinned him down and fucked him.
   He was so confused and torn about how to feel. He couldn't talk to anyone about it, resigning his concerns to the echo chamber of his mind.
   He felt guilty and angry that he was made to feel so powerless. It was a complete violation, and he knew that–but at the same time, he knew it turned him on.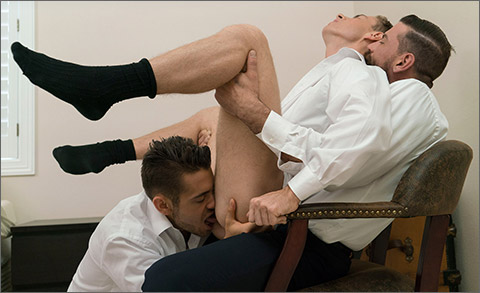 THE INITIATION OF BROTHER CALHOUN:
CHAPTER 3: BROTHER'S OATH
Elder Garrett had been spending a lot of time with Brother Calhoun, the ward mission leader. His companion gets called into the mission office several times a week, so he is often on splits with Calhoun these days.
   Not that this bothered him. Brother Calhoun was extremely attractive.
   One morning when Elder Garrett was getting ready, and Brother Calhoun was on the phone with a ward member in the other room, he saw Brother Calhoun's journal out and exposed. Journals were meant to be private and not shared with anyone. Elder Garrett respected this, but his curiously got the better of him.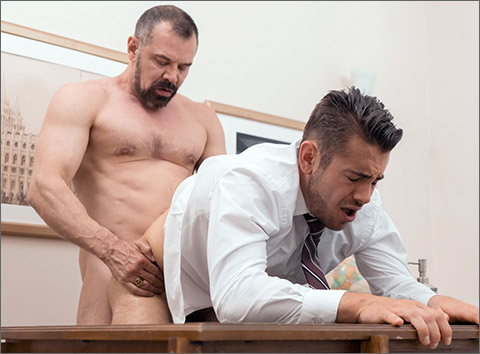 THE INITIATION OF BROTHER CALHOUN:
CHAPTER 4: THE CALLING
The Mormon leadership makes a regular practice of interviewing and questioning the young men of their ward. Making sure each boy is living by the proper code of conduct and discipline is routine priesthood.
   President Ballard loves watching as the boys navigate through their responses, trying to craft their answers in the space between what's honest and what's expected. The real magic happens when he can press them harder and see their true character emerge.
   President Ballard knew well what had transpired between Calhoun and Brother Strang; he just wanted to see the young man wrestle with his confession. After a series of interrogations about his sexual history, the most he got was an admission that he'd had sex before with girls before his mission.
CORBIN FISHER / AMATEUR COLLEGE SEX
CLICK HERE TO GO TO HIS MEN.COM DETAILS
VIDEO ON-DEMAND: Dante Colle @ AEBN SMUTJUNKIES THEATER
DVDs & ON-DEMAND: Dante Colle @ TLA VIDEO