Young Czech Amateur Guy has Gay Sex for money, Nikola Donoval
Known Aliases: Czech Hunter 265, Will Banks, Steve Hard
Years Active: 2016 – 2018
WILLIAM HIGGINS INFO:
Model Name: Nikola Donoval
Age: 19
Home Town: Prague show map
Height: 181cm/5'11"
Weight: 76kg/167.2lb
Foot Size: EU43/US8.7/UK8.2
Penis Size: 16cm/6.3″
Profession/Student of: University student
Hobbies: Sport
Favorite Sports: Tennis
Active Sports: Soccer
Movie/Music/Sport Stars: Adela Banasova
Visited Countries: Morocco
Want to Visit Countries: Israel
Dream of My Life: I do not know.
Zodiac Sign: Virgo (August 23 – September 22)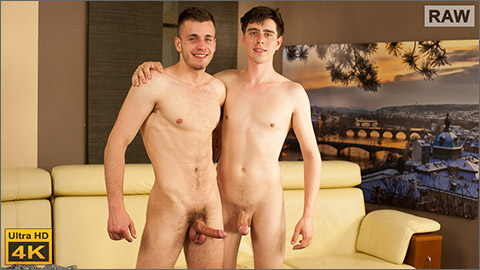 FULL CONTACT SCREEN TEST: NIKOLA DONOVAL & OLIVER HRUBY
Oliver Hruby, having recently had his cherry busted is back for more. This time he is paired with Nikola Donoval who appears in his Screentest. They start by kissing for a while. Then Oliver removes Nikola's tee shirt as he feels over his body. Nikola takes off Oliver's tee shirt too and begins to kiss his chest. They continue kissing and then Nikola takes down Oliver's shorts and drops to his knees to suck on the stiff cock. He works well on Oliver's cock, sucking it deep into his mouth, and licking on the shaft too as he gently wanks it. Oliver rubs Nikola's head as he fucks his cock into the waiting mouth. Oliver then sits and lands back for Nikola to suck him some more. Oliver then lays on his back, lifting his legs in the air for Nikola to rim his hot hole. He wanks himself as Oliver's tongue works his hole. Nikola slips a finger into the hot hole too and starts to fuck it in and out. He turns Oliver over, onto his knees, and slides his big, hard, cock into that tight hole. That cock looks a tight fit and Nikola begins to fuck Oliver, with long, deep, strokes. The fucking speeds up with Nikola grabbing Oliver's hips and pounding his hole. Oliver takes it well and is soon sitting on that dick, riding up and down on it. His own cock is rock hard as he takes the dick right down to the balls. Nikola thrusts his cock deep into the hole and fucks hard as he reaches for, and wanks, Oliver's cock. Oliver is moved again, onto his back and that massive dick goes back into his hole to work it hard. He grabs his own cock and wanks it as Nikola fucks him. All the fucking brings Oliver to the brink and he dumps his cum all over his sexy body. Nikola conitinues fucking the tight ass until he is ready to cum to. He pulls out and wanks his cock to shoot the creamy cum over Oliver. He milks his cock dry and leans over to kiss Oliver once more.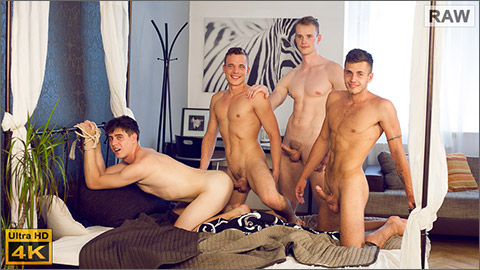 WANK PARTY #87
We have Hugo Antonin, Adam Nezval, Nikola Donoval, Oliver Hruby. We find them enjoying the fun as Adam is rimming Oliver's hot ass and Nikola and Hugo 69. Then Adam moves aside and Hugo eats Oliver's sexy ass. He soon slides his thick, hard, cock deep into Oliver's waiting hole and begins to fuck nice and deep. Adam and Nikola are rock hard too and wanking as they watch the fucking. Hugo pulls out of Oliver's hot hole and makes way to Adam to shove his cock in. Oliver takes the dick so well and starts sucking on Hugo at the same time. Nikola watches closely, rubbing his dick all the while. Then he takes Adam's place, sliding his throbbing cock deep into Oliver's ass. As he takes the cock in his ass Oliver continues to suck Hugo as well. Adam and Nikola change places again, and keep alternating, giving Oliver's ass a great work-out. Then they both move aside to let Hugo take a turn at fucking again. He pounds Oliver's ass, spanking it as he fucks. Oliver it turned over, to lay on his back with his legs up. Hugo's big cock goes back into his hole and starts fucking again. Oliver wanks himself as he takes the dick in his hole. He keeps up the wanking as Nikola replaces Hugo in fucking that ass. As he wanks his cock Oliver shoots his hot cream all over his belly, while is ass is still being fucked deep. Nikola is ready to cum too and pulls out of Oliver's ass to shoot his cum over him. Hugo isn't ready yet and shoves his cock back into Oliver's ass to fuck some more. He bangs away at that ass until he is ready and pulls out to deliver his hot cum. Then Adam takes over. He too fucks that ass hard until his cum is ready. He pulls out and releases his hot juice to complete all four cumshots.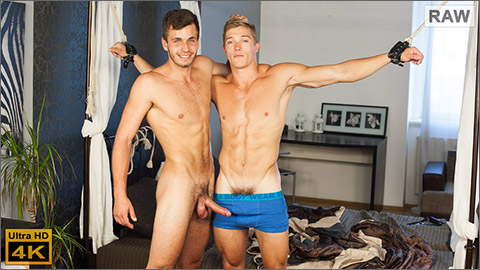 RAUNCHY: ALAN PEKNY & NIKOLA DONOVAL
Nikola Donoval has found himself a very sexy partner in Alan Pekny. We find them as they are getting into some very raunchy sex. Alan is shackled and gagged and wearing just his underwear. Nikola, in only his shorts, starts by feeling all over Alan's beautiful body. With his hard cock pulled out of his shorts Alan rubs it against Alan. Then he drops to his knees and sucks on Alan's stiff cock, as he cups the balls too. That gets the tight hole ready and soon Nikola's throbbing cock slides deep inside. He fucks Alan deep and hard and then moves him so that he is laying down, with his legs up, for more hard pounding of cock in ass.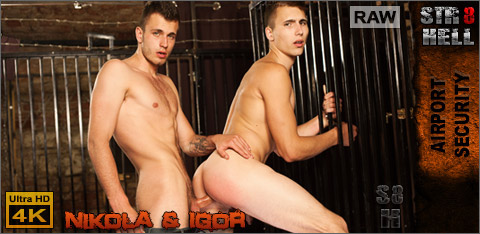 AIRPORT SECURITY: IGOR TAPAK & NIKOLA DONOVAL
Igor Tapak is being held in a cage in the airport dungeons. He is proclaiming innocence of any wrongdoing to his guard, Nikola Donoval. But Nikola has plans for him. He shackles Igor's hands above his head and pats him down. Igor complains as Nikola's hands feel all over him. Nikola pulls at the clothes gradually lowering Igor's pants. Then he sucks on Igor's stiffing cock, taking it deep into his mouth. Nikola enjoys sucking that big cock for a while. Then he stands and turns Igor around so he can check his ass. He bends him over and starts tonguing his hot hole. Nikola has a good time rimming the hot hole, pulling the cheeks apart to really get his tongue in. Then he stands and pulls out his throbbing cock and shoves it deep into Igor's ass. That ass hole gets stretched wide by Nikola's rampant cock. He fucks it deep as Igor moans. Nikola keeps up his hard fucking, pulling his cock out and shoving it back in again. His fucking speeds up, banging that ass real hard. As his ass gets fucked hard Igor grabs his own cock and wanks it. He quckly shoots a big cumshot as Nikola continues to fuck his sexy hole. Then Igor is laid down for Nikola to fuck him some more. The big cock slams into the tight hole until Nikola is ready to cum too. He pulls out and releases his hot, creamy, cum all over Igor's left thigh. Then he tells Igor that he can go home.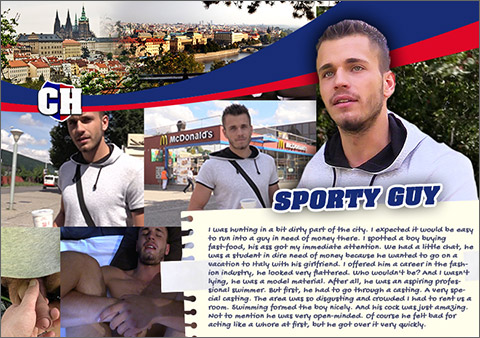 CZECH HUNTER 265
I was hunting in a bit dirty part of the city. I expected it would be easy to run into a guy in need of money there. I spotted a boy buying fast-food, his ass got my immediate attention. We had a little chat, he was a student in need of money because he wanted to go on vacation to Italy with his girl-friend. I offered him a career in the fashion industry, he looked very flattered. And I wasn't lying, he was a model material. After all, he was an aspiring professional swimmer. But first, he had to go through a casting. My very special casting. The area was so disgusting and crowded I had to rent a room. Swimming formed the boy nicely. And his cock was amazing. Not to mention he was very open-minded. Of course he felt bad acting like a whore at first, but he got over it quickly.
WILLIAM HIGGINS
STR8HELL
CZECH HUNTER
CLICK HERE TO GO TO HIS WILLIAM HIGGINS BIO PAGE
CLICK HERE TO GO TO HIS STR8HELL BIO PAGE