American CockyBoys Gay Porn Star, Cory Kane
Known Aliases:
Years Active: 2016 – 2019
COCKYBOYS INFO:
We're pretty excited Cory Kane has decided to make his porn debut here at CockyBoys! In the age of Snapchat, Twitter, and all other forms of social media, Cory's had easy access meeting his needs as an exhibitionist. But under the CockyBoys lens, he takes his looks and charm to an entirely new level. Naturally tall and slim with dark features and curious doe eyes, Cory's physique is proportional in all the right ways. He's got one very big dick, thick and uncut, that could leave even our most refined CockyBoys drooling at the sight.
   That's why he and the ever-lovable Ricky Roman hit it off so well in Cory's debut scene. And though he certainly knows how to use that cock in all the right ways, Cory is sexually versatile. With that elastic, flexible body of his, Cory's got what it takes to be a good bottom boy the same way he knows how to pummel a tight bubble butt with his girthy rod. With a guy like Cory, there's a surprise in store for everybody. But what's most attractive about Cory is how much he loves doing it all!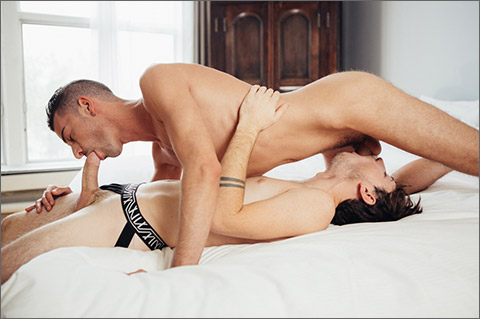 COLE CLAIRE & CORY KANE FUCK RAW
At last Cory Kane & Cole Claire get together and they want YOU to see it happen in a condom-free scene! Cory & Cole were instantly attracted to each other when they met and though they've fooled around since, THIS is their time having first full-on sex. Cory is already rock hard as they lie together and once they start kissing Cole eagerly takes out his cock to stroke and go down on his hefty piece, taking as much as humanly possible.
   Cory gets on his knees and Cole's mouth just keeps on going without pause even when Cory reaches over to play with his hole. Cory interrupts the pleasure only slightly when turning Cole on his back so he can finally reciprocate in a 69. But soon Cory wants more. He gets Cole on all fours to eat his hole and in no time has Cole on his belly with legs spread out to take his cock, slowly but surely.
   Cory's cock easily reaches maximum depth and Cole's gasping moans are accompanied with a smile reflecting pure pleasure. Cory tops him with increasing speed, eliciting high-pitched expressions of sexual ecstasy. He takes Cole in a variety of positions but it's when he has Cole on his back that they reach their crescendo. Eventually Cory pulls out just in time to explode all over a delighted Cole who almost immediately sits on his lap to shoot his own thick load over him. There are no words as they kiss but it's clear their first time was well worth the wait.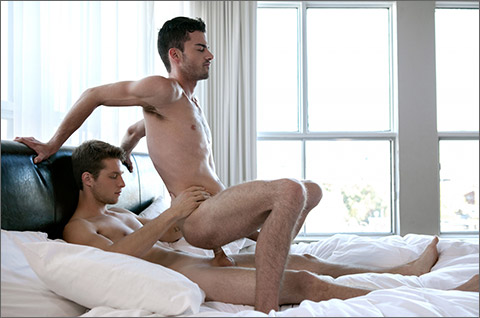 BENJAMIN BLUE FUCKS CORY KANE
Benjamin Blue has a few lessons to teach Cory Kane and not all of them include French. Sometimes the language of love is better felt than heard and Benjamin is eager to teach his new pupil just how much he can give and take.
   With a wink and a coy smirk, Benjamin shows Cory that he can take all of his massive girth in his willing mouth and Cory eagerly returns the favor, rimming him for added enjoyment. Things take a steamy turn when Cory invites Benjamin to join him on the bed and into his mouth. Cory's intense blowjob skills quickly lead an invitation to ride Benjamin's cock, much to both of their pleasure. The sexual tension builds into new positions until Cory takes Benjamin from behind.
   Their chemistry escalates as Cory fills Benjamin's willing hole and the sheets become twisted in his hands as he is left breathless on the bed, face contorted with ecstasy. But Cory isn't done yet and he flips Benjamin over to power into him with his full length. When Benjamin can no longer contain his excitement, he grips his own cock while being filled completely by Cory, and shoots his load over his own toned stomach, adding to Cory's excitement as he powers into Benjamin. It isn't long before Cory can no longer contain himself and he unleashes an impressive cum shot to Benjamin's stomach before they both collapse breathless in passionate kisses.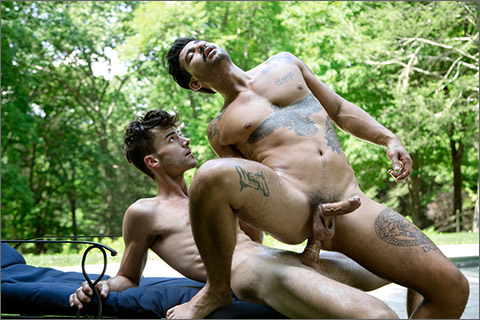 RICKY ROMAN & CORY KANE FLIP-FUCK
Ricky Roman and Cory Kane have been exchanging dirty pics on Snapchat for a while now and they were both eager to get it on in real life. They got together by the pool and immediately started making out before stripping down and letting their horny desires run wild.Ricky has been dreaming of cory's enormous uncut cock and he pulls that monster out of his pants and swallows as much as he can take. Gently licking the entire length of cory's shaft before swirling his tongue around the swollen cock head. Cory's rock hard cock doesn't lie and it's obvious he loves every minute of it! He lets Ricky feast on his dick for a while then pushes him back on the pool chair to return the favor. Sliding every inch of Ricky's own sizable cock down his throat while looking deeply into his eyes. These guys are totally into each other and they're showing it with every movement they make. Ricky just lays back and gets one of the best blowjobs of his life before turning cory around and sliding his cock into his tight little asshole. All the way to the balls with a single stroke that just leaves cory moaning.
   Ricky fucks Cory long and hard on his back as Cory gently strokes his own enormous cock. Driving his cock deep inside his body while his balls slap back and forth on his ass. But he has to slow things down so he stands Cory up and mounts him from behind.These two beautiful young men fuck standing up by the pool then Ricky lays back on the pool chair and Cory sits on his cock. Riding that tool as his own uncut cock slaps against Ricky's chest. Bouncing up and down and trying to get as much of that cock as possible. But Ricky wants at cory's huge uncut cock so he pulls out and sits on that monster. It takes a pro to get a cock that huge in his ass but he has no problem and before you know it he's riding Cory's cock and bouncing up and down on his thick shaft. His own cock rock hard in his hand as he gets off on getting fucked by such a big dick.
   The spin around and Ricky climbs on top of cory so he cock can go even deeper in his ass. Riding his buddy to the edge of cumming then slowing down. Making it last as long as possible. He pulls off and tells cory, "I want to fuck the cum out of you!" And Cory can't wait. Ricky mounts him from behind and within a couple of strokes cory's moaning gets louder and louder until the cum starts to fly and he coats the pool chair with a huge load of jizz. Ricky pulls out just in time to paint Cory's face with rope after rope of perfect white cum. Cory licks his lips and tastes his buddy's seed before Ricky bends down and licks up some of his own cum then kisses him square on the lips. Mixing his jizz and spit into one wet passionate kiss that leaves them both smiling. Job well done!
CLICK HERE TO GO TO HIS COCKYBOYS DETAILS
VIDEO ON-DEMAND: Cory Kane @ AEBN SMUTJUNKIES THEATER
DVDs & ON-DEMAND: Cory Kane @ TLA VIDEO