Hung Blond Czech BelAmi Gay Porn Star, Christopher Caan
Known Aliases / aka:
Years Active: 2017
BEL AMI INFO:
Christopher has a handful of scenes already online and about a dozen or so that will be coming your way in the future.
   He is tall and lean with a very decent dick. While we may not classify him as a 'star' is a very good supporting actor and we look forward to bringing you more of his scenes in the future.
Eye Color: Blue
Hair Color: Brown
Zodiac: Libra
Dick Type: Average
Dick Size: 19
Height: 186
Weight: 80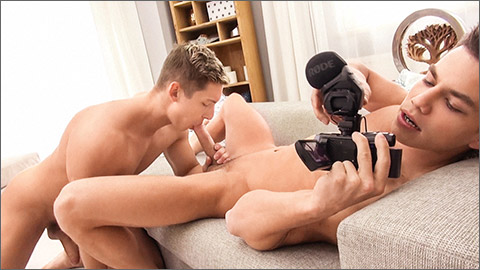 ADAM ARCHULETA & CHRISTOPHER CAAN
As mentioned in our QUICKIE last week, here we introduce you to the "new" Christopher.
   Adam has invited him for a short interview and to see how much he has changed. Clearly he is not "Freshmen" material anymore, but he does perfectly qualify as a BelAmi boy now. We believe he has convinced Adam about his look and his skills, but how about you?

GROUP TRAINING
It does not seem that long ago that Hoyt, Jerome and Antony were receiving their own training lessons, but here they are today, spreading their knowledge around to newcomers, Michel, Christopher and Casey.
   Our Three new guys arrive at the studio looking a little like frightened rabbits, but it does not take long for our 'old pros' to get them to relax and enjoy themselves.
   This is a 2-day scene, and there are so many different combinations and pairings of guys here we won't even start to list them, other than to say we think all Three of the newbies came out with a much better understanding of lovemaking than when they went in.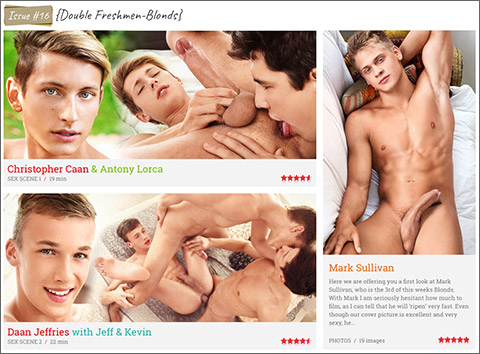 FRESHMEN ISSUE 16: Christopher Caan & Antony Lorca
In this scene you will see the dancing part of Christopher Caan (he performed ballroom dancing in his earlier life), now he is trying to import used cars. In any case this scene is destined to be a success with you as the chemistry between the boys is great, and all the elements of the scene work, which is not generally the rule with new boys. Please concentrate your comments on Christopher so we can get some feedback.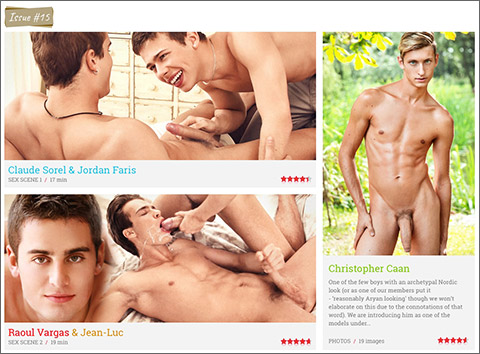 FRESHMEN ISSUE 15 – PHOTOS: Christopher Caan
One of the few boys with an archetypal Nordic look (or as one of our members put it – 'reasonably Aryan looking' though we won't elaborate on this due to the connotations of that word). We are introducing him as one of the models under a question mark regarding an exclusive contract or not. We realize most of you will like his looks but the question is more about his performance. We will continue this rumination in the next edition of Freshmen where he has a scene with Antony Lorca.