Gay Porn Superstar, Chase Hunter
Years Active: 1993 – 2007
FALCON INFO:
Hair: Brown
Eyes: Green
Height: 6′
Position: Top
Endowment: 9″ or 10″ (depends whose stats you read)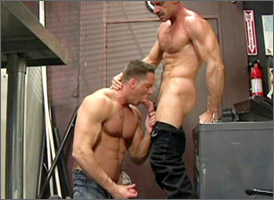 BASIC PLUMBING 3 (FVP-174) SCENE 3: Chase Hunter fucks Erik Rhodes
Back at the office, a new plumber interviews with Chase. Chase impresses the importance of doing whatever it takes to make the customer happy and shows Erik first hand by stripping him down and fucking his hard, tight muscle-butt.
BASIC PLUMBING 3 (FVP-174)
TOMMY'S TALE (FVP-151)
DRENCHED – PART 1 (FVP-149)
DRENCHED – PART 2 (FVP-150)
BASIC PLUMBING 2 (FVP-118)
DOWNLOAD (FVP-103)
BASIC PLUMBING (FVP-086)
HOUSE RULES (FVP-090)
BREAK AWAY (JVP-060)
HOLD ME AGAIN (JVP-057)
FALCON 40TH ANNIVERSARY BOX SET (FVS-017)
FALCON 35TH ANNIVERSARY BOX SET (FVS-012)
   CHANNEL 1 / RASCAL
   FALCON STUDIOS
   COLT STUDIO

ADVOCATE MEN  July 1994
UNZIPPED  January 2004
UNZIPPED  June 2007
INCHES  December 1993
INCHES  February 1994
INCHES  August 1994
MANDATE  December 1993
TORSO  July 2004
ALL MAN  May 1994
ALL MAN  September 1998
ALL MAN  March 2004
DUDE  March 2000 (Vol. 4, No. 2)
MANSHOTS  Jan/Feb 1997
MANSHOTS  February 1999
NUMBERS  February 2000
JOCK   ALL STARS  Nov-Dec 1996
JOCK   ALL STARS  November 1999
SAVAGE MALE  v02 n06
SAVAGE MALE  July 1996  #24
XXX SHOWCASE  v02 n08
XXX SHOWCASE  v12 n03
COLT MEN 40
COLT MEN PLAYING CARDS
BRUNO GMUNDER: ULTIMATE FALCON
ADAM GAY VIDEO: 1998 PORN STAR CALENDAR
ADAM GAY VIDEO: THE FALCON MOVIES OF JOHN RUTHERFORD
ADAM GAY VIDEO: 500 WORLD'S GREATEST PORN STARS
MEN MAGAZINE PRESENTS: FALCON 30th ANNIVERSARY

CHASE HUNTER SUPERCOCK
The legendary Falcon superstar has now been immortalized by Falcon Studios with a life-size replica of his massive manhood. These masterpieces were cast directly from the star's fully erect cock and balls using the special RealCast process, which has enabled the most authentic and life-like replications ever created. Enjoy the touch… the feel… the excitement.
Overall length: 10.00″; insertable length: 8.00″; circumference at the head: 7.00″; circumference at the balls: 12.00″.