Gay Porn Superstar, Chase Hunter
Years Active: 1993 – 2007
FALCON INFO:
Hair: Brown
Eyes: Green
Height: 6′
Position: Top
Endowment: 9″ or 10″ (depends whose stats you read)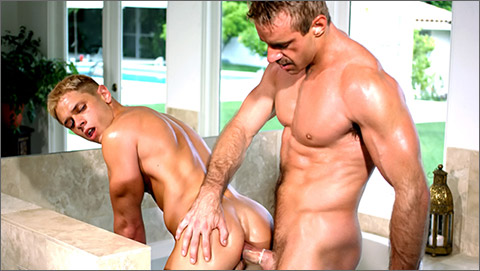 TOMMY'S TALE: Chase Hunter fucks Tommy Brandt
As Falcon Exclusive Tommy Brandt relaxes in the bath, he spots Chase Hunter soaking in the rays on the lawn. Entranced by Chase's muscled form, Tommy calls him over and the two studs size each other up. Soon the hungry men are hotly engaged in a soapy session of cock-sucking, rimming and ass-play. Overtaken by desire, Chase takes Tommy from behind and gives him a hearty ass-pounding – driving deep and riding hard. The intensity compounds itself and soon the eager studs find themselves spilling their loads.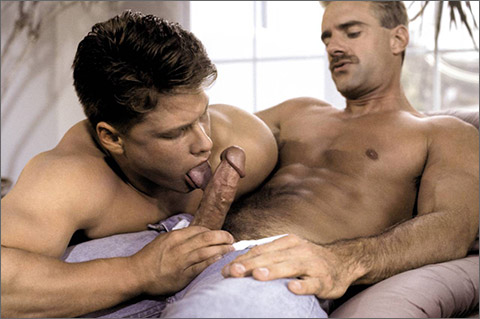 DOWNLOAD: Chase Hunter fucks Chad Connors
Smooth, muscled Chad Connors can't wait to get a taste of Chase Hunter's hot, stiff cock. Chad dutifully throats Chase's prick…taking it deep into his throat. Spurred by desire, Chad begs Chase to fuck his hungry hole. Chase eagerly complies, slamming Chad's ass forcefully while Chad begs for more. As the heat of the rhythm rises higher, both men surrender to orgasm and shoot their hot sticky loads.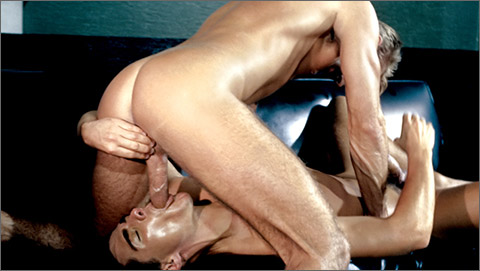 BASIC PLUMBING: Chase Hunter fucks Tony Di Angelo
Blond and mustached Chase Hunter's lunch is interrupted by an urgent call from regular Tony DiAngelo. High tailing it over to Tony's club, Chase unclogs a urinal stuffed with the same dildo that was there the week before. Tony, in a moment of genuine, fine acting, ashamedly confesses to causing the problem himself in order to see his lust interest. Barking permission, Chase commands Tony to lick and suck to his delight, which he hungrily does as he rims Chase's firm behind, causing him to spurt his thick honey. They 69 lovingly before Chase rubs his huge boner between Tony's grasping ass cheeks then slowly pushes it in deeply.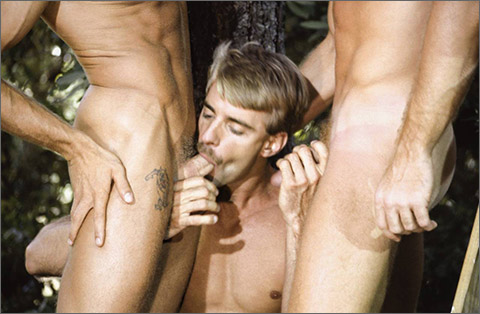 HOUSE RULES: Chase Hunter fucks Jesse Tyler and Mike Ryan
Mustached Chase Hunter wants two blonds in the woods and John Wood supplies him with bodybuilder Jesse Tyler and boy-next-door Mike Ryan. Chase gets to sample both big-bottomed men's butts especially to the screams of enthusiasm by Tyler's eager asshole.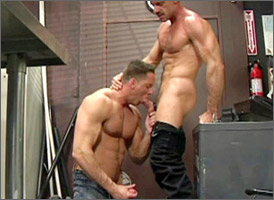 BASIC PLUMBING 3 (FVP-174) SCENE 3: Chase Hunter fucks Erik Rhodes
Back at the office, a new plumber interviews with Chase. Chase impresses the importance of doing whatever it takes to make the customer happy and shows Erik first hand by stripping him down and fucking his hard, tight muscle-butt.

CHANNEL 1 / RASCAL


ADVOCATE MEN  July 1994
UNZIPPED  January 2004
UNZIPPED  June 2007
INCHES  December 1993
INCHES  February 1994
INCHES  August 1994
MANDATE  December 1993
TORSO  July 2004
ALL MAN  May 1994
ALL MAN  September 1998
ALL MAN  March 2004
DUDE  March 2000 (Vol. 4, No. 2)
MANSHOTS  Jan/Feb 1997
MANSHOTS  February 1999
NUMBERS  February 2000
JOCK   ALL STARS  Nov-Dec 1996
JOCK   ALL STARS  November 1999
SAVAGE MALE  v02 n06
SAVAGE MALE  July 1996  #24
XXX SHOWCASE  v02 n08
XXX SHOWCASE  v12 n03
COLT MEN 40
COLT MEN PLAYING CARDS
BRUNO GMUNDER: ULTIMATE FALCON
ADAM GAY VIDEO: 1998 PORN STAR CALENDAR
ADAM GAY VIDEO: THE FALCON MOVIES OF JOHN RUTHERFORD
ADAM GAY VIDEO: 500 WORLD'S GREATEST PORN STARS
MEN MAGAZINE PRESENTS: FALCON 30th ANNIVERSARY

CHASE HUNTER SUPERCOCK
The legendary Falcon superstar has now been immortalized by Falcon Studios with a life-size replica of his massive manhood. These masterpieces were cast directly from the star's fully erect cock and balls using the special RealCast process, which has enabled the most authentic and life-like replications ever created. Enjoy the touch… the feel… the excitement.
Overall length: 10.00″; insertable length: 8.00″; circumference at the head: 7.00″; circumference at the balls: 12.00″.