Handsome MormonBoyz American Gay Porn Star, Bishop Eldridge
Known Aliases:
Years Active: 2017
MORMONBOYZ INFO:
Sometimes men have the reputation for being difficult or bossy. They can't help it. The truth is that they just know that deep down they're powerful and deserve respect.
   Bishop Eldridge understands this. He's spent his entire life waiting for the opportunity to be in authority, and the Order has given him plenty. As Bishop, he knows that no one sees him as more powerful than the young elders he encounters. They, too, understand what he needs and deserves.
   And for Bishop Eldridge, there's nothing more satisfying than seeing one on their knees, obedient and willing to serve.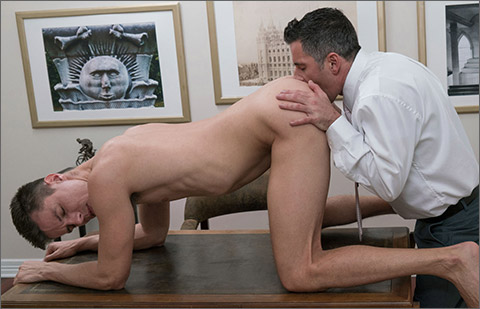 THE INITIATION OF ELDER NICOLA:
CHAPTER 2: THE CALLING
It had been a while since he had been filmed by Elder Holland, and Elder Nicola was getting a little nervous about what he'd done. He loved being fucked by his companion, but the threat of being sent home was always in the back of his mind. What if Holland was lying? What if the President saw it? What if anyone saw it?
   When he was called to have a meeting with Bishop Eldridge, he tried to stay calm. Even as he was getting dressed, he could feel his hands shaking from nervousness. For all he knew, church leadership had found the tape and he was in a lot of trouble. He wasn't sure what he was going to be walking into.
   Once in the bishop's office, his heart was beating so loud in his ears he could hardly hear anything else. The bishop had a reputation for being a direct, no-nonsense guy…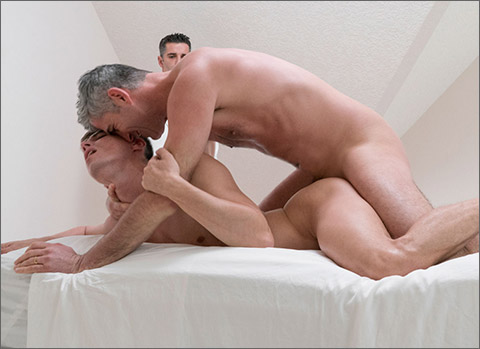 THE INITIATION OF ELDER NICOLA:
CHAPTER 5: THE COVENANT
Elder Nicola stared at the tiny door ahead of him. He waited patiently on his hands and knees in the tiny corridor. The Order had instructed him to strip down and only wear his temple robe, crawl through the small passageway, and wait to be called.
   The young man was confused and a little humiliated, but he understood that he was expected to do as he was told.
   The chamber was a long narrow path that he entered through a hidden opening in the wall of the celestial room. It was bigger than a heating duct, but not by much.
   As he waited, he wondered about the temple. Regular members of the church are not allowed to go to the temple on Sunday. Regular members attend meetings at their chapels and stake centers, but don't go inside the temple…