Handsome Colombian Twink Gay Porn Star, Bastian Karim / Vadim Covrescu
Known Aliases: Vadim Covrescu
Years Active: 2017 – 2019
BOY FUN INFO:
AKA: Vadim Covrescu
Nationality: Colombia
Date of Birth: 1996
Height: 173 cm / 5'7
Weight: 66 kg / 146 lbs
Dick Size: 6″ uncut
Role: Bottom
Orientation: Gay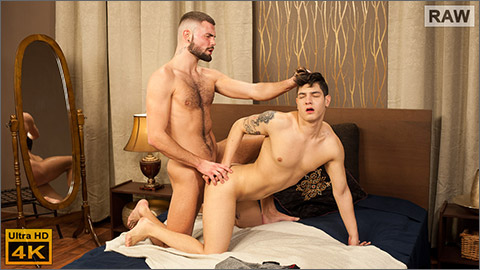 CHERRY BUSTING: VADIM COVRESCU & MILOS OVCACEK
We have another great Cherry Busting, Vadim Covrescu, is our sexy Colombian, who stayed rock hard while his ass was stretched by a dildo. This hot str8 guy has his ass busted by cock for the first time,with str8 guy Milos Ovcacek having the pleasure of being his first. As they relax on the bed Vadim is interviewed by our crew. Vadim explains that maybe he wants to try something with a guy, and maybe be fucked. Then the guys move onto their knees and kiss, and then Milos takes off Vadim's tee shirt. Then Vadim does the same to Milos and they kiss some more. As they kiss they feel each other's bodies. Milos kisses down Vadim's chest to his groin. He gropes through the pants as he sucks a nipple. Vadim's dick is responding to groping and he lays on the bed and has his pants and underwear removed. Milos takes hold of the exposed cock and starts to suck on it. His mouth works well on the stiff cock as Vadim lays back and enjoys it. Then Milos pulls Vadim's legs into the air and starts to rim his hot hole. Vadim wanks himself as he feels the wet tongue on his tight hole. Milos then gets naked, revealing his big, stiff cock. He positions himself between Vadim's legs and slides that big dick into the tight hole. Vadim's ass is stretched wide as the massive cock pushes into it. He wanks on his own dick as Milos works his pole in and out of the virgin ass. Milos' fucking speeds up as Vadim's hole gets used to the big dick. Vadim moans as he takes that cock and he keeps up his wanking. Milos fucks harder and soon Vadim's cock releases the hot cum onto his thigh and belly. He turns over, onto his knees, for Milos to fuck him from behind. That big cock pile-drives into the hot ass fucking as hard as hit can. Vadim takes it all as Milos keeps fucking. Then Milos pulls out and shoots his hot cream all over that sexy ass. Then they kiss again to end a great scene.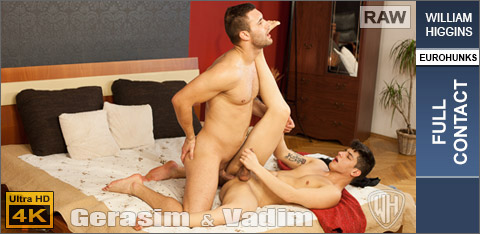 FULL CONTACT: GERASIM SPARTAK & VADIM COVRESCU RAW
Gerasim Spartak is a very hunky str8 guy who meets up with another hot str8 guy, Vadim Covrescu. They kiss each other as Gerasim gropes Vadim's crotch. Gerasim lays on the bed with Vadim on top as they continue to kiss. They begin to strip, getting bare-chested. Then Gerasim is fully naked with Vadim sucking on his rock hard cock. His hot mouth sucks on the cock and licks the balls and the shaft of that big cock. Then Gerasim gets Vadim fully naked and takes a turn at sucking cock. His mouth envelopes the throbbing cock working it well. Gerasim then moves to slide his dick into Vadim's mouth once more. Vadim eagerly sucks on that cock as he wanks himself. Enjoying the sucking they move into a 69 with Gerasim on top. But he wants more and soon is behind Vadim and sliding his big dick into the waiting hole. Gerasim fucks that eager hole deep and they lays down for Vadim to ride him. Vadim's ass slides on the cock, taking it all the way into his hole. He wanks himself as he rides the cock. Next they fuck missionary style as Vadim wanks himself still. He keeps wanking until his cums while Gerasim's dick is deep in hole. Gerasim is ready too and pulls out to shoot his creamy load over Vadim's spent dick. Then he leans over to kiss Vadim again.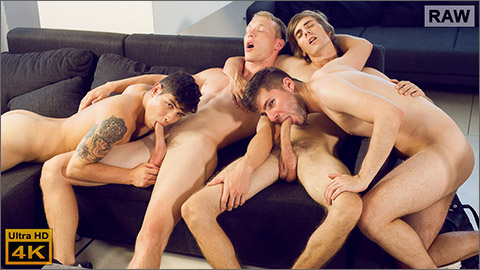 WANK PARTY #99
We have a great line-up for Wank Party #99, with some very sexy str8 guys. Part one sees Tomas Berger, Igor Zobor, Vadim Covrescu and Martin Pesek. Their thoughts soon turn to sex and everyone gets bare chested as they kiss each other. In this Wank Party video we get to enjoy them and we watch them set up for the scene and interact with each other. Then we see some action as well as they make the scene that became the complete video.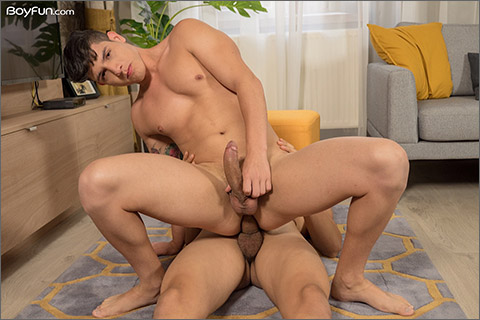 FERRIS WHEEL FEEL UP
Sexy jock boy Bastian Karim isn't sure about taking a ride on the Ferris Wheel, it's so far up, but he's easily convinced when his horny and handsome friend Jared Shaw offers a tempting little treat once they're on it. It might be the proposition of a kiss that had him agreeing to hop on, but perhaps the young man knew it would lead to a lot more than just a smooch. It's probably a good thing the boys wait until they're home before they start really exploring each other, already a little worked up from their sexy make out session. With a little massaging Bastian soon has Jared's incredible body at his disposal, not to mention his gorgeous thick uncut cock! Jared has an amazing dick, so meaty and delicious, any boy would love to spend a good amount of time licking and sucking it, which is precisely what handsome Bastian does. His lips slide over the tip and stretch around Jared's girthy shaft, tasting the clear nectar from his swollen tip. He loves giving head, but he enjoys getting some just as much. Once he's had a little massaging action from his buddy his own tasty muscle boy dick is out for Jared to enjoy, the young man showing off his own oral skills while he works the length and tip. As you might expect, a round of mutual cock play isn't quite enough for these two BoyFun superstars. Bastian offers up his smooth round ass for his friend to enjoy and Jared wastes no time easing his naked shaft into that snug pucker, filling his boyfriend with his warm and wet meat. Bastian is quickly in heaven, the feel of his lover's rigid cock easing in and out of his jock hole is enough to make his own cock dribble clear juice in anticipation of the climax to come. He takes that dick from behind, helped with a little reach around action before laying back and getting pounded even deeper. Jared's aggressive thrusting makes his buddy's cock pump hot cream out over himself, the pleasure rushing through him with each jolt of orgasmic bliss. With Bastian spent and his cock dripping he prepares to take a massive facial from his gorgeous friend, Jared's solid prick splashing ropes of hot man milk out to rain down all over his friend's handsome face and into his waiting mouth. No surprise it was easier to get him riding cock than it was to get him on the Ferris Wheel.
BOY FUN
WILLIAM HIGGINS
STR8HELL
BADPUPPY
UK NAKED MEN
FUCKERMATE
BASTIAN KARIM BOY FUN PROFILE
CLICK HERE TO GO TO HIS WILLIAM HIGGINS BIO PAGE
VIDEO ON-DEMAND: Bastian Karim @ AEBN SMUTJUNKIES THEATER