Randy Blue gay porn star, Atticus Fox
Known Aliases: Johnny Hunt
Years Active: 2011, 2015
TWITTER
RANDY BLUE INFO:
Everyone has had that best friend in high school that you get a crush on. The guy that is just too perfect, sexy, scruffy and sweet. But your heart is broken as you fall in love with someone so unavailable. Atticus is this guy. With one major difference. He is gay as fuck, and rather than break your heart, this fella will scoop you up in his arms and fuck your brains out. He has these piercing blue eyes and hairy chest that you just want to bury your head in. His smile says boy next door and his tattoos say devious rebel. This guy loves to top and bottom, and he will eat your ass for hours. Keep your eye out on this stud. He is a gay porn star to watch out for.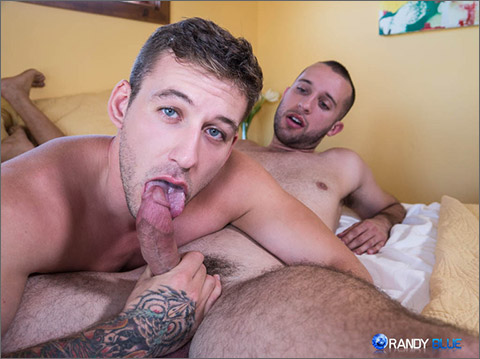 CUM SLUT ATTICUS FOX GETS A BAREBACKED BY GAY PORN STAR TANNER SHIELDS
These cum addicted boyfriends are fucking sluts. Slutty Atticus just got a slut filled load up his hole from two guys and then slut whore Tanner eats that cum out of his ass. Only two cum sluts would do something like that. And then these two sluts kept saying they loved each other while they sucked each other off. Atticus had his hard slutty cock bounce up and down as he sat down on Tanner. Tanner has the thickest damn dick of almost any of the sluts that have been on Randy Blue before. These two sluts were fucking every which way they could. And finally these sluts fucked until a geyser of cum shot out of Atticus and Tanner fed it to his slut craving mouth. Then the slut whore begged for cum up his butt and that slut Tanner agreed whole heartedly. This is the finale of the slut filled series All My Friends are Sluts. I hope you enjoyed watching these sluts as much fun it was the film them. Be sure to check out the free gay porn trailer of the hot action in full HD here at Randy Blue. And if I did not say it enough, slut slut slut slut slut.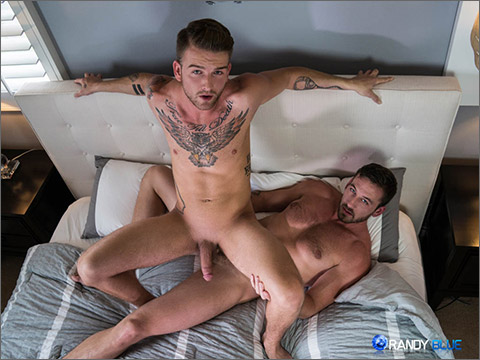 GAY HUNK, ATTICUS FOX FILLS BRETT BECKHAM UP WITH CUM
Atticus Fox and Brett Beckham are a perfect match. They both have tattoos and rugged good looks. And they also like it rough. The two get naked and start to make out. The sexual chemistry is through the roof. They take turns sucking their long hard cocks and then Atticus takes pleasure in rimming Brett. He gets his hole nice and wet so he can slide his dick inside. He fucks Brett bareback every which way he can until finally he shoots a hot load of cum deep inside of him. Watch all the hot dirty goodness in full HD Glory here at Randy Blue.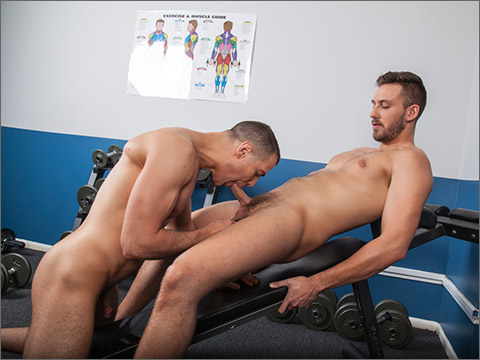 BRENDAN PHILLIPS AND ATTICUS FOX SWAP CUM
Brendan is working out in the gym late at night. And then along came Atticus. The two exchanged glances and were instantly attracted to each other. Both are tall and cute as fuck. Atticus is hairy and bearded with piercing blue eyes. Brendan has a hard and smooth muscled physique and a smile that will make you instantly hard. Atticus started to get erect and showed off his package to Brendan. Brendan upped the ante by showing off his hot hole. Atticus started to jerk off and demanded Brendan to get over and worship his cock. Brendan sucked on Atticus as he rammed it in the back of his throat. Atticus likes it rough. Luckily, Brendan can take it. Atticus slammed Brendan against the wall and rimmed his hole and then sucked his cock. Then they got down on the matt and Atticus spread his hairy crack. Brendan dove in. They both started to get close and took turns eating their cum. Brendan told Atticus that he loved eating his cum, but he really wanted to him to fuck him. Atticus told him that he can fuck him back at his hotel.
Tags: Cacausian, Amateur, Cum Eating Videos, Deep Throating, Boy Next Door, Corn-Fed Boys in Gay Porn Video, Cum Hungry Boys, Big Shooters, 69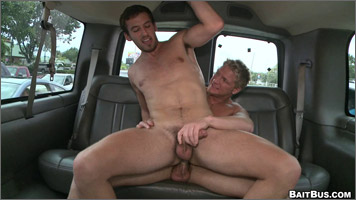 OCCUPY GALVINS ASS
FINDING ASS IN THE STREETS
BIG DADDY
BANG BROTHERS / BAIT BUS
CLICK HERE TO GO TO HIS RANDY BLUE DETAILS