Hung Uncut Mature Brazilian Gay Porn Star, Andy Onassis
Known Aliases:
Years Active: 2018
KRISTEN BJORN INFO:
Nationality: Brazil
Height: 6'3
Weight: 200lbs
Dick: 9.5" (24.13 cms) uncut
Position: Versatile
Andy Onassis is a huge hunk of man with an equally huge dick which he knows how to employ very well. He also posseses a a great ass, and he's not afraid to to let other manly hunks give it a good pounding!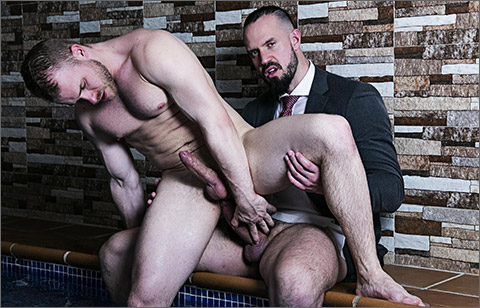 MAKE ME WET
When Andy Onassis and Malek Tobias run into each other in the gym locker room the sexual tension is undeniably palpable. After ogling each other's bodies and meaty cocks, Malek wastes no time stripping off to head to the shower, making it known with his eyes that a visit from Andy would be more than welcome.
   Andy ponders the invitation as he gets himself dressed, deciding that there is absolutely no way he can pass on Malek's generous offer.
   As Andy watches Malek shower, he begins to unzip his fly signaling to Malek that it is his turn to make good on his invite. Malek wastes no time swallowing Andy's cock and then offering up his wet hole to further thank him for his visit.
   Since fucking in the shower just isn't enough, these two dirty boys head to the pool where they can get even wetter and wetter.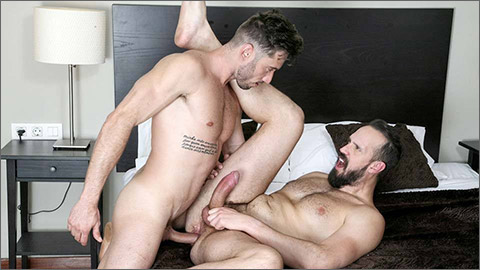 EXTRA LARGE: MARCOS OLIVEIRA FUCKS ANDY ONASSIS
Marcos Oliveira likes his men Extra Large and that is why he has invited Andy Onassis over, he is tall, muscular, masculine and his cock is super-sized. As soon as the guys enter the apartment the kissing and wandering hands begin. As Andy removes his shirt, we can also see the outline of his massive cock straining to get out of those jeans. While the kissing intensifies, Marcos releases his long cylindrical cock, which is already at full attention. Andy likes what he sees and also unleashes his massive beast of a cock as the two men begin to explore and stroke the others cock. Andy bends Marcos over and gives him a slight beard burn on his perfect, pink ass as his tongue explores deeper within that hot hole. In this position, Andy has full access to Marcos hot ass, smooth balls and elongated, uncut cock and he takes full advantage of the situation as his tongue runs the full length tasting every morsel along the way. Marcos turns around and shoves his hard cock deep into Andy's hungry mouth and Andy responds with a deep-throat cock sucking much to Marcos' pleasure. Eager to get his lips around that monster cock, Marcos switches with Andy and wraps his lips around the massive, mushroom cock head. Marcos leans in and does everything that he can to stretch and expand his mouth to accommodate the meaty man flesh stretching him to his limits. The guys head over to the bed and Andy bends over as Marcos comes in from behind and glides his smooth, rock-solid cock into Andy's ass. As Marcos pumps Andy's ass full of his cock, Andy's cock seems to be getting fuller and harder with every thrust into his ass. Marcos flips Andy onto his back this time and goes balls deep into his ass. At this vantage point we are able to see just how husky Andy's cock really is. With both men's cocks being so large, Andy is able to lean forward and suck on Andy's cock as he continues fucking his hot pink hole. One last swap and Andy lowers his ass onto Marcos' straining cock. Once again, we are able to view one huge cock in fucking action and the other plump and ready to release. Marcos takes Andy's monster cock, that has been slapping against his abs into his hand and milks it until the cum flows. Andy's ass muscles have been milking Marcos cock for his creamy load and Marcos delivers his load as Andy lowers his ass down onto the cum drenched cock.
KRISTEN BJORN
TIM TALES
MEN AT PLAY
CLICK HERE TO GO TO HIS KRISTEN BJORN DETAILS
VIDEO ON-DEMAND: KRISTEN BJORN @ AEBN SMUTJUNKIES THEATER
DVDs & ON-DEMAND: Andy Onassis @ TLA VIDEO