ChaosMen Handsome American Amateur Gay Porn Guy, Eryk Eastman / Allen
Known Aliases: Private Eryk
Years Active: 2012 – 2013
BRIAN OCKERT / CHAOS MEN INFO:
Start Age: 27
Debuted: March 12, 2012
Height: 5'8″
Weight: 155 lbs
Cock: 7″ Cut
Allen has such hot body! And his dick! It just stands up at perfect attention! And it's big! The dude is definitely gifted!
   He identifies as straight, not bi, though he has had sex with guys, and seems very passive when around them. He has bottomed before, but mostly, he says, because he didn't think he would stay hard.
   I dunno, you will have to be a judge after watching him with his toy in this video. Clearly he is not only getting-off to being watched, but the vibrator makes his dick even harder.
   I'm not complaining. I love having another guy around who looks forward to getting fucked. I'm just saying there is just no labeling this guy who is watching a pussy flick, and enjoying thoroughly pushing a toy in his ass.
   He likes when guys take control of him, so no simple Serviced video for him!
   Let's get him in the Edge chair!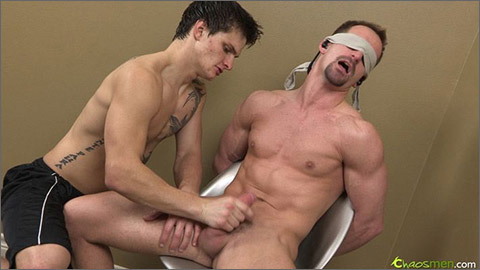 EDGE: ALLEN
I thought I would let Kristopher have a chance at tying someone up in the Edge Chair.
   I think it is pretty obvious that both guys enjoyed themselves thoroughly!
   Kristopher just had to show off his deep throat skills on Allen's rather substantial cock!
   HOT!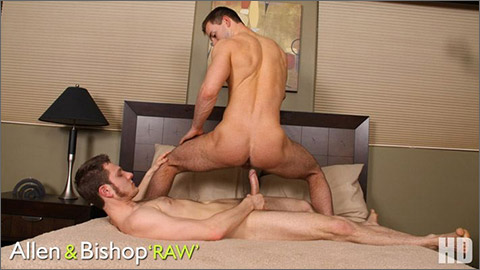 RAW: ALLEN & BISHOP
I REALLY wanted to get these two together. Bishop has great sexual energy and Allen does too. They both love to rim, suck cock, do just about anything!
   Bishop is more of a Top and Allen seems to do better at bottoming, though he sure did fuck Vander good. But his dick gets especially hard when he is being fucked, and he does like em big!
   So if you like rimming, ass to mouth, kissing and generally 'dirty' sex, this video will be a joy to watch. The ass eating is just amazing in this video! I love when they are both rimming each other, and then to see Allen bob up and down Bishop's cock really shows that Allen has got some killer quads for amazing squatting action! Bishop fucks the cum out Allen, and then unloads inside and all over Allen.
   It's a magical pairing!
CHAOS MEN
DIRTY TONY
ALL AMERICAN HEROES
CLICK HERE TO GO TO HIS CHAOSMEN BIO PAGE
RAW: ALLEN & BISHOP
SERVICED: ALLEN & SIMON
RAW: ALLEN & JOINER
RAW: ALLEN & CASEY
RAW: ALLEN & GLENN
EDGE: CRUZ
RAW: ALLEN & VANDER
SERVICED: BENTLEY & ALLEN
SERVICED: ALLEN & BOOKER
EDGE: ALLEN
ALLEN
ERYK EASTMAN FUCKS BROCK LANDON
ERYK EASTMAN'S DIRTY DREAM
FABIAN FUCKS ERYK EASTMAN
ERYK EASTMAN GETS DIRTY
TRAINING AND WATERSPORTS
CAUGHT IN THE ACT
ERYK EASTMAN LIVE
PRIVATE ERYK'S FIRST GAY FUCK
PRIVATE ERYK'S FIRST GAY BLOWJOB
PRIVATE ERYK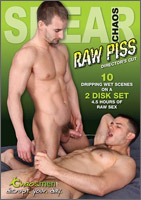 SHEAR CHAOS: RAW PISS – PART 2