Corbin Fisher Amateur College Man, Tom
Years Active: 2012 – 2015
CORBIN FISHER INFO:
Age: 21
Height: 6′ 0″
Build: Athletic
Waist: 32
Weight: 187 Lbs
Cock: 7″ cut
Eyes: Blue
Hair: Blond
Shoe: 12
Big, beefy and blond, Tom is the kind of stud you want on your team. So we're happy we have him on the starting line-up of Corbin Fisher this week!
   An avid high school footballer, he got talked into doing the cheerleading squad his senior year, because as he says, "Throw girls up in the air? I was like, 'Okay, I can do that.'"
   Tom was so good at it, he ended up going to college on a cheerleading scholarship! It's no surprise. This burly guy is intense about whatever he does – in and out of bed!
   Now that Tom's not tossing girls around, he works and in his free time, goes to the gym and modifies his go-carts and bikes. No wonder he sacks out early.
   But when Tom wakes up, he's got massive morning wood. And with no one to take care of it for him, Tom takes matters into his own hand!
   Tom rubs his chest and feels his cock under the sheets. He pulls off his underwear and strokes his dick. Finally, he pulls back the sheet to expose his big cock.
   Tom plays with his balls, then flips over
to hump his pillow. His ass pushes up in the air as he grinds his cock against the pillow.
   He gets on his side and jerks his dick. Tom's eyes close as he enjoys working himself up to release. He lies back and shoots his thick load all over his stomach.
   Tom definitely needs to stick around… I have a feeling we have a few people he can toss around in bed!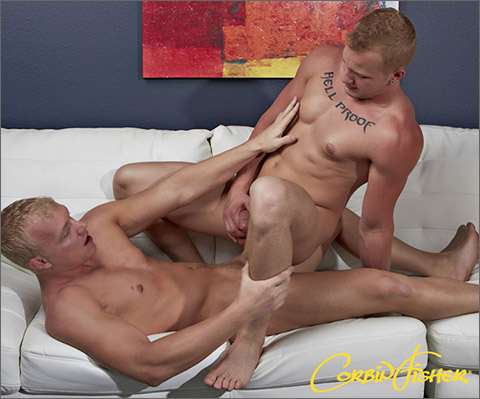 TOM & STEVE'S FLIP FUCK
Steve and Tom both wanted to fuck and get fucked. Simple solution- a flip fuck!
   These two hot guys strip down, 69 each other then Steve shoves his cock into Tom's tight ass. Tom returns the favor and fucks a huge load out of Steve.
   What did blond muscle stud Tom think about this scene? "I thought I was doing things with myself 'cause we look so much alike. It was like looking in a mirror the whole time!"
   We rewatched the scene and Tom commented on Steve's enormous load, "Damn I couldn't even put my clothes back on! It was pretty messy.
   That's okay, I think we like you better without ANY clothes on!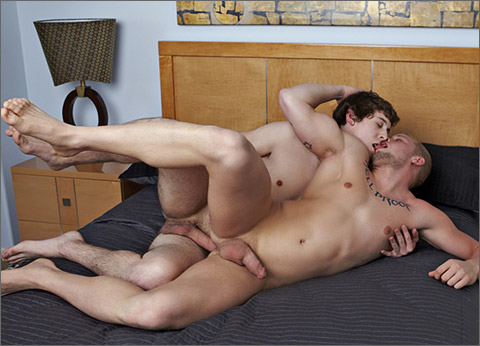 TOM TAKES IT FROM CHANDLER
Superstar Tom has come a long way in his education. When first arrived he hadn't even considered doing something with another guy and now he's cock-crazy! To feed that kind of an appetite, it's a good thing we have Chandler around!
   Tom services Chandler's huge cock. When they 69, I'm amazed at how far down Tom's throat Chandler can get! But the real test comes when Tom takes Chandler's big dick in his ass. Once Chandler gets Tom on the bed, he makes him take every inch of that big cock. Tom shoots a huge load, and Chandler follows up by cumming all over Tom's ass and giving him a creampie!
   Once exclusively for CF Select, this steamy episode is now available for all members to enjoy!
TOM & STEVE'S FLIP FUCK
TOM TAKES IT FROM CHANDLER
TOM & HARPER'S LOCKER ROOM FUCK
TOM TAKES IT FROM COLT
TOM FEEDS JORDAN HIS LOAD
TOM & QUINN TAKE TURNS
TREY TAKES IT FROM TOM
TOM PUMPS COLT'S ASS
CONNOR & TOM FUCK
TOM GETS NAILED
CONTROLLING TOM
KENT DICKS TOM
DOUBLE DICKING ELLIS
TOM SLIDES INTO COLT
ROWAN TAKES ON TOM
COSTA RICA: TYLER'S TAG TEAM
COSTA RICA: TOM TAKES IT FROM KENNEDY
COSTA RICA: JACOB BOTTOMS UP
AIDEN & TOM'S POV FUN
TOM DICKS DIXON
TOM RAILS SMITH
CLINTON FUCKS TOM
KELLAN TAKES TOM
BRANT FUCKS TOM
HARPER CUMS ON TOM
BRAYDEN GETS FUCKED
TOM FUCKS ALAN
TOM CREAMPIES COLTON
DAVON GETS FUCKED
TOM & TREY'S GYM FUCK
KENT CREAMPIES TOM
CF 9-XXX WORKOUT
AIDEN'S QUADRUPLE LOAD
TRAVIS TOPS TOM
TOM'S FIRST TIME
TOM'S MORNING WOOD