Handsome American Gay Porn SuperStar, Sky Dawson
Known Aliases: Sky Johnson
Years Active: 1978 – 1983
FRED BISONNES COMMENTS:
"My very favorite model of the well-over 200 men I photographed. Originally from Texas, Brad (his real name) was a boyfriend of Dick Fisk and recruited by him to do Falcon work; Fisk repeated to me Brad had said that, of all the people you have to work with when shooting gayporn, 'You treat the stills photographer the nicest, because he's the one who's going make you look good.' I think I succeeded in doing that, making Sky Dawson 'look good.' By the time he did his Falcon 'come back,' to shoot 'Boots' with Kris Bjorn (and climaxing with surely the most extensive cum-shot ever filmed!), Sky'd had a nose job; a mistake, I thought at the time. Later he was a high-priced callboy in L.A. The last time I saw him, at a big party in S.F., he'd shaved his moustache and sported a crewcut, and I actually didn't recognized him until he spoke, which amused him. Brad/Sky left the planet in the late 80s, or so I heard."
RETRO MALES INFO:
Handsome, 6 foot tall Sky Dawson worked in porn films/videos between the late '70s and '90s and appeared in many magazines. He was known for his incredible cumshots. He worked with Surge Studio in director Steve Scott's stylized classic TURNED ON! (1982), as the man Al Parker idolizes and is trying to track down. In one famous scene in that film, Parker witnesses a group of men all jerking off while wearing Sky Dawson masks. Dawson also worked with porn star Dick Fisk (who was his lover at the time they shot Falcon's CHAMPS together in 1978) and appeared in many Falcon publications and releases.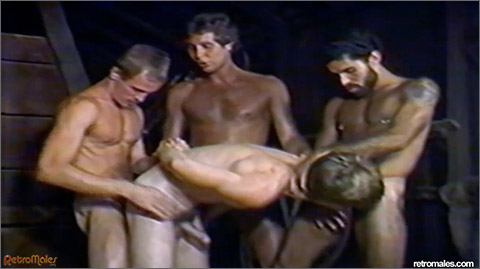 RAWHIDE & FARM HAND FANTASY: Ray Medina, Sky Dawson, Todd Marshall gang-bang Chris Burns
Sky Dawson gets all of the ranch hands into the barn for some special chores that needed performing.
   A hot afternoon, three horny ranch dudes, a new blond ranch-hand, and a dusty old barn are the ingredients in this fast-paced Western fantasy. The action starts to heat up when Sky Dawson, Todd Marshall and Ray Medina drag young Chris Burns into the barn, force strip him and then proceed to fuck Chris's tight ass 'n' eager mouth in some wild, wild positions!
The ranch dudes forget the horses for now, and practice taking each other for a ride!
   The hot barn action continues! After poor Chris Burns's young butt and mouth have been plowed by the three horny ranchdudes, his tender cock and balls are tied and pulled . . . until Chris submits to more deep-throat action! Then his raw hole is assaulted hard by mean-looking dildoes until his stud juices fly!
CLICK HERE TO GO TO HIS FALCON STUDIOS DETAILS
CLICK HERE TO GO TO HIS RETRO MALES DETAILS
More of Sky Dawson at: AEBN SMUTJUNKIES THEATER