Handsome Versatile American Gay Porn Star, Silas O'Hara
Known Aliases: SILAS (Chaos Men)
Years Active: 2011 – 2015
FAB SCOUT INFO:
Silas O'Hara
29 y.o. 5'9" 155 lbs Muscular Build
Brown, Hazel, 7" Cut, Gay, Versatile,
Based in Hartford, CT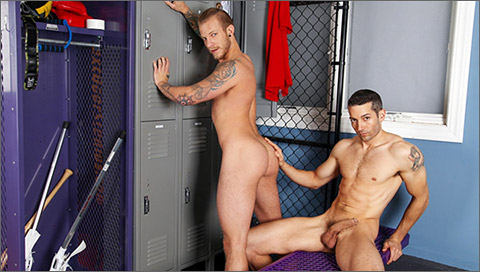 GAY IN TRAINING
As Jaxon Colt goes through his chest workout, he steals a glance at his trainer, Silas O'Hara, as Silas helps another member. Studying Silas' ripped abs and charming little smile, Jaxon feels a chubby emerge in his pants, and he looks down to find the head peeking out of his waistband. Oh what he'd do to that man if ever given the chance… Well, today is Jaxon's lucky day, as he decides to throw caution to the wind and let his trainer known how he feels, fearing rejection or even worse, mockery. And it turns out that Silas is actually flattered by Jaxon's advances, and upon contemplation, decides to see what he's been missing staying on the straight and narrow. Immediately he realizes he will not regret this decision, as Jaxon pulls his pants off and wastes no time downing Silas's meaty cock. Silas is hard from anicipation, harder from excitment, but hardest from how well Jaxon sucks a cock. Silas tells him he's even better than his own girlfriend, to which Jaxon responds that he hasn't seen anything yet.
   With that, Jaxon mounts Silas' rod and begins to grind away, bouncing up and down on Silas' cock as Silas gives his ass a firm spanking, before bending him up against the lockers and pounding him from behind, then spreading him out on the bench, grabbing both of his legs and giving him the thourough fucking that he's been dreaming of, before coating Jaxon in a straight boy load that will have him fantasizing for weeks and weeks.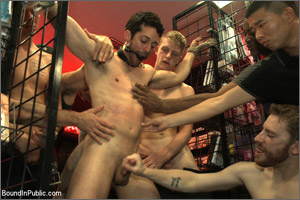 HOT SEX SHOP THIEF FUCKED AND PISSED ON IN THE BACK ARCADE
Hot stud Silas O'Hara was caught stealing a dildo at a local sex shop, and the guys are just getting started with him. Silas is bound in the middle of the store with a gag in his mouth as everyone comes up rubbing all over his body. Everyone says Silas' skin isn't red enough so they break out the flogger and beat the stud from front to back. Once he's nice and red they torment Silas' cock and balls with the zapper before having him crawl to the back arcade. Jay Cloud is waiting with his big fat cock for the stud to come service cock. Everyone takes turns shoving their cocks through the glory hole as Jay shoves Silas' head down on every cock. The guys take turns fucking his ass left and right before blasting him in the face with cum. They let Silas blow his load and shove his head to the floor for him to lick it all up. Before they let the little thief go they hold him down and hose him off as they take turns pissing on him.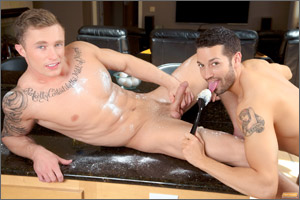 COUPLE'S CAKE
Markie More has planned a special birthday surprise for his boyfriend, spending all afternoon prepping a batch of cupcakes. The only problem is, he's dozed off waiting for the pre-heat cycle to finish, and so when Silas gets home, rather than finding a bevy of baked goodness, he finds his man passed out in a messy kitchen. Now it'll be at least another half hour before the cupcakes are ready. Whatever will they do in the meantime?Silas plays in the flour, throwing some on Markie, and Markie retaliates with a nice smear of frosting across Silas' chest, licking up the sweet mess he's made, and the next thing you know, both guys are stripped bare, and Silas is dropping to his knees, taking Markie's hard cock into his mouth and downing like it was sugar sweet. Markie mounts Silas and rides him on the counter-top, then they switch, as Markie presses Silas up against the side and bends him over the ingredient filled prep area. Silas holds onto the railing as Markie pumps and pounds away, moving to the kitchen floor and spreading Silas's legs apart before pulling out and spraying him with a bit of his batter, as Silas strokes himself off and glazes his own stomach with a special kind of frosting, just as the alarm on the oven sounds.
NEXT DOOR STUDIOS
KINK.COM / BOUND IN PUBLIC
CHAOS MEN