Uncut Handsome Columbian Gay Porn Star, Nicoli Cole
Years Active: 2014 – 2015
MEN.COM INFO:
Hair Color: Brown
Sign: Virgo
Eye Color: Hazel
Dick: 7″ uncut
Height: 5'7″
Weight: 165
Sexual Positions: Versatile Top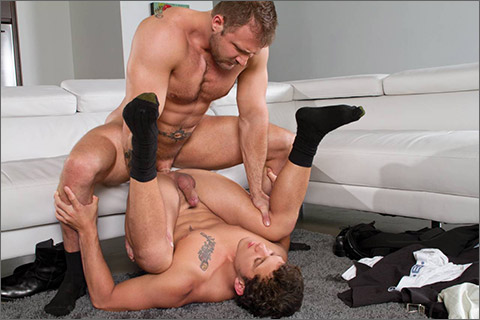 SEX PAD: Austin Wolf fucks Nicoli Cole
Instead of a power lunch with clients, sexy executive Austin Wolf opts for a power fuck at the 'Sex Pad' with hot copy-boy Nicoli Cole. Curly-haired Nicoli is on his knees and sucking as soon as the door shuts. The blow job turns into a rhythmic face-fuck that threatens to stain Nicoli's tie with cock slobber. Austin leads him by the hand to the sofa, and they shed their clothes on the way. Once Nicoli's ass is bare, Austin plunges two fingers in. Nicoli's smooth buns react as if they've just been switched on. He drops to his knees and arches his back. But before taking Nicoli's hole, Austin needs to taste it, and he grabs Nicoli's cock stealing a taste in between. He enlists gravity to get his tongue deeper, hoisting Nicoli upside-down until he's resting on his elbows, then his shoulders. Nicoli is a sturdy man, but Austin's massive, hairy muscular body is up for the task. They fuck in four prostate-pounding positions, each working extra hard. Nicoli reaches behind to grab Austin's cock and spear his ass with it over and over. Their ejaculations paint their torsos with white-hot jizz, and Nicoli sucks the final drops from Austin's emptied cock.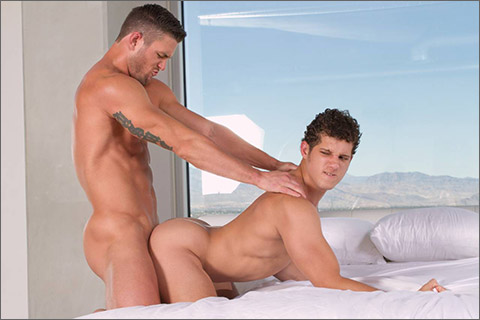 SEX PAD: Ryan Rose fucks Nicoli Cole
When Ryan Rose compliments the view from the Sex Pad, Nicoli Cole interjects, 'it's beautiful'… but he's more mesmerized by Ryan's luscious butt, not the sprawling view outside. Kissing, they instantly take each other's clothes off. Nicoli is eager to feast on Ryan's hard cock and lick his smooth torso. Ryan smiles, squeezes his pecs and pushes Nicoli onto the bed, sprawled out and ready to be taken. Ryan swallows Nicoli's cock fully and sucks on his balls. Nicoli rolls over and Ryan sticks out his tongue for Nicoli to rub against. Ryan mounts him doggie style, corkscrewing while Nicoli moans in tune to the rhythm. Two hot butts move sensuously, Ryan's sliding into Nicoli, and Nicoli's as it takes each stroke. Sounds of passionate man-sex ricochet off the walls. Nicoli aggressively detaches and flips Ryan onto his back, re-mounting on his cock and squeezing Ryan's throat. Screaming that he's 'gonna cum,' Nicoli expels a stream of hot cum onto Ryan's torso, then dismounts and jacks out Ryan's load for him, slurping up the semen and the sweat, then bending forward for one last kiss.
CAMPUS CRUISING
HIM – PART 2
THE LISTENER – PART 1
BEST SEX OF MY LIFE – PART 1
TURN MY SON INTO A WHORE – PART 3
TURN MY SON INTO A WHORE – PART 2
TURN MY SON INTO A WHORE – PART 1
MISTLE HOE
NICOLI COLE AND BLAKE BARNES LOVE IT RAW
NICOLI COLE
JOHNNY FORZA BANGS NICOLI COLE RAW
NICOLI COLE DOMINATES ARCHER HART
NICOLI COLE & TREVOR SPADE SWAP BJS AND CUM
SETH JONSON HUGE COCK STRETCHING NICOLI COLE BUBBLE BUTT
NICOLI, ISAAC, AND JACOB 3SOME AT THE EQUATOR
NICOLI COLE & JACOB DURHAM BAREBACK FUN
NICOLI COLE INSERTS A BIG TOY WHILE JERKING OFF
JAY LIVELY, ANDREW COLLINS & NICOLI COLE
DALLAS REEVES
MEN.COM
FACTORY VIDEO / CUM PIG MEN
RANDY BLUE LIVE CHAT & PRIVATE SHOWS