Big Dicked American Gay Porn Star, Luke Milan
Years Active: 2010 – 2015
TWITTER @LukeMilan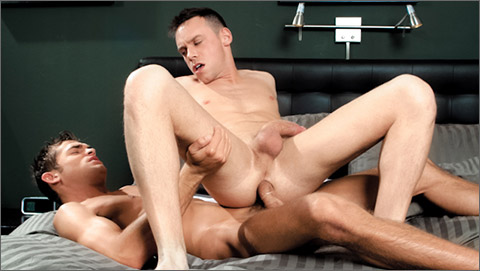 COME AND GET IT: Luke Milan fucks Rylan Shaw
Here's to enormous cocks and long afternoons of lazy summer lust. The ferocious kisses of Luke Milan and Rylan Shaw shoot lazy out the door, and get these studs in white hot action that makes the bright living room as hot as the outdoors. Rylan's jerkin' at Luke's bone, and the thing never seems to stop getting longer and wider. And, the even bigger surprise is that Luke matches Rylan's cock inch for inch — both boys hang super fat and heavy. They swap messy, spit filled blow jobs, swallowing each other's massive cocks to the hilt. But a gut-wrenching fuck is stirring in their gonads, and after some saliva-slobbered ass eating, Rylan's suddenly bouncing on Luke's super-rigid big bone. With Rylan's legs splayed wide, Luke plugs from below. His giant cock spikes into Rylan's tightly clenching hole. It's a pounding that makes Rylan's cum churn up and out of his engorged tool. Luke's body quivers with tension as he chokes his own sweat-slick cock, and blows his load sky high.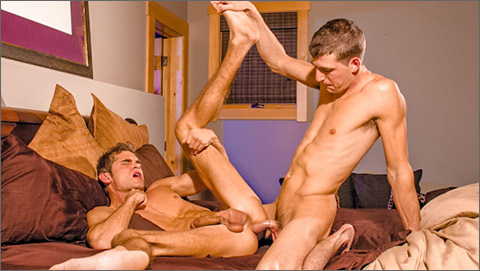 CABIN FEVER – PART 2: Lee Paine fucks Luke Milan
Lee Paine and Luke Milan are snug in their bed feeling too frisky to go to sleep. They make out before Lee pulls the covers down to feed on Luke's big juicy cock. He savors the tasty slab of meat making his partner moan and gasp with pleasure. Luke soon wants his turn to feast, and he begins to slurp down on his bedmate. He feeds on Lee's cock, letting the pole slide lovingly through his lips and creating a sexual charge that they're both feeling. Lee starts to rim Luke's asshole, licking the pucker and juicing it up with his spit. Then with Luke's legs up and spread apart, Lee fucks him hard. They continue screwing with Luke bouncing up and down on his buddy's cock. The excitement intensifies as Lee thrusts his hips. Luke strokes his dick as he continues riding and after squeezing out shots of jizz, he rolls off to watch Lee yank his crank until he climaxes and douses his abs with his own cum.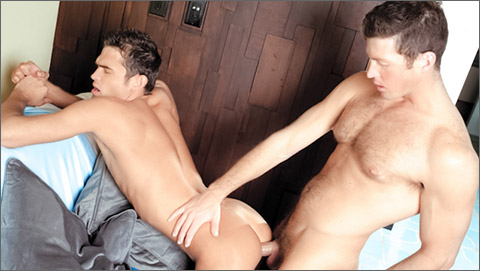 SIT TIGHT 2: Luke Milan & Tanner Wayne flip-fuck
Swept away in raunchy kisses, taut Tanner Wayne and hairy-chested Luke Milan don't make it into the bedroom before Luke's shorts come off and his shockingly massive meat swings into view. Tanner swallows it whole, deep-throating the monster piece with avid slurps. Luke pulls Tanner off his cockmeat, and makes a meal of his buddy's rosy pink ass. Back on his feet, Luke braces himself against the door frame and Tanner pounds his cock into Luke's lush ass. Luke once again pulls himself off the near relentless ass attack, throws Tanner on a sofa, and vigorously slides his stout fuckstick into Tanner's hot hole. The flip is so surprising that Tanner's cum soon shoots over his torso, decorating his nipples and pooling in the hollow of his neck. With Tanner biting his nipple, Luke whips up his own spunk and lets it fly. Spent, the couple collapses into a satiated cuddle.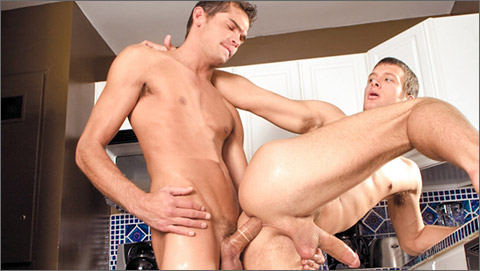 TWIN HEAT: Spencer Fox and Luke Milan flip-fuck
Spencer Fox and Luke Milan raid the refrigerator for something to cool themselves down. They find popsicles to suck on but the relief is temporary and just doesn't satisfy. Eyeing each other slyly they know they'd rather wrap their lips around another kind of treat: the hefty boners they're both packing inside their shorts. Luke is first to service his sexy friend, milking his schlong with oral tugs; and Spencer soon responds, giving head as good as he received. The tanned Luke eats his buddy's ass, licking the pinched hole and priming it for a good fuck. He rams his huge dick deep inside, making Spencer twitch with excitement as they share the sensations of heated friction. Spencer is ready for his turn in this flip fuck session and he quickly jams his pole inside his Luke's tight hole. In and out, faster and faster, he drives his hips. They end up fucking with Luke splayed out on the kitchen counter, his eyes shut close as he surrenders to the pleasure until they both finally bust their nuts.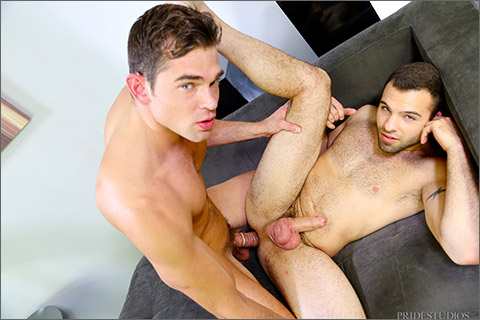 NEED IT AGAIN
Braxton won't leave Luke alone and keeps calling him and texting him every day so he can get fucked by the big dick again. Luke has a boyfriend and doesn't want any that ass no more but Braxton is very persuasive and talks Luke into coming over to his house for quickie one last time. Luke arrives and is very reluctant to do this but Braxton drops to his knees and pulls out that smooth yummy cock of Luke's and starts to moan as he can feel that tongue wrapping around his dick. Braxton is worshipping that sexy cock and Luke has his head back in bliss but snaps out of it and bends that bubble ass over and begins to fuck it hard and quick. If this is the last time he is going to do this he is going deep and hard until Braxton can't take his big dick anymore and has to cum all over himself. Once Luke nuts he realizes what he has done and quickly leaves.
PRIDE STUDIOS
FALCON STUDIOS
RAGING STALLION
HOT HOUSE
LUCAS ENTERTAINMENT
MEN.COM
GIO CARUSO'S BAIT BUDDIES
NEXT DOOR STUDIOS
GAY ROOM
KRISTOFER WESTON'S BOUND JOCKS
CLICK HERE TO GO TO HIS PRIDE STUDIOS DETAILS