Handsome Handsome Falcon Studios American Gay Porn Star, Kyle Becker
Known Aliases / aka:
Years Active: 1998
Falcon Studios stats / info:
Nationality: U.S.A.
Cock: 8.0″ cut
Height: 5'8″
Eye Color: Brown
Hair Color: Dark Brown
Cock: 8.0″ cut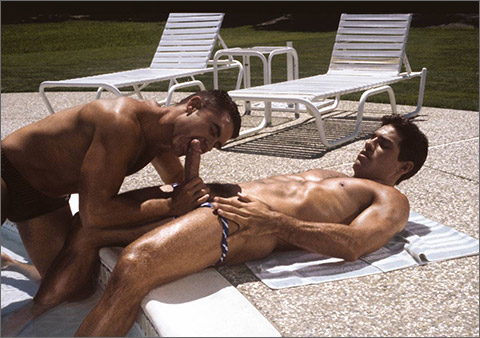 CURRENT AFFAIRS: Mike Branson fucks Kyle Becker
Kyle Becker describes lying poolside next to the tanned Herculean form of Mike Branson. Enamored with the provocative bulge in Mike's speedos, Kyle attempts a furtive peak…awakening the sleeping giant who quickly recognizes Kyle's intent and has his own erotic agenda. Mike invites Kyle to take a peek and he eagerly accepts the invitation, freeing Mike's huge thick cock from the tricot trappings. Kyle hungrily sucks Mike's cock-filling his mouth with the bulbous head; sliding his tongue up and down the engorged shaft-burying Mike's tool deep in his own throat. The rippled sunbathers slip off their suits and stroke their rigid cocks. They engage in a bit of swordplay, slapping their dicks against each other before Kyle kneels and offers his firm round ass for Mike's enjoyment. Mike massages Kyle's hole–opening him up in preparation for the inevitable and much anticipated fucking to come. Kyle begs Mike for his cock. Mike eases it in, then delivers his tool with rhythmic, ever-quickening thrusts as he plows Kyle's hungry hole. The sun beats down as the men become lost in their erotic play. The more they play, the more they want. Mike reclines and Kyle eagerly settles down onto his erect cock, working himself into a frenzy and finally spilling his load over Mike's chiseled abs. In a moment, Mike's own ivory fountain completes the pool and the two satisfied men heave a sigh of release.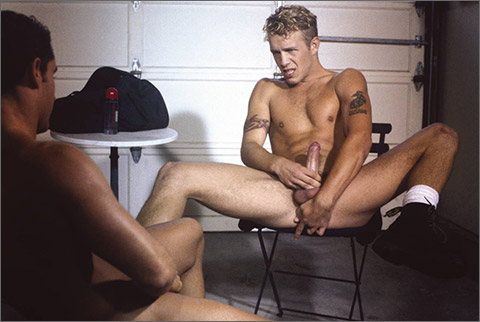 CURRENT AFFAIRS: Kyle Becker & Rod Barry
Kyle Becker faces of with Rod Barry-a mean sex-pig exuding a thick sap of sensuality. Rod taunts Kyle with his uncut cock, waving it in his face. Rod verbally baits Kyle and forces him to watch as he shoves a well-lubed plug up his butt. His asshole twitches with each insertion and Kyle is the appreciative audience to this sexual performance. Under Rod's directions, he strokes and pulls his cock. Rod then orders Kyle to lick the sweat off his face. Eyeing each other lustily, the two men pump their shafts until they can contain themselves no longer and give in to their respective orgasms.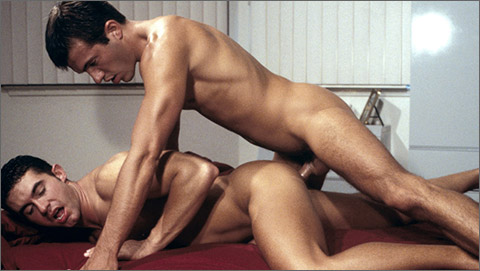 CURRENT AFFAIRS: Marco Antonio fucks Kyle Becker
Kyle Becker sneaks back into bed, horny as hell. He shakes Marco Rivera awake and the two warm to each other-both men tingling with the knowledge of their secret trysts. Kyle kneels between Marco's legs and worships his partner's beautiful uncut cock, playing with the foreskin and tenderly nibbling on the shaft. Marco lays back, soaking in the attention before he returns the favor, throating Kyle's stiff prick. They sixty-nine, enjoying each other's warmth and excitement, feeling their desire rise. They rub their cocks together, Marco sliding his foreskin over Kyle's smooth tip. Unable to restrain his ardor any longer, Marco fucks Kyle with gusto. They flip-flop and Kyle takes the lead, filling Marco with his cock. Marco reaches his peak and spews his load across Kyle's chest, prompting Kyle's own orgasm. There is nothing as potent or thrilling as this current affair as the two men fall exhausted into a well of kisses.
FALCON STUDIOS
ALL WORLDS VIDEO