Sexy Randy Blue American Gay Porn Star, Kurtis Wolfe
Known Aliases: Kurt Wolfe
Years Active: 2013 – 2020
RANDY BLUE INFO:
Kurtis has a killer body and a sexy sneer that makes you know he is ready to have some fun. He also has one of the most infectious laughs you will will ever hear. His body was slamming, so we decided to let him show it off in the gym. After getting a good pump on, he started to strip down. He was left in just a jock strap with his bulging cock trying to push its way out. He turned around, showing off his tight little bubble butt. He started to spread his cheeks and rubbed his fingers across his quivering hole. He started to moan. This was getting to be too much for him. His dick needed to be set free. He turned around, pulled out his long hard shaft and started to stroke it. He then sat down on the ground and started to jerk himself off. He lifted his legs in the air so he could get access to his ass at the same time. He licked his finger and started to gently finger his hole as he worked his hard pud. He wanted to cum, so he sat up on the work out bench and started to vigorously work his meat. Finally he shot all over the gym floor. This boy is hard and ready to go. And he cannot wait for his first taste of on screen man on man action.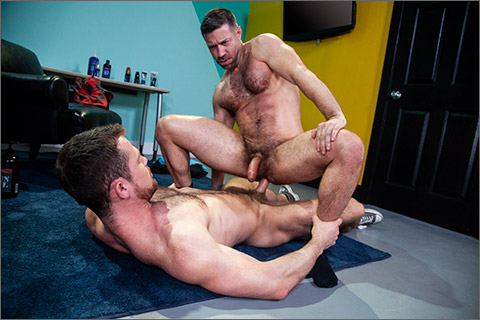 MASTURBATION STATION: Tristan Jaxx & Kurtis Wolfe flip-fuck
Tristan Jaxx and Kurtis Wolfe are jerking off at the 'Masturbation Station' to relieve some stress when Kurtis makes a move on Tristan. Kurtis' co-worker happily accepts the offer and soon his dick is getting serviced by Kurtis. Tristan wants a taste of Kurtis' meat too and returns the favor by sucking Kurtis' big fat cock. That's all it takes for Tristan to get rock hard so he can bend Kurtis over to fuck him up the ass. Tristan slides his bare cock into Kurtis' asshole and pounds away from behind, making Kurtis moan out with each thrust from his massive dick. In the middle of it all, the boss, Dante Colle, tunes in for a video conference and decides to watch the bareback fun unfold with his dick in his hand instead. Despite the distraction of prying eyes from their boss, it's time for Tristan to have some cock now, and he hops on Kurtis to take a ride. Tristan doesn't stop riding until he's done the job of making Kurtis cum. In this intense, raw flip-fuck Kurtis pulls out and blasts his jizz everywhere before he fucks it back inside Tristan's plowed hole. By now, Tristan is ready to blow his own load and hops off Kurtis to take a seat at the station and blast all over himself while the boss rubs one out watching.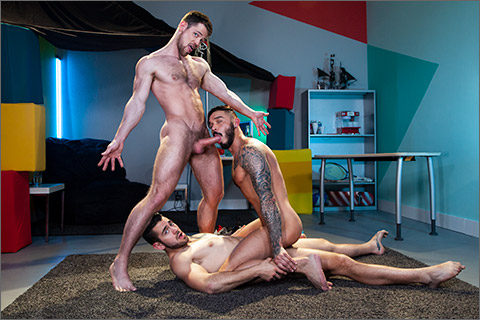 MASTURBATION STATION: Kurtis Wolfe & Dante Colle fuck Cris Knight
Company CEO, Dante Colle wants to celebrate the roll out of the new 'Masturbation Station' by getting down and dirty with his assistant, Kurtis Wolfe, and office intern Cris Knight. The three studs meet in the middle of the room and almost instantly, Cris is on his knees sucking Kurtis' thick cock. Dante jumps in and offers up his stiff, hairy cock for Cris to suck down. Eager to impress, Cris keeps sucking on his superiors' big dicks as he crams them both in his mouth at the same time. Now needing more than a dick in his mouth, Cris bends over to let his boss fuck him from behind as he continues giving Kurtis' a sopping wet hummer. Dante is so impressed by his intern's hole that he invites Kurtis over to give it a go. Kurtis slams his bare cock into Cris' backend and pounds away, stretching his hole to the limit. The studs switch it up into a few more positions with Cris taking turns getting slammed by both of his co-workers. In the end, Cris gets spit-roasted as Kurtis plugs his ass and Dante fucks his face. Seeing Cris getting each of his holes filled with dick sends Kurtis over the edge and he pulls out to cream on Cris' smooth taint. Kurtis fucks his seed into the intern before Dante loads up Cris' hungry mouth with another load of warm jizz.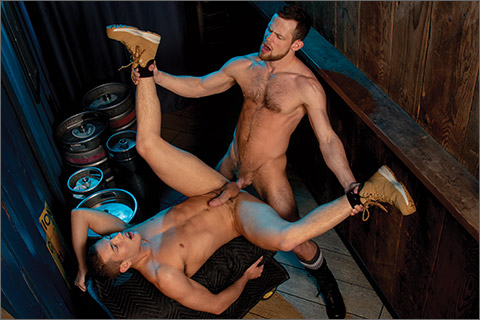 DIARY OF A SEX ADDICT: Kurtis Wolfe fucks Hunter Smith
After eyeing each other, bartender Kurtis Wolfe rushes Hunter Smith to the employee's only section of the bar for some fun. They instantly lock lips, and it's not long before Hunter is on his knees choking down Kurtis' fat dick. Voyeur Colton Reece covertly watches the two hunks getting down on each other next to the kegs. Once Hunter has had his fair share of dick down his throat, Kurtis pulls Hunter's jeans down to expose his smooth bubble ass. Intrigued by the tight hole in his face, Kurtis plants his tongue deep into Hunter's crack. With Hunter's ass lubed with spit, Kurtis sticks in a few fingers in between laps from his tongue. As Colton continues to watch, Kurtis mounts Hunter from behind with his thick bare rod. An eager bottom, Hunter slams his ass back onto Kurtis' meat as he gets drilled from behind. Hunter gets on his back to give Kurtis total access to his prostate. Hunter's hole is too tight for Kurtis to hold back any longer, so he pulls out his cock to coat Hunter's hole with a fresh load. Kurtis shoves his spent cock back into Hunter before he jacks out thick ropes that land all over his abs. After they finish, Hunter runs into Colton where he lets Hunter know he saw everything, and that he wants his tasty ass too.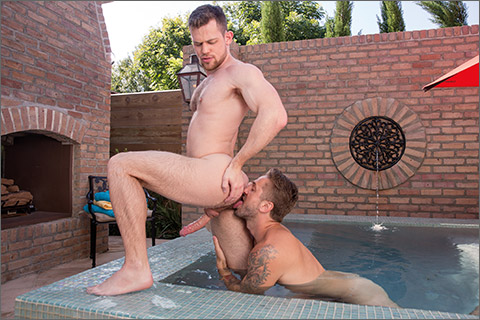 LOVE & LUST IN NEW ORLEANS: Wesley Woods & Kurtis Wolf (all oral)
It's another hot day in the South and the weather isn't the only thing steaming up the place. Wesley Woods and Kurtis Wolf are cooling off in the pool and making out when Wesley senses that Kurtis is hungry for some dick. Wesley stands up and lets the stud have what he wants when he opens his mouth wide and accepts Wesley in his mouth. Kurtis works his magic and gets Wesley hard as a rock before he decides he wants Wesley's tongue deep inside of him. Kurtis bends over and offers up his tight hairy ass for Wesley to do with as he pleases. Wesley gets to work licking every bit of the stud's welcoming ass as Kurtis' eyes roll to the back of his head. Wesley is hungry for dick and flips Kurtis over to suck the hairy jock. Wesley's mouth feels amazing to Kurtis and he blows all over Wesley's beard and in his mouth. Kurtis is ready to taste what Wesley has to offer and gets back down between his legs. After working Wesley's dick one final time, the stud blasts his cream all over Kurtis' well-worked tongue.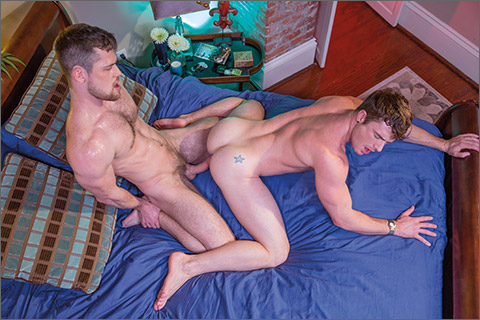 LOVE & LUST IN NEW ORLEANS: Kurtis Wolfe fucks Brent Corrigan
It's another crazy night in New Orleans. The crowds are out, the bars are full, and everyone is ready for a good time – including Brent Corrigan and Kurtis Wolfe. The two studs don't waste any time getting back to their room and shedding all their clothes. Before Brent's underwear can hit the floor, Kurtis has his mouth wrapped around the jock's hard dick. After sampling what Brent has to offer, Kurtis spreads Brent's legs wide open and goes in to taste his smooth, tight hole. Kurtis has a love of servicing men and doesn't miss an inch of Brent's shaft, balls and ass. Brent doesn't want to be left out of the taste-testing action and gets Kurtis hard by offering up his warm, wet mouth. Kurtis is so turned on by the whole experience that he can barely contain himself. He gets Brent's butt lubed up and then slips his giant dick deep inside the moaning stud. Brent loves the feeling of being stretched and rides Kurtis, taking the hard dick as deep inside of him as it will possibly go. The two hung jocks switch up their positions, and after a sustained pounding, Brent announces his intent to blow and lets it rip. After seeing Brent shoot, Kurtis is ready to join the ranks and unleash on Brent. He gets the stud into position and releases all of his inhibitions over Brent's perfect bubble butt.
CLICK HERE TO GO TO HIS RANDY BLUE DETAILS
VIDEO ON-DEMAND: Kurtis Wolfe @ AEBN SMUTJUNKIES THEATER
ENDLESS UNLIMITED STREAMING: Kurtis Wolfe @ NAKEDSWORD