Falcon Studios American Gay Porn Star, Kurt Marshall
Known Aliases / aka:
Years Active: 1984 – 1986
FALCON STUDIOS INFO:
Hair: Blonde
Eyes: Blue
Height: 5′ 10"
Endowment: 8" cut
FRED BISONNES COMMENTS:
" 'High Maintenance' before that was a concept. While filming 'THE OTHER SIDE OF ASPEN 2,' Kurt adamantly refused to go down on Giorgio Canali and Tony Bravo, because they both were uncut. Called 'Bambi' behind his back. He was easier to work with when I shot him later in L.A. for A-MEN, however."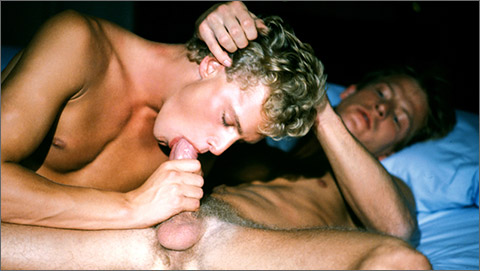 NIGHT FLIGHT (FVP-041): Kurt Marshall fucks and fists Joe Gere
Joe Gere returns home to a romantic evening of sex with Kurt Marshall. These blonds are all over themselves, with a good deal of ass play and munching. Kurt Marshall shoots a load in the middle, then continues to on to fuck Joe. Marshal cums on Gere's ass and then uses it to lube up some near fisting of Joe's butt-hole. Gere likes that hand up his ass, and dribble out another cum shot.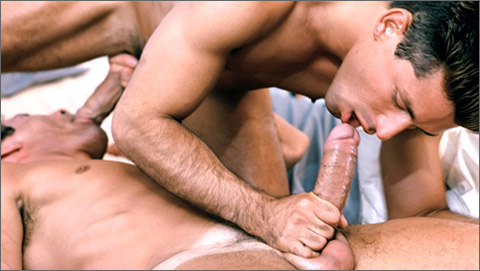 THE OTHER SIDE OF ASPEN 2 (FVP-047): Giorgio Canali fucks Tony Bravo with Kurt Marshall
European ski instructor Giorgio Canali gives a rubdown to Kurt Marshall, and soon starts fingering him. When Tony Bravo joins in, the two share sucking duties on Canali before Marshall sucks both. Marshall then leaves and Canali gives Bravo a fuck to remember.

THE OTHER SIDE OF ASPEN 2 (FVP-047): Kurt Marshall and The Mystery Skier
After making his last ski runs, Kurt Marshall collides with a masked skier. The two head back to the lodge, where the two stroke and trade sucks as the mystery skier whips out his huge cock—and keeps has mask on.