Hung Young American Gay Porn Star, Julian Smiles
Years Active: 2015
STATS:
Hair: Brown
Eyes: Hazel
Height: 5′ 11
Position: Top
Cock Size: 7.5″ cut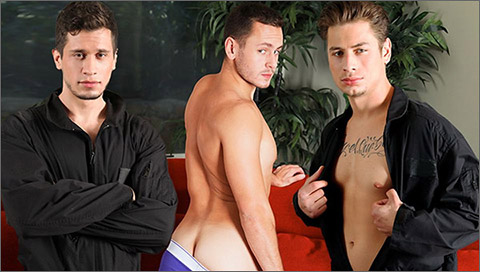 REPO MEN
Brenner Bolton's day is about to get a lot more complicated. As he unsuspectingly watches tv, Joey Moriarty & Julian Smiles are scoping all his stuff, well past arrears for missed payments. As collection agents, these guys are used to getting what they came for, but in Brenner's case, it appears they'll be cumming for more than just a microwave. Brenner implores Joey to give him more time to settle his debt, to which Joey replies that Brenner will have to give up something in return, and since it's pretty clear Brenner no longer owns anything but his sweet ass, it looks like that will have to do.
   Hip to the routine, Joey and Julian unzip their coveralls in unison and unfurl a pair of waiting cocks that Brenner alternates between, going down to shaft on Joey, then switching over and showing attention to Julian's balls, licking his head and taking him deep into his mouth, as Joey bends him over a recliner, entering from behind as Brenner continues to take care of Julian. Joey pounds away, placing his hands on Brenner's hips and pulling him closer with every thrust, as Julian throws his head back against the recliner and enjoys Brenner's hardworking mouth. They guys switch, and Brenner mounts Julian's cock, bouncing and grinding on top as Joey gags his mouth simultaneously, before finally just putting Brenner between them both and unleashing a shower of cum on their delinquent financier. Brenner, freshly covered has earned his momentary reprieve, and Joey and Julian warn him one more time to pay, threatening him to come back back the next day if he doesn't, which doesn't sound like the worst thing in the world to Brenner.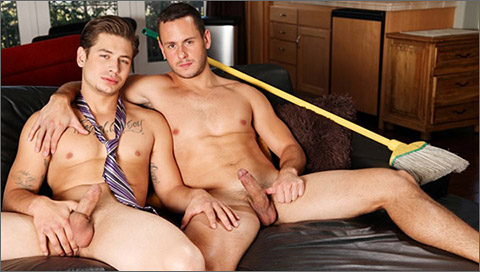 THE SALESMAN
Julian if he doesn't figure something out soon. Luckily for him, there is a sucker born every minute, and Julian has just found his personal sucker. Brenner Bolton has been at home slaving away doing some household cleaning, and developing all the aches and pains that go along with that sort of work, so when Julian knocks on his door unsuspectingly offering his relaxation services, Brenner's eager anticipation is palpable. Laying out on the sofa with his ass covered only in a towel, Brenner closes his eyes as Julian rubs his aching back and sore shoulders, and Brenner is viusally aroused. Showing a little chub, Brenner finds himself ready to serve his suitor, and so he helps Julian out of his clothes and begins gagging on Julian's cock. Julian shoves Brenner's head deeper onto his shaft, choking Brenner as the tip of his head tickles Brenner's throat. Then Julian, snapping back into form, reminds Brenner that he's here to help him relax, so Brenner lays back as Julian shows him some advanced relaxation techniques. Brenner is feeling nice and comfortable now, and ready to go all the way, so he mounts Julian's stake and rides him like a horse until he's ready to spit his pent up load, reclining afterwards with all stresses melted away, as Julian begins the paperwork for Brenner's continued patronage.
SCOUT'S BONOR
CREEPY WORKOUT BUDDY
MOVING DAY
NEXT DOOR WORLD
MEN.COM
PHOENIXXX
GAY ROOM / MAN ROYALE