Handsome Muscle American Gay Porn Star, Jon Galt
Known Aliases: SDMuscle (Big Muscle), SexySobeGuy
Years Active: 2001 – 2015
MEN MAGAZINE (2001) INFO:
Residence: Washington
Birth date: September 1966
Astrological sign: Virgo
Height: 5 feet 10 inch
Weight: 170
Size: 9.5 inches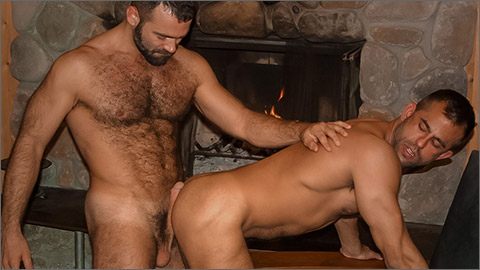 WOODSMEN: Ray Dragon fucks Jon Galt
Jon and Ray's furry bodies are matted with spit; heavy strands of Jon's saliva hang off the shiny head of Ray's great cock. Both their members ooze sweet nectar. Ray buries his stubble-covered face deep in Jon's ass. With Ray's thick, rockhard cock bucking wildly in his rapidly constricting hole, Jon can't help shooting. But instead of stopping there, Jon spreads his legs and begs for more. And he gets it, in a fierce and ferocious ride that leaves the musk-drenched pair covered in buckets of jizz and salty sweat.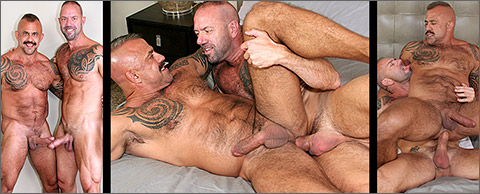 VIC ROCCO & JON GALT BAREBACK
Real life lovers Vic Rocco and Jon Galt fuck bareback in their bedroom. The rock hard pair kiss passionately on their bed. These muscular daddies are lovers for a reason. The passion is hot and very present. They take turns sucking their dicks and balls. Jon eats Vic's ass and Vic loves every lap of the tongue. Vic and Jon get on their knees and Vic pounds Jon's hole bareback. They lay next to each other, spooning, and Vic drives his raw cock deep inside his lover. Vic lays on his back and Jon takes a raw ride. Vic gets so hot he shoots his load early. Jon gets up a bit as Vic's cum streams down his pole. Jon sits back on the sticky, wet cock and rides again, seeding his hole. Jon lays Vic on the bed as he stands next to him. He pumps his raw cock deep into Vic's ass bareback. Jon pulls out and shoots his wad onto Vic's cock and abs. Vic strokes and cums a second time with a dry orgasm, having shot all of his spunk the first time. Vic pulls Jon on top of him to kiss and embrace.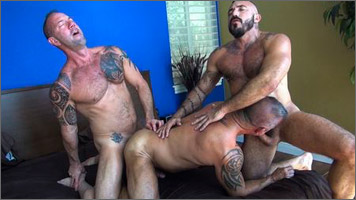 JON GALT, VIC ROCCO & ALESSIO ROMERO
Real-life couple Jon Galt and Vic Rocco make their Raw Fuck Club debut in a scorching hot fuck session with Latin muscle hunk Alessio Romero. Jon and Vic take turns pounding Alessio's furry fuckhole and he returns the favor by fucking them both back deep and hard. Jon is so turned on he goes into super-pig mode and takes both Alessio and Vic's big cocks at once. Vic fucks huge creamy loads out of Alessio and Jon before shooting his own big load on Alessio's hole and fucking it in.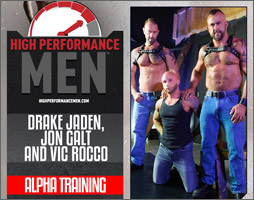 ALPHA TRAINING
While at the club, Drake is given a strange playing card with an addresson it. Feeling adventurous, he heads to the address after leaving thebar. He knocks on the door and is instantly intimidated when Jon and Vicopen the door, sporting leather and staring at Drake. Drake is too scaredto move so he shows them the card. Jon and Vic know what the card meansand pull Drake into their dungeon where they plan to test his sexuallimits. Shouting orders, they dominate him and make him their sub asthey make use of both of his holes, rimming him on one end and facefucking him on the other. When they're good and ready they take turnspounding his hole but the training doesn't end there. Just when Drakedoesn't think he can handle anymore, they push him further forcing bothof their dicks inside his ass, giving him the double penetration of alife time. Drake cries out but he can't deny that he's enjoying beingdominated by these two alphas.
HIGH PERFORMANCE MEN
PRIDE STUDIOS
TITAN MEDIA
ALL WORLDS VIDEO
FALCON STUDIOS
HOT HOUSE
MEN  March 2001, September 2001
[2]  Jan/Feb 2006, March/April 2006
UNZIPPED  April 2005
HONCHO  January 2002, February 2002, October 2004
DUDE  February 2002 (Vol. 6, No. 1)
XXX SHOWCASE  October 2001, v12 n03, v13 n09
NAKED HAIRY JOCKS 2010 CALENDAR
ADAM GAY VIDEO: 400 PORN STARS
ADAM GAY VIDEO: 500 WORLD'S GREATEST PORN STARS
TITAN MEN 2003 CALENDAR
MEN MAGAZINE PRESENTS: TITAN MEN
MEN MAGAZINE PRESENTS: 20 YEARS OF MEN
MEN MAGAZINE PRESENTS: HAIRY MEN
UNZIPPED 2006 CALENDAR
CLICK HERE TO GO TO HIS HIGH PERFORMANCE MEN BIO PAGE