American Power Bottom Gay Porn Star, Jessie Colter
Known Aliases: Jesse Colter
Years Active: 2009 – 2019
AEBN INFO:
Jessie Colter calls himself the bottom king, and it's hard to argue. This country boy from Kentucky has been charming the cum out of cocks since 2009. He loves nothing more than having his ass licked and drilled by an aggressive top. You'll love watching guys take his bubble butt in their hands, spread the cheeks, and worship it.
   Get into Jessie with his performances for Lucas Entertainment, especially Fuck It, several volumes of the Gentlemen series, and Pantyhos. He's also an insatiable slut in The Trustees (Raging Stallion Studios), Men On Edge: Jessie Colter (KinkMen), and dozens of other hungry performances.
Tattoos: Right upper arm; stars at base of neck on both sides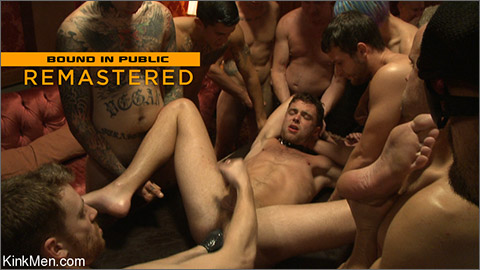 REMASTERED 2022: HORNY PARTY GOERS GANGBANG AND FIST A BOUND STUD'S ASS
Crawling on his hands and knees Brandon Moore brings in drinks for the crowd on a platter that's plugged in his ass. His ball gag and the platter are removed as Hayden Richards drives Brandon's head into the crotches of horny party goers. The guys shove as many cocks in his mouth as they can fit before Hayden has Brandon tied down on the fuck box. With their cocks out the guys line up for Brandon to suck them off while Hayden plows him from behind. Back in the center of the room, Brandon's hands are tied above his head with a spider gag in his mouth as the guys suck and stroke his hard cock. Brandon has clover clamps on his nipples and ordered to bite down on the chain as Hayden and Sebastian give him a dual flogging. The guys untie Brandon's hands as he's pushed down face first onto a couch full of horny dudes as he services their cocks while getting fucked from behind. The guys then drag him onto a table, pinning him down and shoving their cocks in his mouth as Brandon's hole opens up for a fist. They fist Brandon's ass and milk a load out of his cock before giving him some painful post-orgasmic torment. Back by the fireplace the guys circle around the community slut and douse his face with all their cum.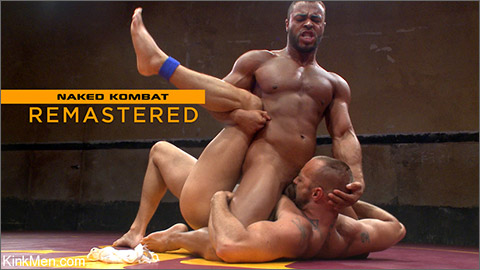 REMASTERED 2022: MICAH BRANDT vs JESSIE COLTER – LOSER GETS FUCKED!
In this epic tag team match, NK powerhouses Trent Diesel & DJ battle NK veterans Cameron Adams and Leo Forte. This is the match of the year where four ripped studs are going balls to wall for sexual domination. The stakes are high and not to mention the pride and bragging rights. It's nonstop action and the adrenaline are ready to explode. The victory fuck-fest is the hottest on NK history. Let's rumble!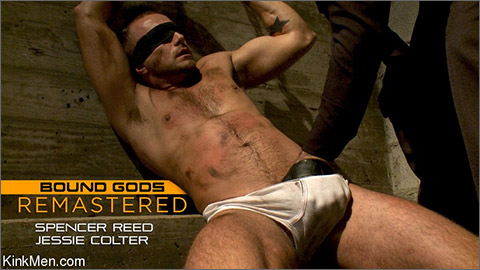 REMASTERED 2022: THE MOST VIOLENT ORGASM IN BOUND GODS HISTORY
Jessie Colter is tied up and blindfolded in a prison cell. Officer Spencer Reed comes in to tell the inmate that he will be set free tomorrow. Spencer wants to play with Jessie for the longest time and tonight is his only chance. Spencer gropes the helpless boy with massive gloved hands and makes the boy suck his fat cock. Spencer likes it rough so he beats Jessie down. Jessie endures the flogger, electricity in his cock and ass. Jessie screams like an animal and violently cums with the electric butt-plug up his ass. Spencer fucks the hell out of the exhausted boy and gives him a warning not come back to this prison.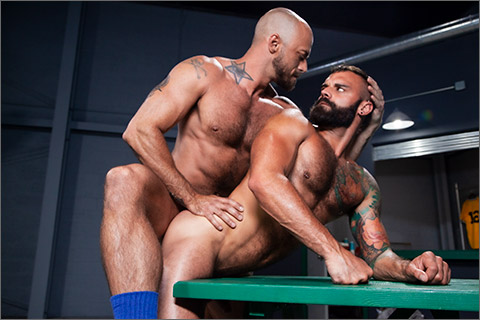 OUTTA THE PARK: Jessie Colter fucks Drake Masters
Opposing team mascot, Drake Masters, starts harassing concession vendor, Jessie Colter, by trashing his stand and throwing things around. When Jessie comes around the counter to get rid of Drake, the mascot pulls his pants down to show off his thick dick. Jessie tries in vain to get Drake to pull his pants up but ends up finding out that Drake's sausage tastes better than the wieners he sells. Jessie gobbles up Drake's growing cock and gets his own dick rock-hard. When Drake sees Jessie's hard-on, he can't resist getting it in his mouth. He takes off his costume and gets to work sucking on Jessie, taking it all the way to the base as he gags and spits. Drake wants that dick bad and bends over to let Jessie have a taste of his hairy hole to prepare it for a deep bareback fucking. When Jessie senses that Drake's ass is nice and opened up, he steps up to the plate and slides his cock into the strike zone. He fucks the dirty mascot hard, keeping a steady pace with his plump, raw cock. The horny hunks throw a change-up a few more times until Jessie is ready to drop his load. With Drake on his back and his legs in the air, Jessie fucks the cum out of Drake's cock before dumping his own load and fucking it back into Drake's busted hole.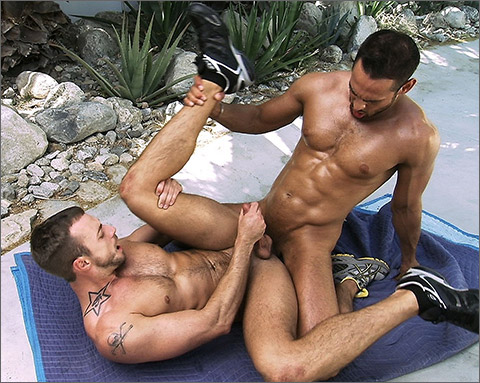 BLIND SPOT: Marco Wilson fucks Jessie Colter
As he backs up his pickup, shirtless Jessie Colter bumps into tan and tight-abbed Marco Wilson. The angry yet aroused victim pulls Jessie in for a kiss, guiding the jock down. Marco's big boner pops out of his shorts, Jessie sniffing it and rubbing it on his face before devouring it. The two switch positions, Jessie's cock soon soaked in spit. Marco stands up for a kiss, their two dicks caught in a hot battle of swordplay. In the back of the pickup, Jessie gets his ass eaten before they suck some more, their hands all over each other in a passionate display. "Dirty fuck!" yells Marco, whipping his dick on Jessie's face as the sucker grabs Marco's abs. The two kiss as they come, Jessie then getting on all fours as he gets it doggie style. Pinning the moaning bottom to the ground, Marco whispers in his ear and licks his back, their stubbly chins grazing as they kiss. The bottom gets on his back for more, shooting as he gets fingered before Marco sprays on him.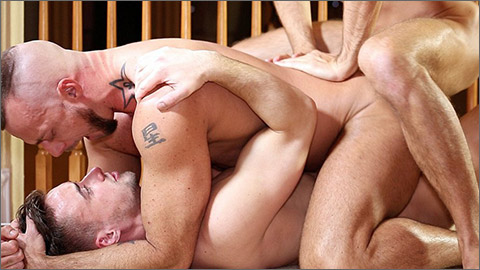 AFTER CLUB FUCK
Craziness in vegas continue with a hot encounter we did with porn legend Jessie Colter at a local bar. It didn't took a lot of convincing for us to bring this sexy bottom to our place. We were so all excited that we took things straight to the stairs to take off our clothes one by one. Sam and I then start sucking Jessie hot cock and rim his famous hole. He cant stop moaning and screaming while i started fucking is bubble ass. My man then take is turn having Jessie sitting on his hard uncut cock while his mouth is still on mine. We wanted to do something we never did together and realize a fantasy of double fucking someone and Mr. Colter is the perfect guy to take us both at the same time. Hot intense and definitely satisfying Jessie Colter is one hell of a good fuck.

GAY MASSAGE HOUSE 3: Jessie Colter, Andrew Fitch
Massage therapist Jessie Colter's patient today is Jeremy a married father of three who's life as a stockbroker is leaving him frustrated & anxious. A referral from his therapist to the Gay Massage House only means one thing: he's a closeted man who needs to realize his true desires if he wants to heal, and Jessie is there to help him do that.
VIDEO ON-DEMAND: Jessie Colter @ AEBN SMUTJUNKIES THEATER
DVDs & ON-DEMAND: Jessie Colter @ TLA VIDEO