Big Cock Sex Pig American Gay Porn Star, Jared Wright
Known Aliases / aka:
Years Active: 1999 – 2011
STATS / INFO:
Year Born: 1968
Height: 5′ 11"
Weight: 195 lbs Waist 32
Chest: 49.0
Arms: 18.0
Size: Very Large
jaRED wRIGHT
(red hanky right)
he likes taking fists up his ass…
" Rear End Alignment, it was my first time on camera and I got off on doing it big time. Mac Masters and I connected real good before we started filming. While shooting it, we were whispering what we were gonna do to each other later in my hotel room… when the camera's weren't running. All that water spraying on me washed away my contacts. I'm pretty blind without 'em. All I could really see was Mac – not the camera and crew. Made it real easy to get into the sex and ignore the process. Consider that my tip to first timers. 😉
Porn wasn't something I pursued, it just fell in my lap. I was boppin' around in San Francisco and met Corey Jay, who was a Hot House exclusive at the time. He asked me to consider doing a video. I didn't want to do a video, I wanted to do HIM…. They flew me back out about a month later, and everything just kinda happened from there. "
Atkol Forum 2/24/1999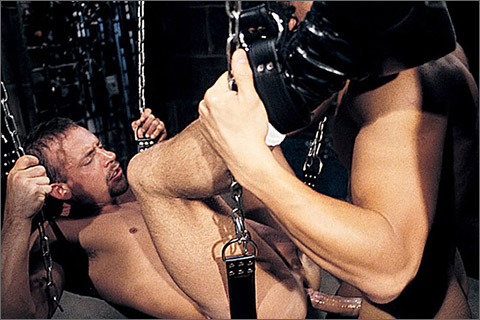 FRENCH CONNECTIONS 1 – TEMPTATION: Thom Barron and Jared Wright flip-fuck and Fist one onther
Thom Barron and Jared Wright are hard at work in the sexclub. They suck each other for starters, then Jared rims Thom's hole, priming it for some fucking. Then perched in a sling, Jared leans back and surrenders his ass for some intense play. Thom greases up a big black dildo and shoves the sturdy tool up Jared's ass. The action continues until finally the two satisfied studs blow their loads and cool down.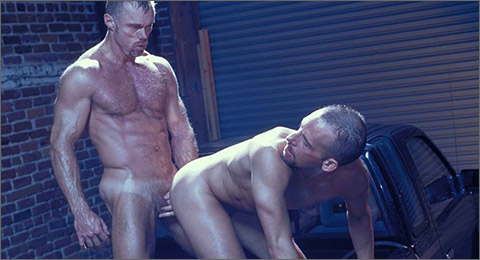 REAR END ALIGNMENT: Mac Masters fists Jarred Wright
Mac Masters is standing in the flatbed of a truck, being serviced by a hungry cocksucker. He's holding a hose high over his head, which he turns on, spraying himself and well hung Jarred Wright with a shower of water and blue light — creating one of the all-time most spectacular scenes in hardcore handball history. Wright's intense cock sucking has brought Masters' cock to rigid attention, which he thrusts deep into Wright's hole. Primed and ready, Wright assumes the position on the end of the truck bed and Masters begins his concentrated deep hole exploration. Wright is a stunning example of the perfect fisting bottom, offering his cleanly shaved ass, nut sack and hole completely to Masters. One look at Wright's giant, rock-hard tool and you know he's enjoying the workout. Masters sees the astounding man meat and grabs it, flipping Wright over on his back for more intense anal action. Eventually Masters is able to punch-fuck Wright's gaping hole with increasing intensity until they both shoot loads of hot white cum.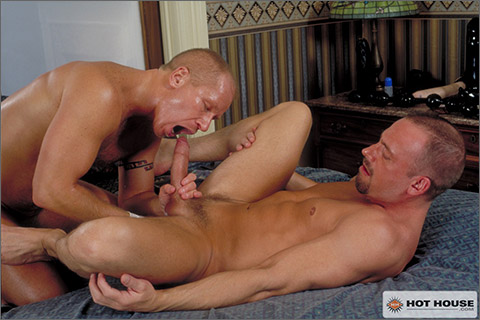 POWERFIST: Steve Winston dildo fucks/fists Jarred Wright; Mack Kurtis straps on a dildo and fucks Steve Winston
Steve Winston can't seem to find his favorite dildo–that is, until he goes looking in boyfriend Jarred Wright's hole. Of course, that's exactly where his 12-inch rubber toy is and, since he's already there, Winston decides to use it on Wright. He works the big black dong in and out of Wright's gaping socket, pushing it all the way up inside and ripping it back out over and over again. It's not long until Winston climbs on top of his partner and starts fucking him from behind, plowing his cock in and out as the bed bounces beneath them. But Winston knows that Wright's hole needs more than just cock in it, so he lubes up his hand and slides it up there as well. As Wright pushes back onto his lover's arm, he gets both hand and cock, grunting out in absolute pleasure as both repeatedly and simultaneously invade his hole. Wright then climbs on top of Winston's hand and rides it like a pro, sitting down on it and propelling himself off of it. Winston moves him into a handstand position, pushing his hand down into Wright's ass as he supports himself on the floor with his arms. Right in the middle of things, the boys get a visit from San Francisco Power Company employee Mack Kurtis, who decides to join in on the action. He straps on a massive power-dong and relentlessly fucks Winston with it, pushing the monstrous cock in and out with a sly grin on his face. Sensing an opportunity for even more fun, Kurtis then gets on his phone and calls co-workers Frank Sylvano and Chris Ward to head over to the house to provide backup.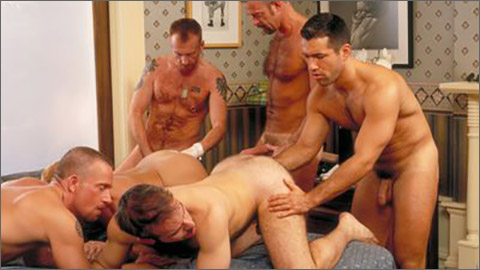 POWERFIST – Gang Fist Festival: Chris Ward, Frank Sylvano, Galen, Jared Wright, Mack Kurtis, Mark Evrett, Steve Winston
The entire cast winds up in the upstairs bedroom for a stunning orgy that just keeps on delivering. While Sylvano works his fist into Evrett's behind, Wright gets fucked – then fisted – by Winston. Kurtis, meanwhile, is busy with his cock inside Galen's receptive hole, while Ward watches all the action with a satisfied grin on his face. As Winston begins to powerfist Wright, eventually working his cock into Wright's hole, the other guys coach him on. Ward becomes the in-between stud for Galen and Kurtis, as Kurtis fucks him from behind while Ward chows down on Galen's nipples. Before long, both Ward and Kurtis take turns stuffing their hands inside Galen's ass, Evrett continues to get it from Sylvano, and Wright enjoys his own ass-reaming courtesy of Winston. Cocks get stroked amid all the fisting, which just keeps escalating as the scene goes along. Galen and Evrett flip onto their backs and Ward sucks on Kurtis' prick as he shoves his fist into Galen's butt. As Sylvano relentlessly thrusts his hands inside Evrett, the furry fucker lets loose with a big load and a howl that signifies just how much power's been flowing through his body.
HOT HOUSE CLUB INFERNO @ FISTING INFERNO

ALL WORLDS
CATALINA

CLICK HERE TO GO TO HIS FALCON STUDIOS DETAILS
VIDEO ON-DEMAND: Jared Wright @ AEBN SMUTJUNKIES THEATER
NOW STREAMING: Jared Wright @ NAKEDSWORD