Cute Czech Gay Porn Star, James Dusek
Known Aliases: Leo
Years Active: 2016
RANDY BLUE INFO:
James Dusek has a baby face. But the rest of him is all man. He is smooth and twink like but has hot tight muscles and a fabulous swimmers build. He loves to kiss and his piercing eyes will lure you in. His soft pouty lips will wrap so easily around a cock. And his fuzzy hole will sit right down on your raw meat. Watch this hot sexy hunk take a cock like a pro. He says he is bi sexual, but when the cameras are rolling he is 100% gay and hungry for hard dick. Watch him take bareback loads and get creampied right here at Randy Blue Universe.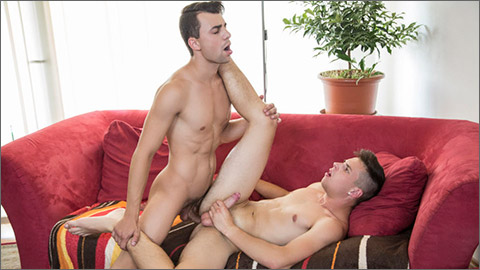 JAMES DUSEK LOSES HIS GAY PORN VIRGINITY FROM SEXY MUSCLE HUNK DIEGO FALCO
James Dusek and Diego Falco have just met. The director tells them that they are having sex today. They seem to be okay with that. They are hesitant at first as they are complete strangers to each other. But soon Diego makes the initiation, since he has done some porn before. He takes off his shirt and pulls out his dick. The newbie James Dusek has sucked a cock before, but never on camera. He is shy, but as soon as Diego pulls him in for a kiss, James forgets about the cameras and can only think of his raw desires. He goes right down and starts to suck off Diego while Diego removes James' clothing. They are now both naked and hard. Diego gets to his knees and sucks off James for a bit. But James is secretly dirty pig. He wants to get to Diego's ass. The two euro whores get into a 69 position, and James eats out Diego's ass while James gets his cock sucked. But now James' ass is getting hungry. Diego fills it with his raw dick and they bareback until Diego fills a load of cum up James' hole. Then Diego sucks James dry and takes every drop of cum into his mouth.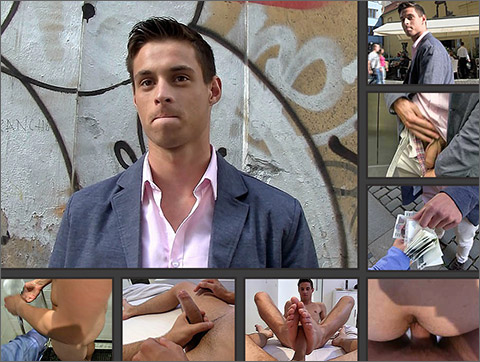 CZECH HUNTER 268
I love to completely derail other people's plans. For example, this guy was going to have a job in-terview today. I bet he prepared for it, shaved himself, dressed nicely, maybe even put on some perfume. He was deep in his thoughts, probably rehearsing the right lines to impress his potential employer. And then I bumped into him and started talking to him. Very soon the job interview was forgotten. Because he was smart. There would always be other ordinary job opportunities. But or-dinary jobs rarely make you 26 000 in one afternoon. He did the math and instead of trying to get a bartender job he ended up in my hotel room being pounded like if there was no tomorrow. He was straight but I'm sure he liked our little experiment. And if not, so what? I got what I wanted.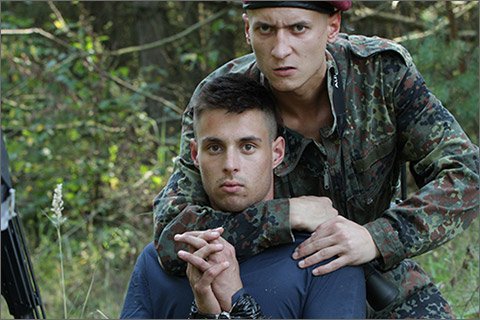 JUST DO IT!
Today we had in hands one cute boy. He hasn't power to continue in training, he said. But we think, he can do more…
RANDY BLUE
CZECH HUNTER
GAY WAR GAMES
CLICK HERE TO GO TO HIS RANDY BLUE DETAILS