Spanish Gay Porn Star, Hugo Arias
FUCKER MATE INFO:
Hugo is sexy and pure with the most beautiful eyes and the perfect body. He is one of our best discoveries. He is hot horny and ready to play. He loves sex from mild to wild, from sensual kissing and touching to hot and hard fucking.
Country: Spain
Age (2014): 25
Cock size: 6 Inches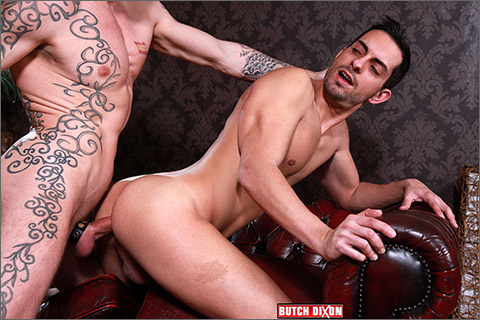 HUGO ARIAS & STEPHAN RAW
Long, lean and hung – Hugo Arias is pitted against ripped, handsome, fat-cocked Stephan raw. Its a totally raw, uninhibited, bareback fuck fest. The sexy boys are bulging in the fronts of their jeans, they quickly strip naked, exploring each others hard, muscular young bodies. Its Huge Arias' first ever shoot for us and he's revved up raring to go. Both the boys have beautiful, lickable, suckable, dicks, Huge's cut and Stephan's uncut and we don't miss any of the foreskin play. Hugo's tight, hungry hole is twitching for dick and Stephan can't wait to slide into the steaming, warmth sheath of Stephan's hole. The young bucks fuck every which way, making the most of Hugo's VERY flexible legs, he spreads them wide, clenching his hole to milk Stephan's stiff pole until he's squirting glob after glob of sticky spunk onto his own hairy chest and rock hard abs. Then Huge feeds the stud his own thick load, the hungry, piggy boy gobbles it all down, licking Hugo's thick, thick dick to make sure he gets every glistening drop.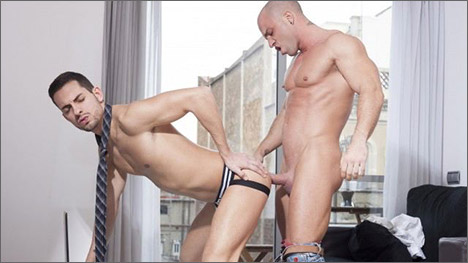 ANTONIO AGUILERA & HUGO ARIAS MAD MEN
We suggest that you watch pornography with your door closed. Antonio forgot to close the door and look what happened to him! This is a sizzling hot encounter between two horny mates. Hugo gets a very hard fucking by Antonio. This is sensitive material, watch it with your door closed.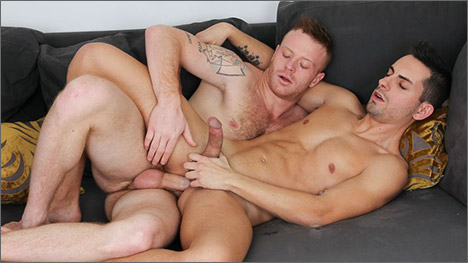 RAW ADVENTURES #9 – INTENSE: TOM VOJAK, HUGO ARIAS
On a chilly spring day Tom is out enjoying the thaw of winter and spies a hot guy (Hugo) out enjoying the weather as well. The two decide to return to Tom's place where Tom slowly disrobes Hugo. Tom liberates Hugo's smooth, downward curving cock and begins to feel how easily this hook cock glides down his throat. Hugo is taunted and teased before he is treated to Tom's long, smooth, pearly shaft and ultra pink head. Hugo wastes no time and ingests all of Tom's hard, straining cock and forces that pink head to explode in size. Tom is hungry for more and flips Hugo and dives in tongue first into his smooth, tasty hole. Hugo is bent over and Tom drives his long, hard cock deep inside of Hugo's wet ass. Tom grabs onto Hugo's hips and pummels his ass fast and furious with his greedy cock. Flipping Hugo again, Tom now takes him from behind before spreading his legs further open and driving into him directly. Both men are feeling the passion building and Hugo unleashes his thick creamy load as Tom continues pounding away at his pulsating ass. With the sensation of Hugo's ass milking his cock, Tom explodes a huge, thick load of cum that coats Hugo's hole, more than enough to lube up Tom's cock as he plants the last of his cum and his cock inside of Hugo before collapsing on top of him.
TIM KRUGER FUCKS HUGO ARIAS
CASTING COUCH #340: STEPHAN RAW & HUGO ARIAS
LOCKER JOCK: HUGO ARIAS
PUMPED
LUCIO SAINTS
FUCKER MATE
KRISTEN BJORN
UK HOT JOCKS
BUTCH DIXON