Handsome Randy Blue Next Door Studios American Gay Porn Star, Greg Jameson
Known Aliases: Greg Jamison, Greg Jamesom
Years Active: 2013 – 2015
RANDY BLUE INFO:
Greg Jameson has a certain allure about him. He is soft spoken and quiet, yet there is a smoldering intensity in those eyes. And once he gets naked to reveal his flawlessly sculpted body, I dare you to try and take your eyes off of him. His cock gets so hard. As hard as every rippling ab on his stomach. He jerks himself off until he bends over and reveals a gorgeous hole between to very fuckable ass cheeks. Finally he lifts himself up and gives us all what we have been waiting for, a hot white squirt of jizz.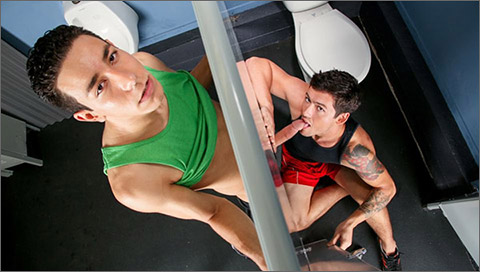 GLORYHOLE WORKOUT
The neighborhood gym has been a long-standing sanctuary in Greg Jameson's community. He comes here to work, play, and relax. And the fact that there's a gloryhole in the men's room doesn't hurt. Greg has loved hanging out in the glory stall after strenuous workouts, connecting with like-minded guys. Today, there's a new dude in the weight room, and he's extremely hot. He's Orlando Fox and he's been giving Greg some very friendly glances.
   When Orlando asks Greg to spot him on the bench, Greg doesn't hesitate. As Orlando lifts, Greg positions himself strategically in order to allow Orlando to have a look at his goods. Orlando definitely likes what he sees. When Greg apologizes for his growing erection, Orlando laughs it off and tells him it's ok. Then Greg informs Orlando of the notorious glory hole. Orlando takes this as an invitation and follows Greg into the bathroom. Once there, it's not long before Greg has his arm through the hole, stroking Orlando on the other side. Orlando sticks his big, swollen dick through and Greg wraps his soft lips around it. After some hard sucking, Greg pushes his own fat cock through so Orlando can have a taste.    The fervent bobbing leads Orlando to join Greg inside the stall for even more intense action. Orlando slides his thick, stiff meat into Greg's tight hole and pounds his ass hard. Greg loves the feeling of a new dick in his sweet pocket. Orlando takes a seat on the toilet so Greg can take a ride. Watch through the hole, then get inside the stall with these gym hotties, and experience a first-time encounter that will get you pumped!
Amateur, Condom, Hardcore, Anal Sex, Oral, Brunette, Tattoo/Piercing, Big Dick, Masturbation, Glory Hole, Athletic, Big Loads, Climax, HD Movies, Gay Porn, Caucasian, Smooth, Jock, Athlete, Jerking off, Blowjob, Locker Room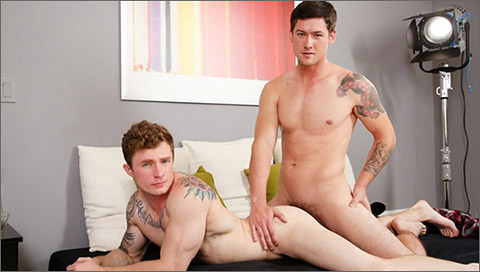 BUDDIES CASTING: GREG JAMISON
Rocco and the crew find Markie More still asleep in bed, even though he's got a scene to shoot. Apparently he's overslept, while eager newbie Greg Jamison waits in the next room. Markie takes a second to gather himself and then leaps out of bed, ready to start his day with a little morning engagement. Greg is a tall, good looking guy with a soft-spoken demeanor and an open attitude, so as Markie settles in next to him on the sofa, he's at ease and eager to please, taking Markie's cock into his mouth and sucking him off as Markie operates the camera. Bending Markie over, he slowly plunges his 7 and a half inch dick deep inside Markie, fucking him nice and slow at first and then gradually increasing intensity.
   Then Markie flips the script, laying Greg face down on the sofa as he pounds Greg's untapped ass. Greg grabs the side of the sofa as Markie thrusts away, stroking his hard cock as he watches Markie hover above him, before switching one last time, allowing Markie to mount his cock and ride him home, before they guys finish up by jizzing all over each other in a 69 style ending. For Markie, definitely worth getting out of bed for, and for Greg, definitely an eye opening experience. But does he strike your fancy? You decide.
Amateur, Condom, Hardcore, Anal Sex, Oral, Brunette, Red Head, Tattoo/Piercing, Big Dick, Masturbation, Athletic, Climax, HD Movies, Caucasian, Smooth, Muscular, Jerking off, Blowjob, Casting, Featured Video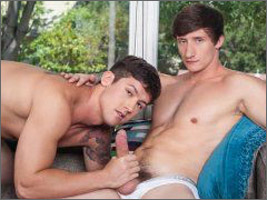 LANCE ALEXANDER & GREG JAMESON ARE STRAIGHT STUDS THAT LOVE SUCKING COCK
GREG JAMESON SHOWS OFF HIS RAGING HARD COCK
GREG JAMESON HAS NEVER FUCKED A MAN BEFORE TEAMING UP WITH ANDRES MORENO
HOT JOCK BRETT SWANSON GETS FUCKED BY STRAIGHT BOY GREG JAMESON
MAX MICHAELS MASSAGES STRAIGHT BOY GREG JAMESON AND CUMS TWICE
GREG JAMESON GETS FUCKED FOR THE FIRST TIME BY STRAIGHT STUD ASHTON DALE
STRAIGHT STUD JORDAN LEVINE PLAYS SANTA AND GIVES JOCK GREG JAMESON AN XMAS FUCK
CLICK HERE TO GO TO HIS NEXT DOOR STUDIOS DETAILS
CLICK HERE TO GO TO HIS RANDY BLUE DETAILS