Blond and Hung Gay Porn Star, Doug Acre
Years Active: 2012 – 2015
AEBN INFO:
Date of Birth: 1/1/93
Height: 5 ft 6 in (167 cm)
Weight: 145 lbs (65 kg)
Hair: Brown
Eyes: Blue
Ethnicity: White
Don't let the quiet outer appearance of Doug Acre fool you. He's just a little shy at first, but soon you'll realize that this low-key hottie is really a party boy at heart. There's an impressive eight-inch cock that will stretch a guy's hole if Doug's in a topping mood that day.
   Doug has been doing gay porn since 2012 and has worked for most of the top studios, including Raging Stallion, MEN, Kink, Hothouse, Falcon, and more.
JET SET INFO:
Hair Color: Blonde
Height: 5′ 9″
Position: Versatile
Body Type: Athletic
Endowment: 9 cut
Doug Acre will charm you right out of your pants with his boy next door looks and stunning blue eyes. But when he pulls out that whopper of a giant cock you'll forget everything and drop to your knees to suck his massive cock. The shy ones always have those giant cocks don't they?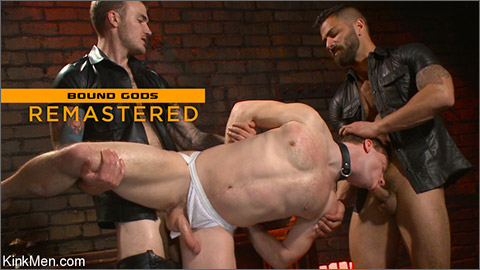 REMASTERED 2022: WELCOME TO THE HOUSE MR RAMZI
Head to toe in his tight leather uniform, Christian Wilde admires a new deerskin crop. Doug Acre, house slave #153 stands at attention to Christian's left, stuffed in a cramped cell. They await the arrival of Adam Ramzi, who will undergo dom training today. With Adam's arrival, Christian presents #153 to Adam, outlining the essential concepts of BDSM as he smacks the slave with his hands and crop. Christian has the boy get to boot blacking as he explains to Adam the importance of keeping the slaves tasked with chores. #153 sets down the polishing rag and gives Mr Wilde a proper spit shine with his tongue. Mr Ramzi learns first hand how a slave properly services his master's cock as #153 begs for more. While sucking Mr. Ramzi, Christian stands the slave up and fucks him from behind, as he struggles to balance on one leg. Christian then brings Doug back to his knees and blows a hot load all over his face. Adam then tries his hand at flogging, delivering a vicious treatment in tandem with Christian as #153 endures every blow. With his slave all to himself, Mr Ramzi binds & blindfolds his boy to a fuck platform, legs spread upward, hole at full presentation. #153 feels every inch of his master's uncut cock ram inside him before Mr Ramzi blows his load all over the bound stud's fat cock. On his knees, #153 is ordered to cover the new house dom's boots and lick it up clean.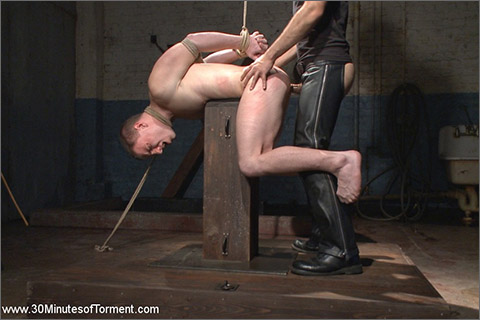 30MT LIVE SHOW WITH DOUG ACRE
The Pit – 30 Minutes of Torment is proud to present it's very first live show featuring Doug Acre. Doug stands with his hands above his head, his 10 inch cock rock hard as Van beats him down with punches. The boy's legs are spread wide, and his balls tied down tight to the floor while enduring a heavy flogging. – The Wall – Bound with electrical tape, the hung stud pushes through as medical clamps pinch down on his aching balls and along his sides as heavy blasts of water spray him all over. – The Gimp Station – Moving onto his final challenge, Doug is bent over to feel the sharp sting of the single-tail on his ass before Van turns the gimp loose on him. To complete his challenge Doug must take the gimp's cock and blow his own load all over himself to finish.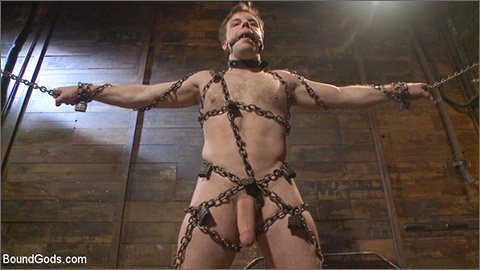 NEW DOM PUSHES HIS SLAVE TO THE LIMIT
On his knees and a crop clenched in his teeth, Slave #153 awaits his new master, Vinnie Stefano. Vinnie arrives and makes it clear that 153 won't get his master's cock so easy; he'll have to prove his mettle through pain. Vinnie reddens the slave's pale chest with the riding crop for the first test. Since he took the crop so well, Vinnie has the hungry slave gag on his cock. Now it's time to fuck. 153 has his arms tied backward as another rope pulls his cock to the ground, ass presented out for his master. Vinnie plunges deep inside 153 and gives him a rough fucking. Vinnie covers 153 in heavy chains between two pillars and gets his flogging arm warmed up for a vicious session. Moving a U-shaped platform, he gives 153's balls another stretch with a cluster of weights and eats his pink hole. Now Vinnie's ready to fuck again and stuffs 153 into the platform gap headfirst. He piledrives 153's ass until he's ready to spray the slave's face in hot cum. After suffering through all the torment dutifully, 153 earns the privilege of blowing his own load onto Vinnie's boot.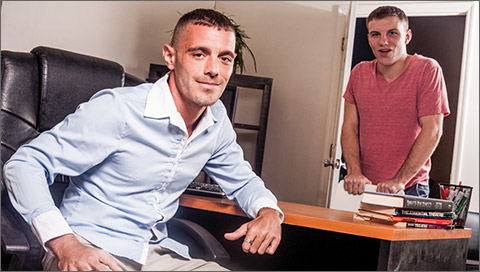 SCHOOLBOY FANTASIES: Brett Bradley fucks Doug Acre
Doug Acre has been struggling in school, and he is called into guidance counselor Brett Bradley's office to see what his options are. Doug was a star student but now is considering dropping out. Brett presses him and finds out that rumor has gotten out in school that Doug was gay because he was seen leaving a club. He asks Brett why he cares so much about him, and Doug makes a move on the boy. They lean across the desk for a kiss. They move to the couch and shed their clothing, and Doug takes Brett's impressive meat fully down his throat. When Brett is nice and hard, Doug sits on his dick and fucks his teacher in his office at school. Doug's ass jiggles as it bounces up and down on top of Brett. Brett flips his student over and pumps into him doggystyle until Doug dumps a big load onto his abs. They flip over and Brett is brought to a powerful, shaking orgasm.
COLT STUDIO / BUCKSHOT PRODUCTIONS

CATALINA
JET SET MEN

VIDEO ON-DEMAND: Doug Acre @ AEBN SMUTJUNKIES THEATER
NOW STREAMING: Doug Acre @ NAKEDSWORD