Sexy Smooth American Gay Porn Star, Nathan Styles
Known Aliases / aka: Ellis @ Corbin Fisher
Years Active: 2013 – 2019
TWITTER @NathanStylesXXX
NEXT DOOR STUDIOS INFO:
Cock: 7.5″ cut
Body Hair: Smooth
Height: 5'11"
Hair Color: Brown
Eye Color: Blue
Position: Versatile
Body Type: Swimmer
CORBIN FISHER INFO:
Name: Ellis
Age: 19
Waist: 31
Eyes: Blue
Hair: Brown
Height: 5′ 11″
Weight: 160 lbs
Build: Athletic
Cock: 7.0″ Cut
Shoe: 12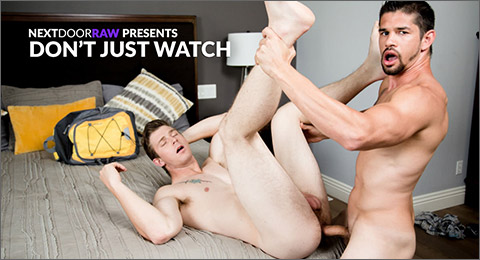 DON'T JUST WATCH
Hiker Nathan Styles didn't set out to spy on anyone, merely to take in some of the natural beauty around him, but when he stumbles upon Jason Richards laying naked on his pool deck, it's easily the most capitvating site on his walk, so he crouches down and watches from a distance as Jason fondles himself in the afternoon light. Boldy, Nathan makes his way closer, but when he steps on a branch and startles him, Jason makes his location and charges over to him angrily. Still naked, he wrestles Nathan indoors and asks him if this is what he wanted, shoving his cock in Nathan's mouth. To Nathan's delight, this is what he wanted! In fact, the only thing he wants more than to have Jason's python gagging his throat is to feel it deep inside him. Luckily, Jason is all to willing to oblige Nathan, bending him over and roughly fucking him from behind, just how Nathan likes it. Jason has his way with the pervy spy, fucking his hole raw in every position, before Nathan can hold it in no longer. He sprays his load as Jason jizzes all over him, coating him in cum, before telling him to get the fuck off of his property.

BUDDIES BUSTIN'
It's not like Nathan Styles hasn't seen buddy Spencer Laval's dick before- after all, they played football together all through high school, but now that the two of them are sharing their first jerk off together, Nathan suddenly has an insatiable urge to get a taste of what Spencer is packing. As Spencer shifts the position of the screen they're watching, Nathan takes his chance, quickly wrapping his lips around the head of Spencer's cock and downing it. Spencer is surprised, but his cock gets rock hard as soon as Nathan tongues it, so he lets Nathan have a mouth full, choking him with his meaty pole as Nathan spits all over it. Nathan proves so good at sucking dick that Spencer is ready to fuck his football teammate, so he has Nathan mount him, sliding his bareback cock deep into Nathan's hole. He has to take it slowly at first, but Nathan quickly opens up. Spencer fucks him raw all over the sofa as Nathan strokes himself, finally spitting his load as Spencer pounds him, launching it all over his stomach as Spencer pulls out and blasts him, rubbing his head in the cum puddle on Nathan's belly and using it as he strokes both of their cocks together.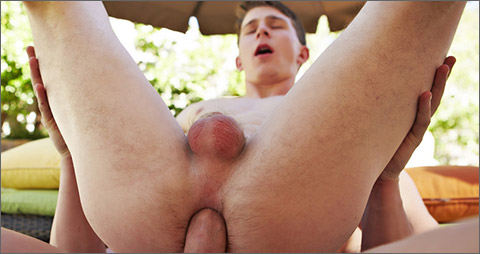 DOUBLE DICKING ELLIS
Sometimes it's a bit difficult to figure out which occurs to a greater degree – our own pleasure and surprise at seeing a guy discover how much he enjoys getting fucked, or that guy's own discovery of just how much they enjoy having a dick in their ass and how great they find it feels. With Ellis, it was hot enough watching him get fucked, with that hot face and great body on the receiving end of a hard dick. What made it all even better, though, was just how obvious it was that Ellis absolutely loved it and that he was feeling things he could hardly believe were so pleasurable.
   Things get ramped up to a whole new level for Ellis here, though, as he not only gets tag-teamed by Jacob and Tom but also discovers what it feels like to have two guys fucking you at the same time! Ellis gets double-fucked!
   It would have been hot enough to let Ellis be on the receiving end of a hot fuck from Jacob, and that's what it looks like we're in store for as things get kicked off here. Tom ends up joining Ellis and Jacob in the hot tub, though, and he's as eager to get his hard cock inside Ellis as Jacob is. Ellis wasn't going to make these two top studs take turns, though. He wanted both of them inside him as much as they wanted to be inside him.
   If we thought Ellis looked hot enough getting fucked before, wait until you see him here – unable to hold back from blowing a load early in the action as Tom fucks him, eagerly getting spit roasted with a hard dick in both ends, and then finally bouncing up and down on two hard cocks as both Jacob and Tom fill him up! It all proved too much for each of these guys, as Jacob found himself firing off a load before he knew what hit him, as well!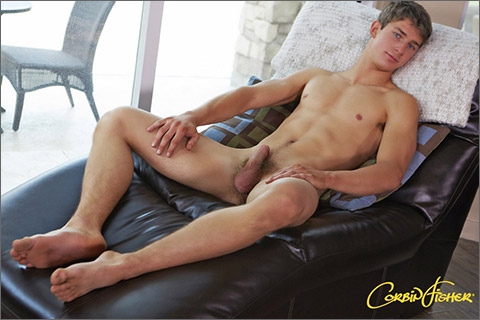 ELLIS SOLO
The first time Ellis had sex, he was on a hotel balcony and there were people watching. So, I think we know he'll fit in perfectly here at CF!
   Ellis most definitely doesn't mind having an audience – in fact, he quite likes it. That a guy this hot, with such a hot body, thoroughly enjoys having people watching him is quite the treat, and hearing Ellis tell us what an exhibitionist he is obviously got my imagination running.
   Of course, getting off on people watching isn't enough in and of itself, but Ellis has a huge sex drive and is always horny as well. He jerks off every morning in the shower, starting each day off with some quality "me time". Another routine he has is working out, and he pays extra attention to his arms and abs when he does it. I think we'll all agree the results of that dedication show and look great, and I also think we can all agree this young stud with his high sex drive and exhibitionist streak is a welcome addition to CF!
NEXT DOOR STUDIOS
HELIX STUDIOS
COCKYBOYS
CORBIN FISHER / AMATEUR COLLEGE SEX
CLICK HERE TO GO TO HIS NEXT DOOR STUDIOS DETAILS
VIDEO ON-DEMAND: Nathan Styles @ AEBN SMUTJUNKIES THEATER
DVDs & ON-DEMAND: Nathan Styles @ TLA VIDEO