Handsome and Rock Hard Bottom Gay Porn Star, Drake Jaden
Known Aliases: Drake Jayden (RVD Films)
Years Active: 2009 – 2016
DOMINIC FORD INFO:
I can't say enough great things about Drake Jaden. First off, he has a killer smile and cute face. And his body! Oh my. He has a perfect body. Each muscle is in perfect condition. His cock is big and begging to get sucked.
   Drake is a new face, but mark my words, you will be seeing a lot of him soon, and he will become a huge porn star.
   Check out his solo on our site. It's the best 3D CUMSHOT we have ever filmed!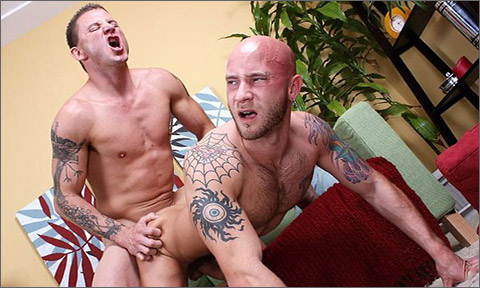 PAPA KNOWS BEST
This week ,we have a powerful Holiday episode. And no one would know that better than new comer Drake Jayden. Drake lives on the west coast of Florida, and we don't think he had any idea what was in store for him when we matched him up with one hot power top by the name of Brenn Weisman. Brenn is the kind of top that separates the men from the boys. Nice cock—if you can take it! You'll all understand soon enough. Brenn is a 38 year-old Jamaican and always eager to tap some ass. It being the holidays, we asked what they liked for holiday dinner. Brenn wants a traditional Turkey dinner, while Jayden wants some nuts and sausage. Mmhmm. We asked them what their favorite body part they like licked is. Brenn says he loves his ass licked, but he also loves getting his cock sucked so he wants it all. Jayden takes it up a notch by saying he'd love them both licked at the same time. There's a smart ass in every crowd. lol. Well, without ado, we give you Brenn giving his Christmas cock to eager Jayden's holiday hole. He's gonna fuck that ass like a Ho, Ho, HO—Did we just go there? Yuuuup.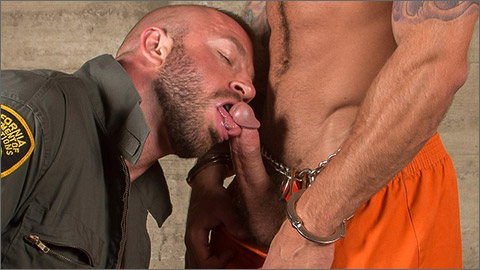 JAILBREAK: Jailer Hunter Marx fucks inmate Drake Jayden
Corrections officer Hunter Marx leads shackled prisoner Drake Jaden to a basement. "What the fuck am I doing here?" asks Drake, shoved in a chair by his uniformed superior. "I hear you've been handing out ass to the other CEs," says Hunter. "I wanna get a piece." Hunter whips out his big dick in front of Drake's wide-eyed face. "Fuck!" exclaims the prisoner as he looks up at the stud, quickly engulfing the beast. "Fuck that's a nice dick," says Drake as he spits on it. "I shoulda had you sooner." Drake sniffs the throbber before taking it to the root. Drake's big dick pops out of his jumpsuit, tempting Hunter—who sucks the tattooed brute back. Drake fucks his face as Hunter's nose hits his pubes. Hunter fucks Drake from behind, the bottom then sitting on him. The top squeezes precum out of Drake's cock and licks it off his thumb. Drake's cock fucks Hunter's hand, then bounces off the top's hairy stomach. They kiss, their arms all over each other's sweaty bods. Drake gets on his back, yelling "Fuck me!" as the two soon shoot all over his rock-hard abs.
CLICK HERE TO GO TO HIS TITAN MEN DETAILS