Canadian Gay Porn Star, Donnie Dean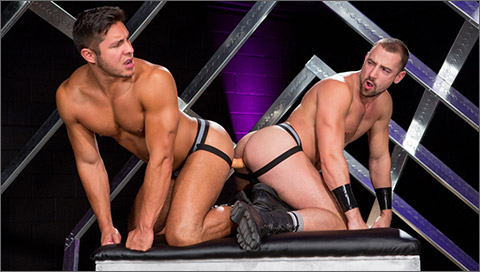 ERECTOR: Donnie Dean & Seth Santoro double dildo
Ass to ass! In matching jockstraps, Donnie Dean and Seth Santoro press their cheeks together as they enjoy a double headed dildo together! Backs arched and muscles bulging, they cast each other knowing glances over their shoulders. Donnie reaches back to slap Seth's ass, and Seth retorts with a smack of his own. When they've done all they can with the dildo, they break apart momentarily, only to reconnect in a steamy 69 position. They expertly use their tongue to swap passionate blowjobs, and when his cock is slicked and lubed, Donnie plows his cock into Seth's eager hole. The expressions of sexual pleasure on Seth's face are so tempting, that Donnie climbs on top to ride Seth's big, hard cock! Donnie samples both positions again before rolling over and letting Seth sit down on his big cock. Seth jerks out his load while riding Donnie's cock, then kneels down to lap up Donnie's cum when it explodes.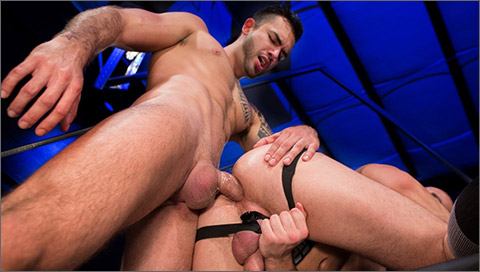 ERECTOR: Marko Carbo fucks Donnie Dean
Marko Carbo's nose and tongue are slammed into Donnie Dean's ass crack. Marko's finger probes the puckered center as Donnie rests on all fours. Flipping over, Donnie exposes his huge erect cock and massive balls, made even more impressive thanks to built-in cock ring of his jockstrap. Marko alternates between servicing Donnie's cock and spitting in his face–the slippery exchange makes both of them harder and eager for more! Dropping to his knees, Donnie goes to town on Marko's erect cock. When Marko can't contain his excitement any longer, he plunges his manhood into Donnie's ass, first doggy style, then missionary. With Marko still fucking him, Donnie's cum explodes all over his washboard abs! On the brink of his own release, Marko positions himself right over Donnie's face, and when the cum flies, Donnie hungrily catches it all in his mouth.