Titan Media Hunky Daddy Bearded Gay Porn Star, Dirk Caber
Known Aliases: Dirk Cabor
Years Active: 2010 – 2019
MEN.COM INFO:
Hair Color: Blonde
Sign: Virgo
Eye Color: Blue
Dick Size: 7″ cut
Height: 5'9″
Weight: 200
Sexual Positions: Versatile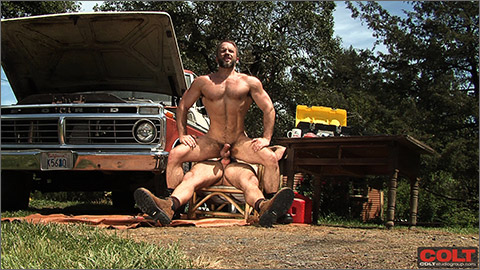 FUR MOUNTAIN: Spencer Reed fucks Dirk Caber
Sprawled out under a pick-up truck, Spencer Reed is busy with his mechanic's tools in hand. Dirk Caber watches from above, patting his bulging jeans as he watches Spencer on his back under the truck. Spencer looks up from under the truck and asks, You think that works? Dirk looks at Spencer?s hairy chest, gives his hard tool a squeeze and says, It works for me".
   Spencer rises up toward Dirks bulge and laps his tongue on that thick juicy cock. Slowly stripping each other out of their clothes, these guys enjoy sucking and slurping on their hard cocks in the hot, blazing sun.
   Dirk bends over the grill of the pick-up and offers his hairy, beefy ass – He offers it up for Spencer to do as he will. Spencer buries his face in that hot muscle butt as he strokes his meaty cock. Rock hard and ready to fuck, Spencer drills his meaty dick deep into Dirks hungry manhole, giving him a hard and deep pounding. Riding wild, Dirk gets on top and takes Spencer?s throbbing cock to the hilt. Ramming his hole on Spencer?s thick meat, Dirk unleashes a gusher, draining his balls of sweet, hot cum. Spencer rises to his feet as Dirk drops to his knees to take Spencer?s thick, drenching load.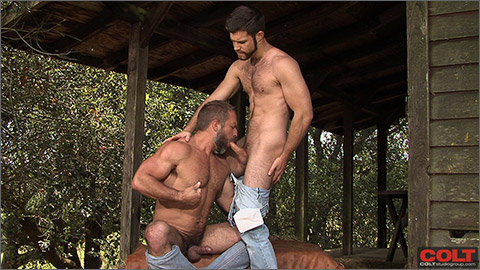 FUR MOUNTAIN: Trent Locke & Dirk Caber
Out by the barn and resting on a bale of hay, burly Dirk Caber has his furry buddy Trent Locke in his muscular arms, passionately kissing and enjoying the feel of his hairy body and his growing bulge. Finding a hole in Trent's jean, Dirk tears open a hole, exposing Trent's thick swollen cock. Dirk lets his lips explore and finds his way down to take a taste of Trent's meaty pole. Slowly undressing each other, Dirk pulls down his jeans as Trent goes down to slurp on Dirk's thick cock and big man-sized balls. It's a slow and sensual give-and-take as these men enjoy the feel and the taste of each other's furry bodies and hard and juicy cocks. Dirk loses himself in the pleasure of sucking Trent's big dick. Dirk sucks and strokes Trent to the edge before taking a white-hot load on his chest. Then with fresh cum dripping down his hairy chest Dirk strokes himself to a gushing climax as thick gobs of dick juice ooze from his swollen cock.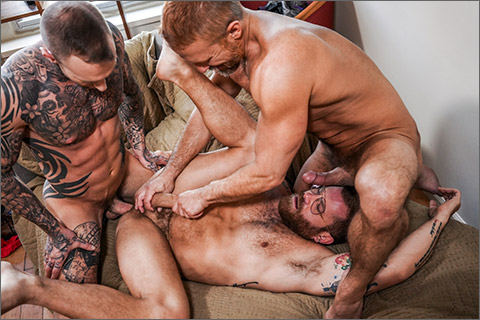 GENTLEMEN 26: LONG, HARD HOURS: Riley Mitchel Services His Bosses Dylan James And Dirk Caber
All Riley Mitchel wants is to get ahead in life, and he's gotten to the point where he will do whatever it takes. He's a smart and driven guy, but sometimes that's not enough. Thankfully, he's also a sex-crazed muscle bear who is ready to rip off his suit and fuck around with other guys bareback. When Dirk Caber and Dylan James propose this idea to him so he can take his career to the next level, what's a guy to do but comply?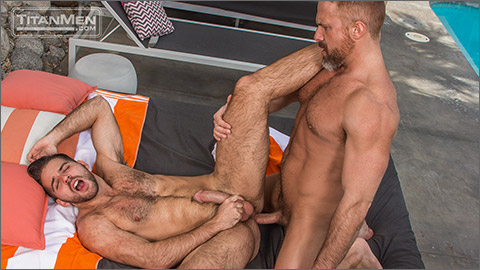 CUM LAUDE: Dirk Caber & Jackson Grant flip-fuck
Lounging by the pool, Jackson Grant is joined by professor Dirk Caber: "I knew you looked good under that suit and tie, but damn!" He smiles up at Dirk, whose cock pops out in the bearded stud's face. Jackson takes it to the root, Dirk smacking the sucker's hairy pecs. He pulls Jackson up for a kiss, unleashing the jock's big boner as his salt-and-pepper scruff tickles the hunk's nuts: "Fuck, you taste good!" Dirk eats him out and rams him from behind – then gets on his back. "You want some of this dick, don't you?" smiles Jackson, going deep as the bottom strokes his own steel shaft. They switch positions, Jackson yelling "Feed me that cum!" as his face gets doused.

CUM LAUDE: Dirk Caber fucks Lorenzo Flexx
A lounging Lorenzo catches the professor's attention from across the pool, eliciting a smile from Dirk. Lorenzo rubs oil on his own huge pecs, asking "Can you get my back?" Dirk obliges, the growing bulge in his swimsuit grazing Lorenzo's ass. Dirk helps himself, rubbing, fingering and tonguing Lorenzo's hairy hole before turning him over – feasting on his chest and cock. Lorenzo then makes Dirk's dick disappear, the professor moaning as his knob gets slobbered. Lorenzo's ass shakes as he gets slammed from behind, the bottom then sitting on Dirk before getting on his back – unleashing his load and then yelling "I want your cum!" before he gets a messy facial.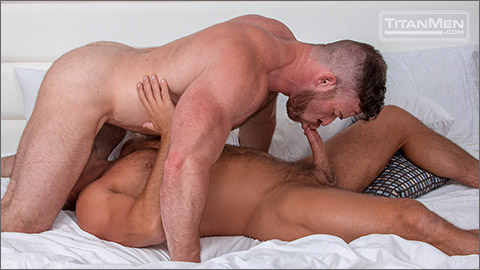 AUDITION: Liam Knox & Dirk Caber flip-fuck
On his run, beefcake Liam Knox jogs by a familiar stranger: Dirk Caber, home from his workout. Dirk motions Liam to follow him to the back of the house. Their foreheads meet, hands roaming each other. Dirk grips the growing bulge in Liam's shorts and releases it, rubbing his stubbly face on it. He sucks Liam to the root, smiling up at him. Liam fucks his face, shouting "Gimmie that fucking tongue!" as Dirk licks his sac. Dirk goes up for a kiss, licking Liam's pit ("Get in there! Taste that sweat!"). Dirk's throbber pops out in Liam's face, the sucker flexing as Dirk marvels "Look at the size of those arms!" In the bedroom, Dirk munches on Liam's jock ass. Liam's cock pulses as Dirk slides inside, the top feeding his thumb to the hungry bottom. Liam plows Dirk from behind, his bubble butt rippling. Dirk gets on his back and grunts as he gets rammed, their hands clasped. Dirk's boner shakes as he gets it hard, his cock soon covered in cum.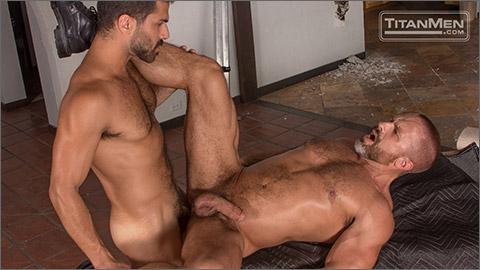 DEMOLITION: Adam Ramzi & Dirk Caber flip-fuck with Jack Giles
At work in an empty pool, Adam Ramzi is approached by Jack Giles from Big Ball Wrecking: "I hear you need this hole demo-ed?" The two smile, embracing and licking each other's pits. Adam deep throats Jack's cock and they eat each other—but are soon interrupted by Dirk Caber, who wants Adam all to himself. Adam sucks and eats Dirk, then reaches around to stroke him as he fucks the grunting bottom from behind—squeezing pre-cum out of his cock and feeding it to him. The verbal Dirk ("Fucker!") continues to leak, feeding his finger to the top. On his back, Dirk's stiff shaft pulses up as Adam goes deep. Dirk squirts, then fucks a load out of the moaning Adam.

2 MEN KISS: Anthony London & Dirk Caber flip-fuck
Resting outside, Dirk Caber teases his hole and strokes his rock-hard cock. He's watched by furry daddy Anthony London, stroking his bushy slab. Dirk motions him over, his boner grinding on a towel as he deep throats London, who whips his dick on the sucker's mouth. They 69, Dirk's body writhing in pleasure. Anthony sucks Dirk—then takes him inside to pound him from behind, Dirk arching back to watch in the mirror behind them. Anthony gets on all fours ("Fuck me boy!"), then sits on Dirk and rides—the two soon coating the top's body in cum, wads clinging to his fur.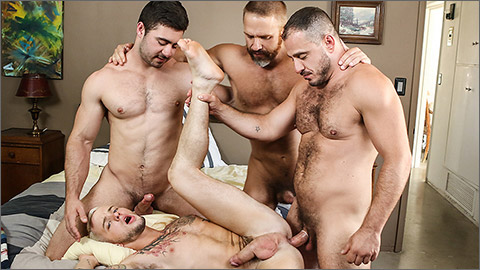 HAIRY TALES – PART 3
Golden boy Colton Grey gets off on stealing from the rich, but this time his path is crossed by three hairy bears — Dirk Caber, Derek Bolt, and Marc Giacomo. Caught in their bed, he coaxes the bears into joining him for one hot jizz orgy. Each bear gets a taste of the thief, eating his golden little asshole before jamming it full of their hot hairy cocks. Seems the three bears have a new addition to their hairy family.

MUSCLE MATCHUP – DIRK CABER vs HUGH HUNTER
It's a battle of brawns on Top Cock: Hugh Hunter challenges Dirk Caber. With both contenders horny for each other's chiseled bodies, these studs will do anything to claim the other for stiff dicking in the sex round. They tussle and grind their muscled physiques, pulling out the groping and dick sucking early on to rack up points. With raging hardons, they keep up the same level of momentum and strength in a sweaty second round. Still, the winner comes away with a comfortable lead and continues the domination into the sex round. The loser gobbles triumphant dick and armpit before presenting his ass to the victor. The winner gets a quick taste of his prize's hole before plowing deep into that ass. Pivoting, the winner sits on the loser's face and makes him rub out a load. The winner runs his dick through the loser's mess and has the loser taste his seed off the tip. For a consolation prize, the loser accepts a face full of the winner's jizz and shares it in a passionate kiss. With the loser still in a daze, the winner stuff his anklet into the loser's mouth and walks off with pride.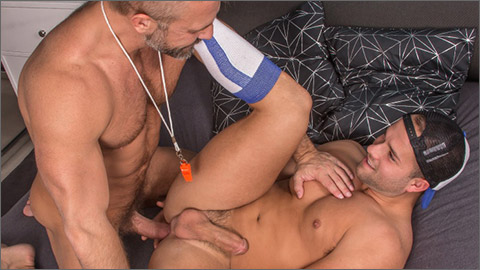 OUT!: Catcher Luke Adams comes out to Coach Dirk Caber
A.J's coming out interview also shocks minor league player Luke Adams, who sees it in his hotel room–and quickly comes out to coach Dirk Caber. "Takes one to know one," Dirk says to the surprised jock, who soon has the muscle man's cock in his mouth. Dirk can't wait to return the favor, licking and rubbing the smooth stud's bod and feasting on his shaft and sac: "God, you taste good!" he smiles. Luke's steel shaft slams against his own groin when released from Dirk's mouth, then stays stiff as he gets plowed ("Fuck yeah, coach!"). He shoots, then sucks his own cum off the top's finger. Dirk unloads, licks his own wad off the bottom's bod–then goes in for a kiss.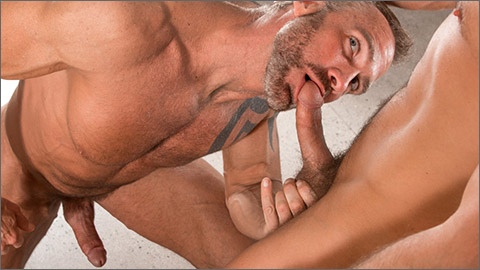 BLUE COLLAR BALLERS: DIRK CABER FUCKS DALLAS STEELE
Working up a sweat moving into Dirk Caber's new home, Dallas Steele wants to help his bud break the place in. "I've been watching that hardon all day!" smiles Dirk, who soon has a big Dallas dick in his mouth. "God you smell good!" smiles Dirk, who deep throats Dallas. Dirk's boner is set free, rubbing against Dallas's chest before diving into his lips. Dallas takes out Dirk's balls ("Pull those outta there!") and grips them as he sucks, the two slapping and spitting on each other as their verbal exchange heats up. Dirk feasts on Dallas's smooth hole, the action caught in the hallway mirror ("Fuckin' eat that ass! Get that tongue in there!"). They kiss, cocks poking each other, before Dallas eats Dirk, gripping the stud's cock as he tongues him. "Get a finger in there!" yells Dirk as Dallas slides one in, flashing a gorgeous smile. In the bedroom, Dallas offers his hole as Dirk fucks him hard and fast in two positions—Dirk gripping the bottom's cheeks to hammer him from below. Dallas returns the favor, pinning Dirk to the bed ("Nice and deep…you feel that cock?") as he reams his ass. "Fuck it out of me!" yells Dirk, soon soaked in cum.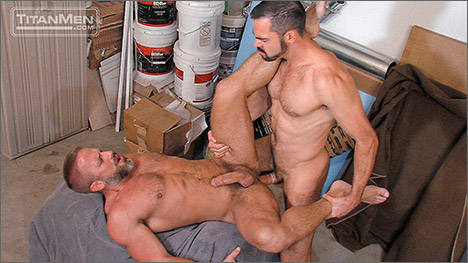 OPPORTUNITY KNOCKS
SCENE 1 – WELCOME HOME: Dirk Caber & Dolan Wolf
Dirk Caber gets reunited with high school coach Dolan Wolf—the two finding themselves in a heated verbal exchange in Dolan's garage. "You gonna take your dick out?" asks Dirk, as Dolan is reminded of their past locker room encounters when Dirk would "ask me if you were ever gonna get as big as me, ask if we could compare." Dirk's bulging boner is released from his tight jeans, the two stroking before Dirk gets on his knees. He stares at Dolan's pulsing cock, caresses his sac and rubs his tight stomach before teasing the shaft and underside with his tongue. He engulfs and worships Dolan's beauty, looking up at the stud: "Doin' alright, coach?" Dolan sucks his former student back, Dirk's cock bouncing up with force when released from his mouth. Dolan fucks Dirk, an aerial shot capturing both of their tight muscle bods as the top's cock disappears. Dirk fucks him back doggie style, the two f inally standing as they jack off side by side—Dirk's load landing on the coach's cock.
KRISTOFER WESTON'S BOUND JOCKS

CHANNEL 1 / RASCAL
ALL WORLDS VIDEO
CATALINA VIDEO

CLICK HERE TO GO TO HIS TITAN MEN DETAILS
CLICK HERE TO GO TO HIS MEN.COM BIO PAGE

MEN MAGAZINE PRESENTS: TITAN MEN

BUTT BEATIFUL 2015 CALENDAR
HAIRY CHESTED 2015 CALENDAR
LEATHER 2015 CALENDAR
BUTT BEATIFUL 2014 CALENDAR
HAIRY CHESTED 2014 CALENDAR
LEATHER 2014 CALENDAR
MEN 2014 CALENDAR
VIDEO ON-DEMAND: Dirk Caber @ AEBN SMUTJUNKIES THEATER
NOW STREAMING: Dirk Caber @ NAKEDSWORD