Sexy American Gay Porn Star, Casey Everett
Years Active: 2015 – 2020
MEN.COM INFO:
Hair Color: Brown
Sign: Leo
Eye Color: Brown
Dick: 7″ cut
Height: 5′ 6″
Weight: 150
Sexual Positions: Versatile Bottom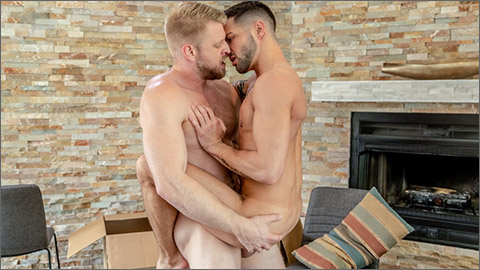 UNCLE RANDY – UNCLE FUCKER: Logan Stevens fucks Casey Everett
Logan's nephew Casey is sneaky so he uses a tiny white lie to get him over to his place. Logan is smart and knows exactly what his nephew wants. Casey wants uncle's huge uncut cock straight up his ass. After intense blow jobs, Logan eats his nephew's ass like a pro before ramming his 8 1/2 inch cock up his nephew's ass. The cumshots are blistering and nasty, not to be missed.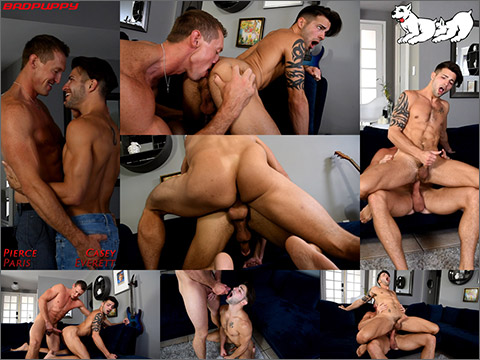 PIERCE PARIS FUCKS CASEY EVERETT
Our latest video features Casey Everett returning with new comer, horse-hung Pierce Paris. From the very beginning of the video as Casey and Pierce strip each other out of their cloths it's quite apparent that Casey is very into Pierce. Casey kneels in front of Pierce, kissing his way down Pierce's incredible abs before he unzips his jeans and slides them to the floor. It was at that point we could tell that Pierce had something special hidden in his shorts and when Casey pulls off Pierce's underwear he's met with a cock that would make just about anyone cringe thinking of it ramming up their ass. Casey swallows it whole, gagging periodically as it hits the back of his throat; but, he persists none the less. Pierce spins Casey around, bends him over the sofa and shoves his tongue deep into Casey's asshole, priming it for the huge tool he's about to shove in it. Slowly at first, Pierce pushes his cock deep into Casey's ass and when Casey is used to the size, Pierce begins rocking back and forth, pounding harder and faster. Pierce fucks the shit out of Casey whose own cock is rock hard from the ass spreading Pierce is delivering to his backside. The pounding continues in many positions until these two hot studs cannot take it anymore. Now this is where I need to tell you there was a wee problem with the camera and we missed Casey's cumshot because he just could not hold it back with Pierce continuing to pound. Pierce; however, makes up for it when he pulls that thick, long cock of his out of Casey's ass and blows thick loads of juicy cum all over Casey's face and mouth. Casey wastes no time licking up the jizzy mess and makes sure to clean off every drop from Pierce's cock.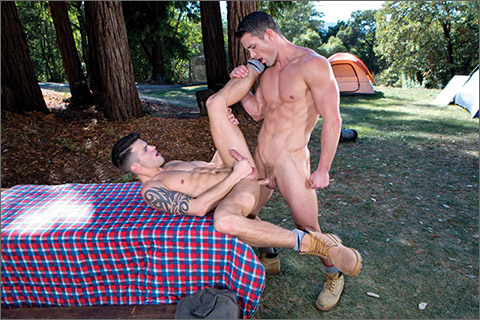 PITCHING TENTS: Ryan Rose & Casey Everett
Underneath the tall redwoods, Casey Everett is struggling to pitch his camping tent. Ryan Rose watches his struggle with amusement, which Casey finds very irritating. "You think this is funny?" Ryan walks over to lend a hand, but before they can finish, Casey gets distracted by the tent Ryan is pitching in his shorts. Moving into the shade of the redwoods, Casey leans down and gets a mouth full of Ryan's hard cock. With deep, wet gulps, Casey uses his saliva to slick up Ryan's cock and deliver an intense blow job. Ryan moves to investigate Casey's firm ass, lubing his hole with spit and slipping a finger inside. Ryan follows that up with his tongue, munching on Casey's tight ass until Casey is eager to get fucked. Ryan pounds his cock into Casey's hole and fucks him with athletic vigor, making sure he feels every thrust. Ryan's ripped body pulses rhythmically as he delivers his dick to Casey's tight ass. Rolling on his back, with Casey riding his dick, Ryan thrusts up from below. Casey turns around for reverse cowboy, his cock whipping back and forth as he fucks himself on Ryan's meat. Ryan picks Casey up and sets him on a picnic table, the perfect height for full-throttle fucking. With Ryan inside him, Casey strokes his cock until his hot, white load sprays across his stomach. Ryan grabs his cock and bust his nut, delivering his thick semen right on to Casey's cock and balls. As the sun starts to set, they share a passionate kiss in the beautiful scenery.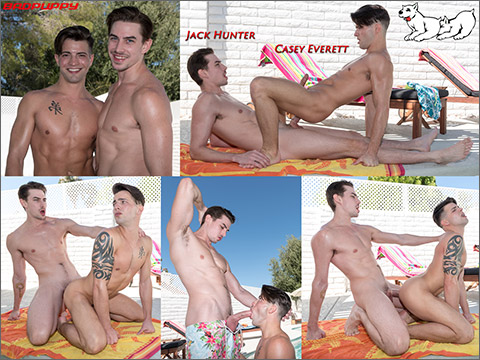 JACK HUNTER TOPS CASEY EVERETT
Jack Hunter and Casey Everett hooked up for a night of fun and passion and did not want it to end the next morning. Sitting by the pool, Casey leans over, plants a kiss on Jack's lips and the fire was lit again. Casey crawls into Jack's lap and as the kissing continues, Jack uses his fingers to reach up into Casey's shorts and tease his asshole. Casey must feel Jack's cock getting hard because he quickly jumps into the pool and reaches back to pull Jack's shorts off. Jack's cock is rock hard, Casey swallows until he gags and Jack goes back to working Casey's hole with his fingers. Casey crawls up on the pool deck and kneels down with his ass in the air. Jack bends down and buries his face right into Casey's hole, working it with his tongue. Jack rotates between shoving his tongue or thumb into Casey's ass and when his hand is not occupied with Casey's ass, he's jerking Casey's dick. Casey tells Jack that it's time to stick that big dick in him and Jack is more than happy to oblige. Jack mounts Casey and slowly; but, forcefully he buries his dick all the way in. Let me say that there is nothing hotter than watching Casey get fucked and see his cock absolutely rock hard and standing straight up without the aid of his hands. Casey moans with each of Jacks thrusts; but, takes control when he gets on top of Jack and slides down on his thick piece of meat. Casey rides Jack's cock for the longest time; working his own thick dick and slapping it against his stomach. Jack motions for Casey to lie back on the towel and as he pushes Casey's legs back he pushes his cock deep and continues an intense fuck session. As Jack continues to pound, Casey grabs his cock and blows his jizz all over his stomach and chest. Jack, turned on by seeing this, pulls out of Casey and literally coats Casey's chest in cum.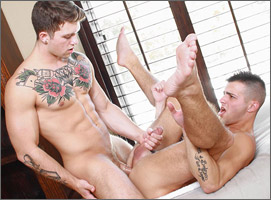 MY ROOM MATE'S FLESHLIGHT
JAKE CRUISE / HOT DADS HOT LADS
CLICK HERE TO GO TO HIS GAYROOM DETAILS