Handsome Muscle Hunk American Gay Porn Star, Billy Herrington
Known Aliases: Billy Marcus
Years Active: 1999 – 2007
INFO:
Residence: New Jersey
Birth date: July 1969
Astrological sign: Cancer
Height: 6″ 1′
Weight: 190
Size: 8″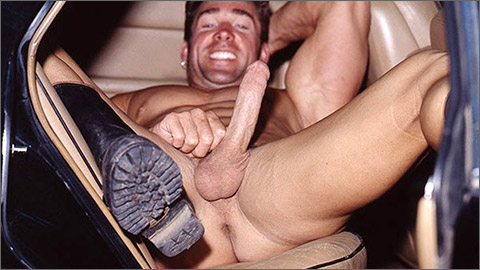 RECHARGE!
After a long day on the construction site, Billy Herrington strips off his tool belt and most of his clothes for a little after work RECHARGE. Stripping down to a skimpy thong Billy gives his body some much needed lovin'. On the back patio he settles into his favorite lawn chair and begins a ritual of ass grinding and cock pumping that really helps him let off steam. Once the dick juice flies, thats when things really get CHARGED. Heading inside Billy gets decked out in his hottest leather gear – revving himself up for a hot night to come.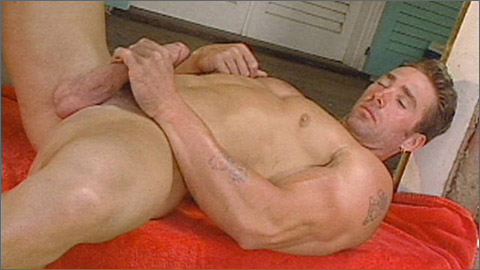 THE BIG ONE
New Jersey native, Billy Herrington is out washing is Harley in the buff (as we often do here in Southern California). Once done, he takes his hog out for a spin to a friends near by cabin where the phone rings and Billy answers. The conversation is definitely arousing Mr. Herrington, with many body shots of Billy stroking and caressing himself. Conversation done, Billy finishes what the phone call started. This was filmed in the beginning of Herrington's career, and probably when he looked his freshest.
CAN-AM PRODUCTIONS
FOX STUDIO
JIMMY Z PRODUCTIONS
MUSCLE GODS PRODUCTIONS
THOR PRODUCTIONS
CLICK HERE TO GO TO HIS COLT STUDIO DETAILS

COLT 40
COLT 40 is a 160 page retrospective that highlights the beautiful men that were chosen to step in front of our cameras over the last four decades.

COLT CALENDAR MEN #11 – LEATHER
COLT Calendar Men Digital Magazine #11 – Leather is a full-color digital compilation of major highlights from various COLT Calendars which features some of our most iconic COLT Men from over our 52+ years in PDF downloadable format.
Features COLT Men Icons: Cover man Walt Ford, Pete Kuzak, Mike Pereyra, Joe Falco, Mark Alexander, Haus, Neal Howard, Nick Dipalma, Franco Corelli, Joel Hancock, Tony Mills, Beau Wheeler, Pat Webb, Ed Ventresca, Mike West, Skip Piston, Tom Chase, Erik Korngold, Buddy Houston, Ken Ryker, Buck Hayes, John Bell, Tony Lombardy, Jake Andrews, Wade Neff, Rod Roddick, Rio Majeska, Jesse Ditmar, Jake Tanner, Chet O'Roark, Mike Dasher, Billy Herrington, Marshall Cline, Todd Maxwell, Jason Brahm, Carlo Masi, Nick Battle, Scott Butcher, Frank Vickers, Link Benedict, Gus Mattox, Ray Dragon, Diego De La Hoya, Zak Spears, Gunner Hyde, Paul Underwood, Bruce Abidor, Matt Horner, Fritz Bowman, Tony Ganz, Taylor Burbank, Jeff Williams, JD Amos and Brant Royale.

MEN August 2002, November 2002, 2004
UNZIPPED September 2000, June 22, 1999
HONCHO July 1999, November 1999
TORSO November 2000, February 2001, May 2002
ALL MAN January 2000
DUDE August 2000 (Vol. 4, No. 6), December 2000 (Vol 4, No. 9)
MANSHOTS February 2000, October 2000
PLAYGIRL December 1994

GAY PORN HEROES: 100 MOST FAMOUS PORN STARS
PORN STUDS OF ALL WORLDS VIDEO 2002 CALENDAR
ADAM GAY VIDEO: 400 PORN STARS
ADAM GAY VIDEO: 500 WORLD'S GREATEST PORN STARS
ADAM GAY VIDEO: XXX INTERVIEWS
MEN MAGAZINE PRESENTS: COLT STUDIO
MEN MAGAZINE PRESENTS: ALL WORLDS VIDEO

COLT ANNIVERSARY ALBUM #5: SUPERSTARS PART 1
COLT CALENDAR MEN #11 – LEATHER
COLT MEN 34
COLT MEN 45
COLT STUDIO PRESENTS 21: MUSCLES IN LEATHER #2
COLT 40
COLT LEATHER CALENDAR 1999
COLT MEN CALENDAR 1999
COLT LEATHER CALENDAR 2000
COLT MEN CALENDAR 2000
COLT JIM FRENCH ANNUAL MAN CALENDAR 2001

WATCH IT NOW AT: Billy Herrington @ AEBN / SMUTJUNKIES THEATER
AVAILABLE FROM: Billy Herrington @ TLA VIDEO