British Gay Porn Star, AJ Alexander
Years Active: 2015
TWITTER @AJAlxxxnder
UK NAKED MEN INFO:
A hot slab of steaming sexy Scottish beef, with a BIG, thick, ribbed, uncut dick just built to pleasure and smash a willing arse. But sexy AJ will happily take a dick as eagerly as he gives it, very versatile VERY sexy. All man.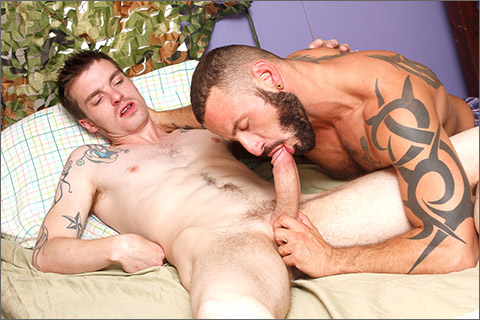 SPIT AND SWEAT: AJ ALEXANDER & ANTONIO MIRACLE FLIP-FUCK
Handsome Scottish soldier AJ may tell his girlfriend he loves her, but when he's actually eyeing up his bunkmate working up a sweat as he exercises, his mind is obviously on the growing bulge than on pussy! Dark haired muscle man Antonio Miracle clearly catches him spying on his buff, sweaty torso and decides to make the most of it, swallowing dick like a starving man, Antonio takes AJ's entire giant dick down to the balls, ready for his ass to take the entire length hard and raw. Still slick with spit, AJ's cock needs little lube as Antonio lays back to swallow it all once more, but this time from his hot hairy ass! AJ's slim pale torso flexing as the thick slab of meat pumps into the tanned muscle man, letting him feel each inch deeper and deep, stretching his hole wide around the uncovered shaft. Fucked hard, Antonio wants his own giant dick to get some of the action too, and flipping straight boy AJ over, gets his way and after a bit of spit, slams the whole load into him, his nicely upwardly curved dick gaining easy access into AJ, the sweat starting to drip of both horny fuckers, completely rock solid ad loving this versatile flip fuck. Feeding AJ his load, Antonio drips sweat and spurts spunk over his new found fuck-mate who laps every last drop off of the still hard shaft.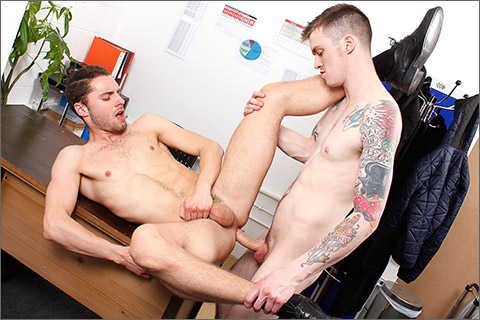 OFFICER INITIATION: AJ ALEXANDER FUCKS JOHNY CRUZ
Young rookie Johny Cruz is working late in the office when tall and handsome AJ comes in saying they should head off, leaving the paperwork for later. Eager to impress but keen not to look a loser, sexy Johny tries to explain his position, but AJ is all about another position, and wants to be the first to really welcome the young recruit to the force! Letting him in on a station secret, AJ decides to then show him exactly what the prisoners are used for here, and Johny is as always happy to learn the ropes! Propped up on the table, uniformed AJ soon strips his colleague down and plunges his giant bare dick straight up into Johny's peachy and perfectly willing butt! Fucking the young man over and over, AJ's beautiful raw dick disappears time and again inside Johny who happily bounces on top of it from tip to balls and works it hard, so much so that AJ struggles not to shoot deep inside him, preferring to pull out and coat the freshly fucked hole in spunk before pushing back deep, fucking his sperm into Johny, showing him exactly how it's done here!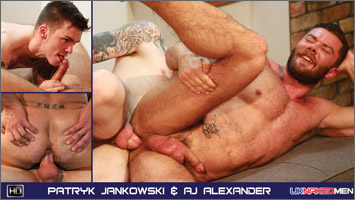 AJ ALEXANDER FUCKS PATRYK JANKOWSKI
When under wear obsessed hottie ( and really cop an eyeful of this guy – AJ Alexander,- a stunning, big-dicker Scottish guy, with a voice to make you melt, and an impressive caber to toss) finds a pair of his favourite underpants are missing he soon uncovers the culprit. Ripped, muscle hunk Patryk Jankowski, a pervy pant sniffer but also a hot piece of man with a juicy uncut dick. Patrick's getting off sniffing AJ's pants so ' hey in for a penny, in for a pounding!' . Aj strips the muscular lad naked, plays with his hot, sweaty hole and uncut cock, ( he's got a THING for foreskins) Then he slides his considerable Scottish meat, raw and deep inside the squirming, moaning, lad and fucks the living day lights out of him aswell as a hot squirt of jizz before unloading jet after jet of hot sperm over Patrick's hard muscle arse and sliding the whole length back in bareback!
BULLDOG PIT
UK NAKED MEN
BLAKE MASON
HARD BRIT LADS
AJ ALEXANDER FUCKS PATRYK JANKOWSKI
AJ ALEXANDER & ALEX SILVERS
AJ ALEXANDER
AJ ALEXANDER BLAKE MASON SOLO