Spanish Gay Porn Star, Aitor Bravo
Years Active: 2014 – 2015
TWITTER @AitorBravoxxx
Spanish Porn actor, live performer. Men.com , KristenBjorn, Fuckermate, Uknakedmen, Butch Dixon, Citebeur.
FUCKERMATE INFO:
Country: Spain
Age: 30
Cock size: 7″ uncut
Position: Versatile
Aitor is our latest Spanish Fuckermate, he is funny, friendly and an extrovert. He is horny and committed and loves fucking. We have seen him in other films before and when you can see him up close and personal he has the perfect ass, body and personality that makes him perfect for Fuckermate.com

AITOR BRAVO & CRAIG DANIEL FLIP-FUCK
REALLY! I don't know what Craig Daniel is doing but that cock is getting bigger every time we see him and its an absolutely throbbing, nine inches of bareback meat for stunning, taut, toned – Aitor Bravo. With real raw passion and plenty of bodily fluids flowing these oversexed spunk-luvers were at it like pistons. Handsome Guapolindo – Aitor was begging for the whole length of that uncut cock inside him, right up to the bollocks – and he got it. Craig is a connoisseur of men, and hand picked this hunk for his pleasure, and it shows – these guys are SO into each other. And they're both fucking dirty cum-luvers. Aitor takes Craig's sticky load all over his puckered, glowing, aching hole and when Aitor is ready to burst ( the feel of jizz on his holes always makes his balls clench ready to squirt) – he turns Craig around and shoots all over Craig's spit-slick butt hole and slides in to keep unloading. As much passion as there is filth, this ones finger-lickin'-good.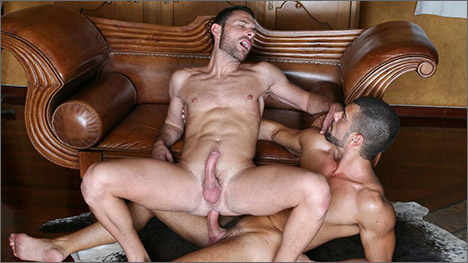 ON THE PROWL #19: ARNAU VILA, AITOR BRAVO
Aitor has invited Arnau over for a romantic dinner, but it is the romance that heats things up first. Some tender kissing, bumping and grinding lead to the clothes being shed seductively. Arnau consumes Aitor's uncut cock with such vigor that you know he is hungry, and food is not on the menu. As Arnau sucks on Aitor's cock he strokes his own fat cock as his low hanging balls slap against the sofa. Aitor then tugs on Arnau's low hanging balls as he runs his tongue up and down the full length of Arnau's huge cock. He then takes those low hanging balls into his mouth and swirls them around with his tongue then returns to the throbbing shaft slapping him in the face. Flipping Arnau around, Aitor works his magical tongue in and out, up and down and all around Arnau's perfect pink pucker hole. Aitor stands up and plants his hard, raw cock up Arnau's wet ass. Arnau encourages Aitor to go harder and deeper and Aitor does so that the floors, furniture and walls are giving way to the pressure of the powerful thrusts. Arnau instructs Aitor to sit on his cock and Aitor engulfs the fat cock and begins with fluid strides that make his own balls draw up tight. With the robust pumping action going on in his ass, Aitor has been pushed over the edge and explodes a huge load of cum. Aitor's ass muscles are contracting and convulsing around Arnau's cock that it sucks the hot creamy load out of Arnau. He saves the most succulent of his load and shoots it inside of Aitor's ass. Anyone still hungry?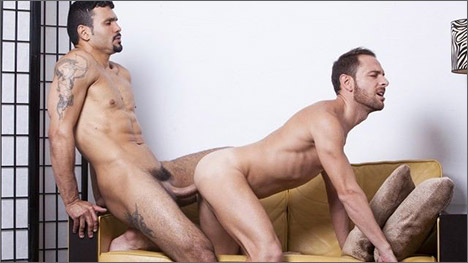 DEEP RIMMING: JEAN FRANKO & AITOR BRAVO
This week we bring you another hard and dominant Fuckermate session with Jean Franko and Aitor Bravo. Jean is one hot, hard dominant top. He expects that his bottom boys do exactly what he orders. Aitor is the perfect bottom for Jean, he is willing, submissive and cock hungry. Aitor is obedient Jean knows it. He uses his mouth and ass as he pleases. This is a passionate encounter with deep rimming, sweaty domination and of course two hot and muscled Fuckermates.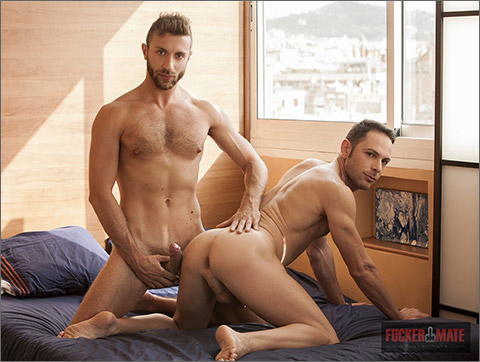 EXTRA CUM: MARCOS SORRENTINO & AITOR BRAVO
FUCKERMATE
KRISTEN BJORN
UK NAKED MEN
BUTCH DIXON
CLICK HERE TO GO TO HIS KRISTEN BJORN DETAILS