Czech Gay Porn Star, Adam Rezal
Known Aliases / aka: Peter Nowak
Years Active: 2016
WILLIAM HIGGINS INFO:
Model Name: Adam Rezal
Age: 18
Home Town: Prague
Height: 182cm/5'11"
Weight: 69kg/151.8lb
Foot Size: EU43/US8.7/UK8.2
Penis Size: 17cm/6.69″
Profession/Student of: High School
Hobbies: Sport
Favorite Sports: Cycling
Active Sports: Soccer
Movie/Music/Sport Stars: Zuzana Jandova
Visited Coutries: Spain
Want to Visit Coutries: Croatia
Dream of My Life: I don't know.
Zodiac Sign: Leo (July 23 – August 22)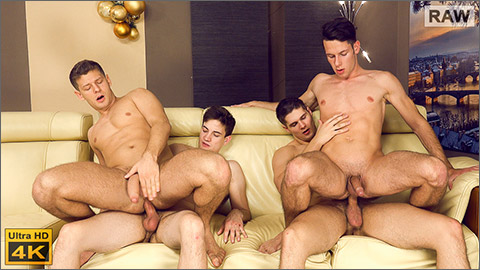 CHRISTMAS WANK PARTY 2016 RAW
In our Christmas Wank Party for 2016 we have Rosta Benecky, Tomas Fuk, Kuba Nevel and Adam Rezal. In this first part we Tomas and Kuba sitting and relaxing as they are joined by Roast and Adam who are bearing presents. Tomas and Kuba unwrap the presents to find virtual reality headsets. They both insert their phones to try them out. It seems that Tomas has decided to watch some porn on his and he stands and starts enacting what he is seeing. As he thrusts his hips in a fucking motion Adam gets up and bends over in front of him as Rosta records everything on his phone. Then Adam simulates sucking Kuba as well. Kuba removes his headset and watches what Rosta has recorded. Then Rosta shows Tomas too. Having enjoyed the VR they decide to get some real action. As Tomas watches more on his headset Kuba leans over and starts opening the pants and pulling out a stiff cock. Rosta does the same for Adam. Kuba starts sucking on Tomas' stiff dick while Rosta gorges himself on Adam's. Then the headsets are discarded and the guys start kissing, with Rosta pulling off Adam's tee shirt. He kneels for Adam to suck his massive cock. Tomas begins stripping Kuba too and goes down on his raging hard cock. His head bobs on the cock as Rosta thrusts his into Adam's mouth. Tomas gets naked and Kuba takes a turn on his throbbing cock as Adam keeps sucking Rosta. Then they all move, with Rosta being the focus of attention as they suck his nipples and his big, fat, ccok. Tomas, Adam, and Kuba all take turns on that huge cock as Rosta leans back and enjoys it. Then he lays down, the others lay along the sofa, with Adam sucking Roast, Kuba working Adam's dicka nd Tomas taking a turn on Kuba's. Then it is time for some ass and Adam and Rosta lay back, legs up for Tomas and Kuba to rim the hot holes and suck on the balls.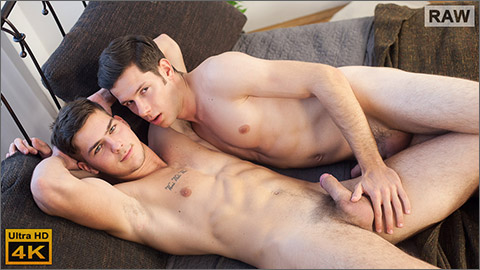 FULL CONTACT: MARTIN GAJDA & ADAM REZAL – SCREEN TEST RAW
In this hot screentest Adam Rezal is being massaged by Martin Rezal. Martin's hands work on Adam's back and he leans over and gently kisses it too. Then his hands work down the back to reach the naked ass. The ass cheeks are spread as the hands massage it, showing off the tight hole. Martin leans over and kisses that sexy ass. His tongue gently licks at the hot hole. Then he drips some spit onto the hole, rubbing it with a finger. Then finger slides into the tight hole and gently fucks it. Then Adam turns over, showing off his rock hard cock. Martin quickly starts to lick up and the down shaft and takes the head into his mouth. He sucks on that cock, and licks and kisses the balls too. Adam reaches out to rub Martin's head as it bobs up and down on his cock. Then they change places and Adam shows that he can suck real good too. His mouth works on Martin's thick, and very hard, cock. The lips wrap tight around the head as Adam sucks it real good. Then Adam lays down and Martin gets between his legs, sliding his cock deep into the waiting ass. He gently fucks that sexy ass, going in all the way. Then, as he begins to speed up his fucking Adam grabs his own dick and tugs on it. He wanks his cock and moans as Martin fucks him faster. Soon Adam shoots his creamy load as Martin's dick continues to fuck him hard. Adam turns over, onto his knees and Martin fucks him from behind until he is ready to cum too. He pulls out and wanks his dick to shoot his hot cum all over Adam's back.
WILLIAM HIGGINS
BADPUPPY
STAXUS
CLICK HERE TO GO TO HIS WILLIAM HIGGINS BIO PAGE