Hung Scruffy Muscle Canadian Stripper Gay Porn Dude, Zack Lemec / Zack
Years Active: 2013 – 2015
MASKURBATE INFO:
I've followed Zack's straight porn career as he was making scenes with his girlfriend, here in Quebec. After making a couple of solos here and there, Zack disappeared from the Adult entertainment world. A friend of mine found him a couple of months ago on a social network. I wrote to him a few times with no reply. I thought then I would never have him on Maskurbate. Out of nowhere, Brad told me he might knew someone who could be interested in making an appearance on my website. That was Zack! Unbelievable! How come he never answered my messages? Well, he told me afterwards he needed time to convince his love one to make a comeback. The mask concept and the fact that I was a one man crew helped a lot! I'm so glad he chose Maskurbate to make his comeback because masked or unmasked, this dude has an amazing body, a great personality and a dick as big as his shoe size. His motto and tattoo 'One Life' says it all. This 25 year old thinks everyone should enjoy and live their lives to the fullest. So believable from a guy who had sex on a bench, waiting for the subway train! If you don't know him yet, I bet you'll fall in love with Zack, now a proud Maskurbate model!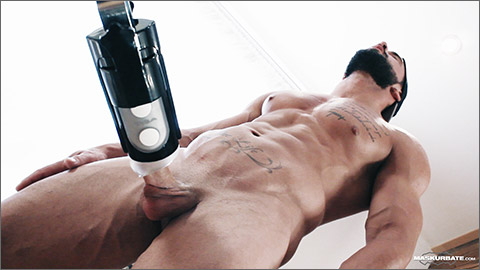 MILKED – ZACK
Milked is a new series on Maskurbate.com featuring hot guys getting milked by a powertool sucking machine. The best and most intense blowjob of their life! First, I take control of the device,the getting the model on edge using the variable speed settings. Then I let him adjust it until he cums. It's exciting to watch! This first episode features young bodybuilder Zack. He liked it so much he wanted to leave with it. But, no way! We still have other uses for this great machine! Stay tuned…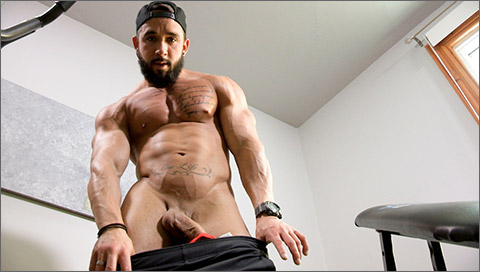 HOME GYM INAUGURATION
I invited young bodybuilder Zack to inaugurate my new home gym. Zack is 3 weeks away from his bodybuilding competition so I thought it would be nice to follow his progress. You'll agree watching Zack strip that he will be a strong contender. He has never been this cut (less than 4.5% body fat). No need to say that it is a great source of motivation to watch a hot guy like Zack lie down on my bench press. I imagine all sorts of things happening in my home gym in a near future…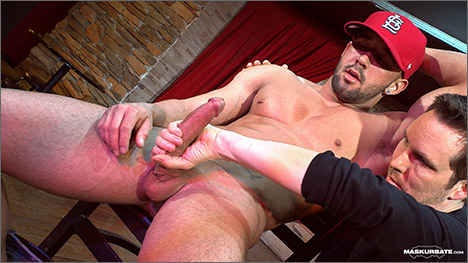 NEED A HAND ZACK?
Zack is currently one of the most popular models on Maskurbate. Since the first day I met him, he's always been in excellent shape. It's mind blowing! I could call him anytime for an improvised shooting and he would be ripped, tanned and horny. When he told me he started dancing for fun at Stockbar, a famous strip club in Montreal, I was kind of curious how he would perform on stage so I went with Manuel Deboxer. Boy does this guy know how to dance! I went backstage and arranged with the owner of the club a private afternoon at the Club with Zack in order to put this on Maskurbate. Of course, I asked Zack to go a step further and let me worship his body and stroke his cock on stage. Another moment of my life captured on film for your own enjoyment!
CLICK HERE TO GO TO HIS MEN OF MONTREAL DETAILS
ONE ON ONE WITH ZACK
NEED A HAND ZACK?
ZACK UNMASKED
ZACK FUCKS
ZACK