ChaosMen College Jock Amateur, Wren
Years Active: 2013 – 2015
BRIAN OCKERT / CHAOS MEN INFO:
Start Age: 22
Debuted: October 14, 2013
Height: 6'2″
Weight: 170 lbs
Cock: 7″ Cut
Wren is a super tall, super cute, bi guy. He seems mostly interested in girls, but every now and then has messed around with guys. He actually likes to bottom, so we will have to see if he is a Bi guy, or just inching his way towards being gay.
   My gut tells me he is just Bi. He watched straight porn for the solo, and it sounds like he randomly seems to find a particular guy hot. He likes to take charge with women, but is more passive with a dude.
   He is a super sweet guy, and I love his face. Downright adorable. I think he will only get more handsome as he gets older.
   Wren does a great job showing-off or us, and definitely has what it takes to move forward. We will see him next week rolling around with Glenn, so stay-tuned!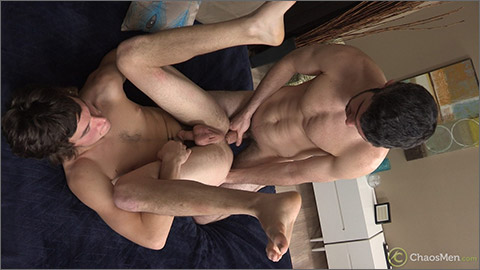 SERVICED: BRADLEY & WREN
Very often I rely on my local guys to help do the orals. I book guys all the time that never show up, so having someone fly in to do Serviced videos with new guys is always a gamble.
   But Bradley seemed very sure that he would be here, and with his 6'4″ height, I knew just the tall drink of water to put him with! Wren, who often 'towers over' whoever is on top of him, would be the perfect choice, though it meant having to fly half way across the country.
   Both guys were pleasantly surprised when they met that they would be working with someone who matched their height. Wren rarely feels shorter than anyone and for once someone had an inch or two on him! Well worth the air fare!
   Wren is so chill with everything, and even though he identifies as straight, the guy has got to be at least bi. He and Bradley hit it off, and there was instant chemistry. They spend a lot of time kissing and playing with each other's cocks. Standing while kissing and not having to bend over was a first for both!
   You will see Bradley's bossy-vibe kick in, and happily, it fit nicely with Wren's passive nature. Bradley loved making Wren suck his fat uncut meat! Wren does have that 'just use me' vibe about him.
   Bradley sucks on Wren, getting his boy all hard and worked up. Next, Wren rims Bradley's hairy hole, keeping Bradley hard.
   After Bradley sucks some more on Wren's cock, Bradley rims Wren, and you can see how hungry he is to put his meat inside of him. There is some hot-dog-in-a-bun action that will leave you wanting him to just shove it in, but that was not the game plan for the day.
   Bradley was thinking about how hot it would be to fuck Wren, and that put him over the top. He straddles Wren's face and jerks his cock until he cums. Wren gets a major facial as Bradley coats him from chin to forehead!
   Bradley doesn't leave his boy hanging either. He lies down beside him and strokes him until he cums. I love that it is so easy to make Wren cum. He is always turned on when a dude takes over his cock. Clearly, Bradley knows what he is doing!
   They finish the video with a hot, cum-soaked kiss!
SERVICED: BRADLEY & WREN
RAW: PAX & WREN
TAGTEAM RAW: COOPER REED & VANDER & WREN
RAW: SPIRO & WREN
RAW: BENTLEY & WREN
SERVICED: BYRON & WREN
SERVICED: BYRON & WREN
PURE: TROI & WREN
RAW: JORDAN CLEARY & WREN
SERVICED: SHILOH & WREN
EDGE: RANSOM & WREN
RAW: JONAS & WREN
RAW: BRAXTON & WREN
SERVICED: GLENN & WREN
SOLO: WREN
CLICK HERE TO GO TO HIS CHAOSMEN BIO PAGE