Scruffy ChaosMen American Gay Porn Star, Vander
Years Active: 2010 – 2015
CHAOS MEN / BRYAN OCKERT INFO:
Start Age: 24
Debuted: July 5, 2010
Height: 5'9″
Weight: 175 lbs
Cock: 8.5″ Cut
I love this guy!
   First off, he is pretty much playing for the gay team. Has rugged looks (check out those furry pecs) and well, he smells sooooo good. Like a dude after a hard workout.
   He has this hint of musk that turns me on. I tend to love the way guys smell naturally, and though most of my friends think it's a turn-off, I dig it. Every time I got close to him with the video camera, I would boner up.
   Vander has very easy going personality but tends to be a little more of a bossy top in bed.
   He's got a big cock on him too! It's crazy thick.
   He says he is willing to do more, but I wanna check out how he does with an oral video with one of the straight guys, so stay tuned for more!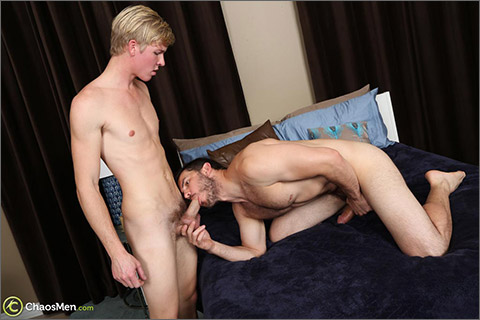 SERVICED: JON & VANDER
Jon mentioned fisting in his solo interview, so let me start by saying that no fisting is happening in this video! Sorry fans of donkey punching!
   There is however, a lot of toy play!
   Jon starts off on his knees, worshiping Vander's cock. The boy can deep throat, and swallows Vander completely!
   Vander takes a turn at sucking on Jon, but he is pretty wobbly until Vander slides a toy in his ass. Yep! He is a bottom!
   Vander also brought his puppy dog tail butt plug. Apparently pup play is all the rage for piggy bottoms these days! If you have not checked out Vander's model portfolio, you should go have a look at the fun images I took with him and his leather harness.
   For this video, Jon slides it in and out of Vander, making him really squirm each time the thick part of the plug goes in! They take turns fucking each other with the toys while giving each other head.
   For the big finale, they also take turns giving each other facials and some hot cum eating!
SERVICED: JON & VANDER
RAW: CORBAN & VANDER
RAW: GRIFFIN & VANDER
G:hOle RAW: DUSTY & VANDER
TAGTEAM RAW: PALMER & VANDER & ZAREK
PURE: SANTORO & VANDER
RAW: GLENN & VANDER
TAGTEAM RAW: ARIES & SOLOMON & VANDER
RAW: ACE & VANDER
NASH & VANDER: RAW
SERVICED: PEYTON & VANDER
TAGTEAM RAW: COOPER REED & VANDER & WREN
RAW: BRAXTON & VANDER
RAW: SAGE & VANDER
PEEP: VANDER
RAW: JEREMY ACE & VANDER
RAW: TROI & VANDER
RAW: JORDAN CLEARY & VANDER
PURE DC: ARIES & BAY & GLENN & VANDER
RAW: JET & VANDER
TAGTEAM RAW: ARIES & SOLOMON ASPEN & VANDER
BOSSY: KIRK & VANDER
RAW: BENTLEY & VANDER
RAW: CARMINE & VANDER
RAW: GAVIN & VANDER
RAW: ALLEN & VANDER
RAW: CLYDE & VANDER
RAW: JACEK & VANDER
G:hOle RAW DC: PATRICK & VANDER
G:hOle RAW: PATRICK & VANDER
RAW TOYS: SOLOMON & VANDER
TAGTEAM: CURTIS & DARIUS & VANDER
RAW: LOGAN S. & VANDER
   CLICK HERE TO GO TO HIS CHAOSMEN BIO PAGE