ChaosMen Amateur American Gay Porn Star, Troi
Years Active: 2013 – 2016
BRIAN OCKERT / CHAOS MEN INFO:
ChaosMen Start Age: 22
ChaosMen Debut: October 29, 2013
Height: 5'11"
Weight: 150 lbs
Cock: 9″ Uncut
Silas referred Troi to me. They have been working-out together, and after he saw Troi's cock in the shower, he hinted around that he should do porn. Turns out Troi knew his cock was Super-Sized, and had always thought he should give it a try.
   You just have to watch 3 minutes of him playing with his hard cock, before you quickly realize how perfect he is for doing porn. He of course wants to be doing straight porn, but I also get the feeling he is quite happy being appreciated by either sex.
   His cock is over 9 inches of Puerto Rican uncut foreskin goodness, and it looks to be more than a mouthful.
   He seems down for trying to do "more" so I will get him on the massage table for a proper rub.
   Since it is Monster Cock week, you wont have to wait long!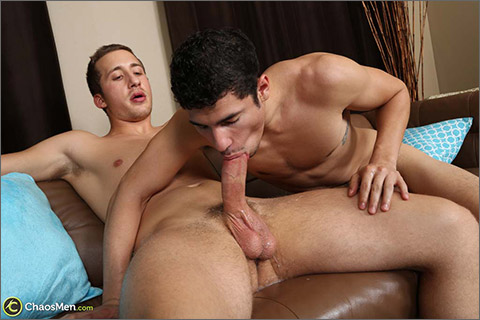 SERVICED: RYLAN & TROI
Rylan knew he would be down to swap oral, so I suggested a few models before he headed to the studio. Of the options I had, he picked Troi. This worked out great, because the holidays were starting and Troi needed to start making some extra money. Troi has become a great cocksucker and this video really shows how much his skills have progressed.
   They start by watching each other stroke their cocks. Troi gets hard first, so Rylan slides on over and sucks his uncut knob. Looks like Ryan's got some oral skills too!
   Troi returns the favor, getting Rylan's cock huge and hard. He slides in between his legs and really goes to town on his cock.
   He stands up and face fucks Rylan, who continues to stroke his whopper-sized cock. Rylan then rims his hole, and like a true Top, you can tell he is eager to lick his hole.
   Troi spins around and starts to suck on Rylan again. This is some great cock sucking as Troi really gets Rylan's cock pretty far down his throat practically having to dive open-mouthed onto Rylan's dick!
   They take a break from sucking while Troi revs up his cock. Rylan slides in at the final moment to take a facial and lick up his cum.
   Troi then gets to work and makes Rylan blow his load!
CLICK HERE TO GO TO CHAOSMEN BIO PAGE ON THIS PERFORMER